Issue: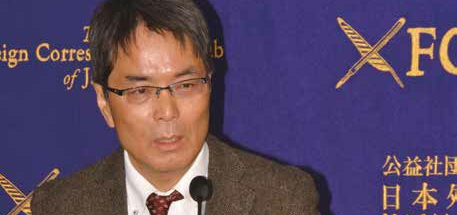 A Tokyo Shimbun journalist recalls his time with the half-brother of the North Korean leader and expresses shock at his recent murder.
IT IS LITTLE WONDER that Yoji Gomi appeared tired, and at times close to tears, during his recent appearance at the FCCJ. Just three days had passed since his friend, Kim Jong nam, had apparently been murdered while waiting to check-in for a flight home to Macau from Kuala Lumpur International Airport.
As one of the few journalists to have spent significant amounts of time with Kim, the elder half-brother of the North Korean leader Kim Jong un, Gomi has been in huge demand for insights into the possible reasons and people behind Kim's death at the age of 46. Gomi said he did not wish to speculate on who was behind the killing, or their possible motivations. As the Number 1 Shimbun went to press, police in Malaysia had arrested four people, including one North Korean, while another four North Koreans wanted in connection with the attack have reportedly fled to their home country.
"I'd heard rumours that he was a playboy and was crazy about gambling, but the man I encountered was polite, and with a keen intellect"
Gomi spoke fondly about Kim Jong nam calling him a man with "a keen intellect" who, despite his public image as an inveterate gambler and womanizer, had displayed great personal courage in speaking out against the North Korean regime under his younger half-brother. "Even if it put him in danger, he wanted to tell his opinions to Pyongyang through me or other media," Gomi said at a press conference on Feb. 17. "He said that the only way that North Korea could survive would be to go through the series of reforms and liberalization that China had carried out." In his discussions with Gomi, Kim had criticized North Korea's hereditary transfer of power in a socialist society, saying that the leader should be democratically elected.
Kim Jong-nam's death had come as "a great shock" to Gomi and his wife, who accompanied her husband to Macau for his first meeting with the exiled Kim in January 2011. That meeting, plus several hours of follow-up interviews and about 150 emails, formed the basis of Gomi's 2012 book, Kim Jong Nam: My Father, Kim Jong Il and Me.
GOMI, A SENIOR STAFF writer at the Tokyo Shimbun, cast doubt on widespread speculation on the reason Kim Jong-nam had been overlooked to succeed Kim Jong-il. In May 2001, Kim was reported to have caused his father deep embarrassment after he tried to enter Japan via Narita Airport on a forged Dominican Republic passport. Accompanied by his wife, their nanny and young son, they had said they were planning to visit Tokyo Disneyland.
"He told me that he didn't think the Disneyland incident was the reason Kim Jong-un was chosen over him to become the next leader," said Gomi, adding that the half brothers had never met.
Gomi believes Kim quickly grew disillusioned with the North Korean political system soon after he returned to the country after attending school in Switzerland.
In a possible sign that he was being groomed for leadership, Kim was asked to accompany his father in the early 1990s on a nationwide tour of farms and factories to witness the country's economic development. "He said he saw the reality of the country's situation on that trip, and that was when he started expressing views that contradicted those of his father," said Gomi. "That's what prompted him to start leading a 'wild' life and eventually to leave the country."
Gomi said Kim had made several trips to Tokyo, where he enjoyed singing karaoke and drinking in the bars of Ginza with South Koreans, North Koreans and Japanese.
The reporter's friendship with Kim began after a chance meeting at Beijing airport in 2004. "I'd heard rumors that he was a playboy, had complicated relationships with women and was crazy about gambling, but the man I encountered was polite, and with a keen intellect," Gomi said.
They began exchanging regular emails in 2010. Kim gave Gomi permission to use his comments in the book, but became more cautious after Kim Jong-un became North Korean leader in December 2011. In a message to Gomi soon after the succession, Kim Jong-nam requested that he delay publication of the book, describing the timing as "difficult." Gomi said: "I thought that it was important to tell the world about Kim Jong-nam's philosophy and humanity, and hoped it might bring about a change in North Korea's relationship with Japan and other countries, so I decided to go ahead and publish."
He informed Kim of his decision and, after a gap of several days, received a response in early January 2012. "He emailed me back to say there would be no more contact between us," Gomi said.
---
Justin McCurry is Tokyo correspondent for the Guardian and Observer newspapers in London and writes for the Lancet medical journal. He also reports on Japan and South Korea for France 24 TV.