Issue:
TOKYO FEBRUARY WEATHER NUMBERS
---
Monthly mean air temperature (°C)
---
Monthly mean relative humidity
---
Monthly mean daily maximum temperature (°C)
---
Monthly mean daily minimum temperature (°C)
Monthly mean percentage of possible sunshine
---
Record maximum temperature in February (°C)
---
Record minimum temperature in February (°C)
---
Deepest February snowfall
---
+ TRIVIAL DIGITS
The number of people in Japan who died from being bitten by a mouse in 2013

The number of people in Japan who died from contact with hornets, wasps and bees in 2013
---
Sources: Ministry of Health, Labor and Welfare, Japan Meteorological Agency
THE MAESTRO WITH THE BATON
---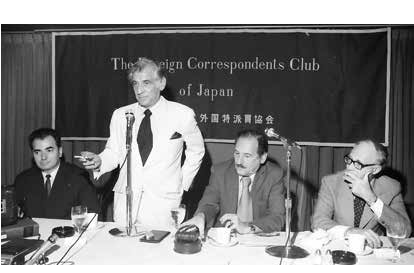 Famed conductor/composer/pianist Leonard Bernstein, cigarette in hand, addresses Club members on Sept. 5, 1974. Seated immediately to his left is FCCJ President Max Desfor (AP), who celebrated his 103rd year on this planet last year, and Jack Russell (NBC News), whose death in 2007 made the cover of this magazine. To his right is Bela Elias (Hungarian News Agency), FCCJ 1st VP. Bela, as Acting President while Max was on home leave, would introduce Japan's Prime Minister Kakuei Tanaka on Oct. 22 at a controversial event that resulted in Tanaka's eventual resignation (see pages 206~210 in our history book).
Multi-talented, prodigious and versatile, Leonard Bernstein was an early paragon of American-born and educated talent who achieved worldwide acclaim as a pianist, composer, conductor and music lecturer. A long-time director of the New York Philharmonic Orchestra who conducted concerts with leading orchestras around the world, he is perhaps best remembered for West Side Story, a musical written in 1957 that bridged the gap between classical and popular music. A half-dozen musicals were to flow from his pen.
Eclecticism was characteristic of Bernstein, who drew on Jewish, theatrical and classical works for musical inspiration. Phenomenally creative, he wrote symphonies and other orchestral works, film scores and music for theatrical performances, operas, ballets, chamber music, choral music and music for piano as well as a wide range of incidental music. His lectures on classical music, which appeared regularly on television from the mid-1950s until his death, also reflected his eclecticism.
Bernstein's prolific creativity won him over 20 major awards, including the Praemium Imperiale from the Japan Art Association in 1990. He donated the $100,000 prize to an international project for combining arts with education that took the form of a school in Tennessee some two years after his death. That same year, Bernstein was the key man in establishing the Pacific Music Festival in Sapporo as a hands-on prep school for musicians. (His Japan connection had started much earlier, however, when he boosted the career of Seiji Ozawa in the 1960s by appointing him as assistant conductor of the New York Philharmonic.)
Bernstein was noted for his long-time social activism, including a 1970 event in his Manhattan apartment to raise money for the legal defense of the Black Panthers. Although that event gave rise to negative press coverage, and the derogatory term of "radical chic," he maintained his intent was to preserve civil liberties, and his career did not suffer.
Two years after his Tokyo visit, he came out of the closet, announced his bi-sexuality, and left his wife to live with a male musical director in San Francisco. However, within a year or so his wife was diagnosed with lung cancer and he returned to her side, caring for her until her death in 1978.
"Lenny," as he was known, after a long and successful career, retired from conducting on Oct. 9, 1990. Five days later, at the age of 72, he died of a heart attack, bringing an end to a most interesting life.
---
– Charles Pomeroy