Issue: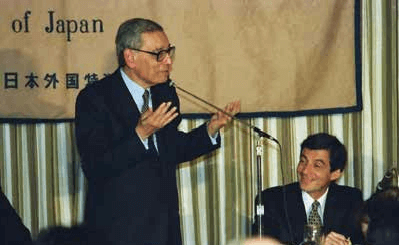 United Nations Secretary General Boutros Boutros Ghali makes a humorous point at a professional luncheon at the FCCJ on December 20, 1993. Then President Lew Simons (Knight Ridder) smiles in response.
Boutros Boutros Ghali, born on Nov. 14, 1922, in Cairo, was the first Arab as well as the first African to head the United Nations. A Coptic Christian who graduated from Cairo University in 1946, he received a Ph.D. in international law from the University of Paris in 1949 and then became a professor at Cairo University. He later held positions lecturing on law and international affairs at a wide range of universities and institutes around the world.
Boutros Ghali entered government in 1977 as Egypt's minister of foreign affairs. But he was no stranger to politics: his father had earlier served as Egyptian finance minister and his namesake grandfather as Egyptian prime minister until assassinated in 1910. Under President Anwar Sadat, Boutros Ghali played a role in the Israeli Egyptian rapprochement that resulted in the Camp David Accords of 1978. In 1991, he briefly became deputy foreign minister before moving on to the United Nations, where he became secretary general in 1992.
Boutros Ghali's five year UN term included the peace keeping operations in Bosnia and Herzegovina following the breakup of Yugoslavia. The most notable controversies during his term were the perceived inaction by the U.N. during the Angolan civil war and the 1994 Rwandan genocide. On the other hand, he was credited for writing "An Agenda for Peace" for the Security Council in 1992, emphasizing the importance of post conflict peacebuilding to prevent a relapse into violence. The celebration of the 50th anniversary of the United Nations in 1995 also took place during his term.
His independent espousing of certain policies led to a veto of a second term by the U.S. in 1996. He continued in his international activities, however, chairing a francophone think tank for developing countries and heading Egypt's human rights council.
Boutros Boutros Ghali was the recipient of well over two dozen foreign honors in addition to three national honors from Egypt, and some 17 honorary degrees from international universities and institutes. He died in a Cairo hospital on February 16, 2016, at the age of 93.
---
– Charles Pomeroy
editor of Foreign Correspondents in Japan,
a history of the Club that is available at the front desk