Issue: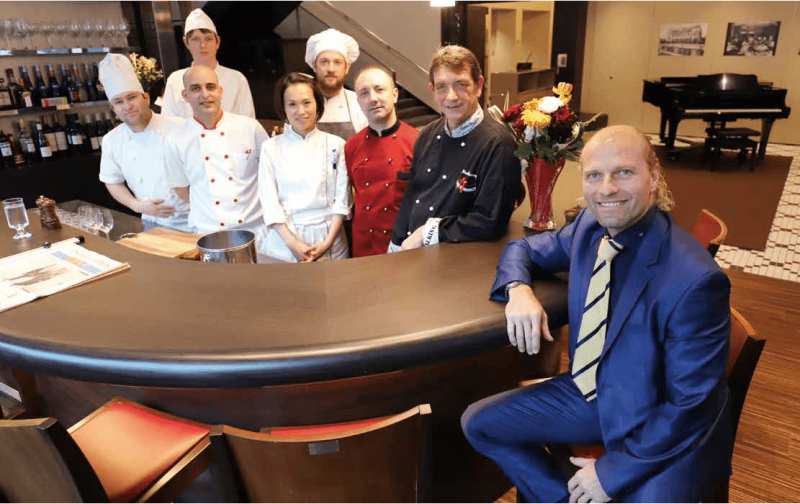 A host of talented experts comes to the Club to invigorate the dining experience.
The long wait is over.
Silvano Borroni has arrived at our new Marunouchi location with executive chef Noe Bianconi and sous chef Simone Giannini to start an exciting new chapter in the FCCJ's culinary evolution. Those who know of their legendary collaboration at Ristorante Il Buttero in Hiroo know we are in for a very special treat, as they take over the task of being the Club's new food service provider.
Founder and president of B Plan International, Borroni is passionate about food. But his interests are as broad as his taste in culinary creations. As a teenager in Tuscany, he was smitten with Japanese culture and language, in particular, and the earliest goal he can remember was to travel to Japan.
He arrived in Tokyo in the mid-80s, intent on studying Japanese in earnest, and he took on jobs teaching and waiting on tables while attending classes. Soon his Japanese was proficient to a level at which he was commanding rich fees as a trilingual interpreter, helping high profile bubble billionaires set up businesses in Europe. Heady days indeed for a young man who had hardly set foot outside Italy, and found himself flying to exotic locales assisting an America's Cup sponsor one day in Italy, Italian investors in Japan the next.
All the while, his base and future in Tokyo continued to gain traction. Unimpressed by the food offerings most Japanese believed was Italian cooking, Borroni made his first foray into the food service industry in 1989, creating what many fans still fondly remember as the first authentic trattoria in Tokyo.
OPENED IN 1989 ON a backstreet not far from Ebisu station, Il Boccalone was an instant sensation, redefining Japan's understanding of Italian food, with pizzas coming straight out of a genuine Italian wood fired oven, lovingly built with his own hands. The success enabled him to explore opportunities in the United States, but he soon realized his heart remained in Tokyo. In 1983, his second restaurant, Trattoria La Baracca, opened in Toritsu Daigaku, followed quickly by Il Buttero in 1994. The latter, located just off Hiroo's main shopping street, became a landmark destination for its worth-a-detour food. Its exquisite al fresco dining was a rarity in its day, a game changer that attracted the burgeoning wedding reception market, hitherto confined within the staid, cookie cutter walls of the traditional wedding halls. Overnight, the restaurant became a celebrity hot spot in Tokyo, with long waits for reservations.
"MY ROLE NOW IS TO EARN THE LOYALTY OF ITS MEMBERS, AS I HAVE ALWAYS STRIVED TO DO WITH MY RESTAURANT CUSTOMERS."
The Borroni brand continued to flourish, as bars and restaurants opened in Jiyugaoka and Akasaka: 180 employees were working for him, even as Japan's economy struggled its way into the 21st century. His search for perfection never wavered. After numerous trips back to Italy in search of his dream chef, Borroni convinced Bianconi, at the time running a renowned boutique hotel in Tuscany with a Michelin caliber food reputation, to come to Japan as his executive chef at Il Buttero. It was the proverbial match made in heaven. Borroni then recruited Simone Giannini, who had been working in Akita, to join the team in Tokyo.
IN THE END, THE combination of attractive opportunities knocking relentlessly at his door and the restaurants, so closely associated with his personal style and meticulous management, became too much to run day to day on his own. As new businesses and property holdings expanded outside Japan, Borroni made the decision recently to divest, and sold all his directly controlled restaurants in Tokyo. Fortunately, he kept the crown jewels of his culinary team for the various projects he continued to oversee. That is when the fortuitous crossing of their path and FCCJ's occurred.
Borroni and Bianconi do not take the new challenges lightly. They are bringing the same passion they have always brought to their work to the creation of a food legacy the Club will soon be proud to call its own. One would be hard pressed to find the most humble of aubergine recipes, or risotto prepared to finer finish as in the assured hands of Noe. There will also be a selection of old Club favorites, not to mention delights awaiting the most demanding of curry purists, or the most discerning of cheese connoisseurs.
"I'm very lucky to have been given this opportunity," Borroni says. "My role now is to earn the loyalty of its members, as I have always strived to do with my restaurant customers."
74 YEARS AGO, THE founders of the FCCJ created a food destination and spectacularly popular watering hole which was for many years the most eclectic and sought after dining experience in Japan . . . some would have argued in all of Asia. While traditions must be respected and tended with loving care, ample innovation is necessary to entice and enhance. With no handover to speak of, the new team is having to adapt to the yet largely untested service logistics of a brand new facility, while vagaries of the kitchen design still require considerable work.
Borroni says that's precisely the FCCJ legacy he wants to enshrine: the best of new and old, good value while remaining gloriously international in the scope of delicious food offerings. To this end, he has assembled what looks like a dream team of seasoned artisans who have travelled the seven seas to bring us the best of Indonesian, Moroccan, French, Indian, Peruvian . . . and did we already mention Italian?
---
Mary Corbett is a writer and documentary producer based in Tokyo and is a member of the FCCJ's Board of Directors.