Issue: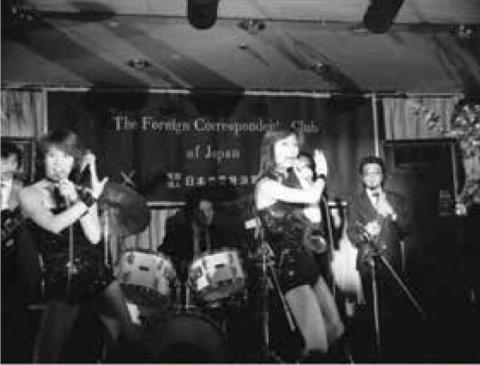 Pink Lady wowed members of the FCCJ on the evening of December 6, 1978, at the peak of their career. Adding a glamorous dimension to Club events, their appearance followed those of such illustrious entertainers as Bob Hope, Danny Kaye, and Marcel Marceau. (Photo from FCCJ Archives)
PINK LADY, A DYNAMIC pop music duo named after the cocktail drink (according to a 1979 article in Look), was formed by two Shizuoka high school classmates in the mid 1970s. While in their late teens, the two girls, Mitsuyo Nemoto ("Mie") and Keiko Masuda ("Kei"), appeared on a Japanese TV talent show and won the top prize as well as a recording contract. A meteoric rise followed, resulting from a string of catchy pop songs to a disco beat, accompanied by synchronized dance steps and sexy costumes. By the end of the 1970s they had nine No. 1 hits five of which were million selling singles as well as a film that became a box office hit.
At their peak in 1978, Pink Lady appeared in their first concert in the U. S., followed by a short lived NBC TV variety show in 1980. But less visibility at home and declining interest in disco music hurt their record sales, as did their refusal in 1978 to perform on NHK's annual New Year's Eve music program, Kohaku Uta Gassen ("Red and White Song Contest"), in favor of hosting their own TV special on another network with disastrous results. A later switch to a style with greater appeal for adults missed the mark and the duo disbanded in 1981.
They continued independently with successful careers as singers and actresses. In 2005, the duo held a farewell tour in Japan, then made a comeback in 2010 with the release of re-recorded versions of their past hits. A concert tour followed in March, 2011, marking the 30th anniversary of their official disbandment.
Pink Lady will be long remembered for being only the second Japanese act to have a single ("Kiss in the Dark") achieve "Billboard Top 40" fame, following Kyu Sakamoto and "Sukiyaki" in 1963.
---
— Charles Pomeroy