Issue: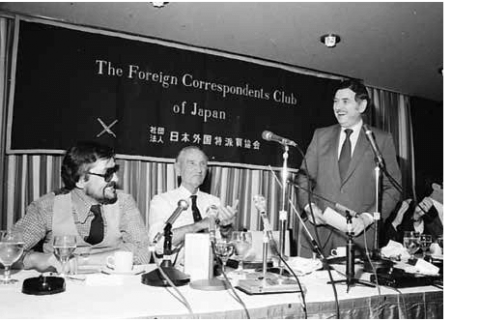 The FCCJ's event program for 1982 led off on Jan. 6 with U.S. Ambassador Mike Mansfield, here applauding a humorous comment offered by Club president Edwin Reingold (Time magazine), apparently aimed at a bearded Richard Pyle (AP), who smiles in response. Mansfield, a retired Democratic senator who had been appointed ambassador to Tokyo in 1977 by President Jimmy Carter, also a Democrat, was asked to continue in that role in 1981 by President Ronald Reagan, a Republican. He did so, and became the longest serving U.S. ambassador in Japan by serving until 1988. Mansfield, who had also spoken at the Club some two years earlier, was highly respected for his even handed handling of bilateral disputes.
"Enduring" would seem an appropriate word to describe Mike Mansfield, for he had also been the longest serving majority leader in the U.S. Senate, holding that position for 16 of his 24 years in that body. As such, he was a key man in passing legislation in the 1960s as part of President Johnson's "Great Society."
Born in New York City in 1903, Mike Mansfield was sent to live with relatives in Montana at the age of three, following the death of his mother. He overcame difficult younger years and gained a hard earned education, with the help of his wife, Maureen, that led to his many years in Congress representing the state of Montana.
Prior to becoming a senator, he served ten years in the U.S. House of Representatives. He served in the U.S. Navy in WWI, followed by a year in the U.S. Army and another two in the U.S. Marine Corps that took him to Asia and sparked his interest in the area.
Although known for his centrist approach to divisive issues and self effacing modesty, Mansfield was also noted for expressing strongly held opinions. One of these was his early opposition to continuation of the Vietnam War. This led to his promotion of legislation that became the War Powers Act of 1973, limiting the president's authority to commit U.S. forces without the consent of Congress. In addition to many other honors, in 1989 he received the Presidential Medal of Freedom, the nation's highest civilian honor, following his retirement as ambassador. He died in 2001, at the age of 98.
---
– Charles Pomeroy,
editor of Foreign Correspondents in Japan,
a history of the Club that is available at the front desk