Issue:
Nihon chusu no kyobo
Shigeaki Koga
Kodansha
Gift from Shigeaki Koga
Chosen suru sekai no tsushinsha: media shinjidai ni
Sekai no tsushinsha kenkyukai (ed.)
Shinbun Tsushin Chosakai
Gift from Kazuo Abiko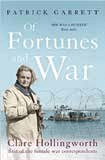 Of Fortunes and War: Clare Hollingworth, First of the Female War Correspondents
Patrick GarrettTwo Roads
The Ryukyu Kingdom: Cornerstone of East Asia
Mamoru Akamine; Lina Terrell (trans.); Robert Huey (ed.)
University of Hawaii Press
Japan Company Handbook (Summer 2017)
Toyo Keizai Inc.