Issue: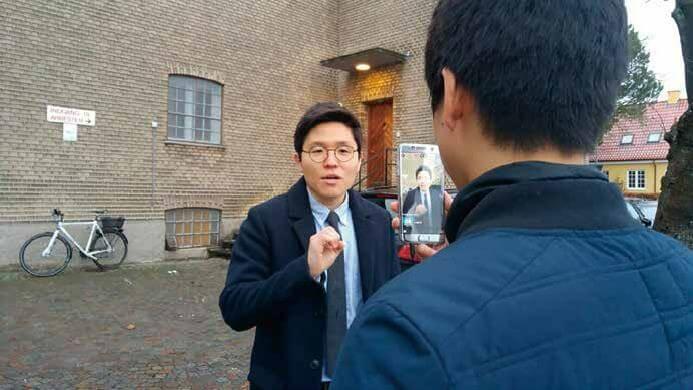 When the journalist becomes the story
A young South Korean reporter faced a tough situation, and made a choice. Was it the right one? You make the call.
by ASGER ROJLE CHRISTENSEN
It was four o'clock in the afternoon on New Year's Eve in the tiny Danish village of Gug, on the outskirts of Aalborg. It was dark enough for the Danes to have begun the traditional New Year's fireworks, which would go on all night.
Lee Ga-hyuk, a young reporter for the South Korean cabletelevision company JTBC, and his cameraman, pulled up outside a villa where they suspected that Chung Yoo-ra, a 21 year old woman who was one of the main characters in the worst political corruption scandal in Lee's homeland in decades, was holed up. "We were very tired and a little scared," Lee says.
At the end of December, Lee and teams of reporters from at least six major Korean media outlets had flown to Frankfurt, where the young woman was thought to be staying. They had been in Germany for a week, and were about to follow a tip from one of their sources and head for Austria, when they received a phone call from Korea suggesting they go to Aalborg instead. It was likely, this source said, that Chung was staying close to a local horse training farm in the area, where several of her own horses were located.
Chung was a successful equestrian who had won a team gold medal for South Korea at the 2014 Asian Games. She was also the daughter of Choi Soon-sil, a confidant of then President Park Geun-hye, who allegedly conspired with Park to strong arm donations from major corporations. Choi had been arrested in November, and was being called the "Rasputin" of the scandal. Chung, her daughter, had fled from South Korea before authorities could ask about her own involvement, and Interpol had been asked by Seoul for help in tracking her down.
In Frankfurt, Lee's team made a quick decision and headed north rather than south. For security reasons, they left their interpreter and driver in Germany, so Lee and his cameraman took turns at the wheel, fueling themselves on a diet of bananas over the 941km, non stop trip.
OUTSIDE THE VILLA IN Gug, the JTBC team considered their options. They could see a luxury minivan with German license plates parked outside, one that Chung and her companions were known to have used. Through the window, they could see an Asian rice cooker. They knocked on the door and called out in Korean, but there was no response. The door was locked and the shutters were pulled.
When they showed photographs of the wanted woman, neighbors confirmed that they had seen her taking walks in the area with her small child. Lee and his colleague, now convinced they were on the scent, staked out the villa over the next 24 hours. There was no movement. Nothing happened. No one came or went.
Lee's next act was to spark a storm of controversy and second guessing: he dialed "114," the emergency number of the Danish police. He spoke to a Danish police officer who, naturally, had never heard of Chung Yoo-ra or the scandal she was embroiled in. He and his colleagues ended up having to check Interpol records of wanted people on their computers; but four hours later they appeared at the villa, where they took Chung, her young son and several others into custody.
A Danish policeman took the time to show Lee's team Chung's passport, and their film of that moment has been shown countless times on South Korean television.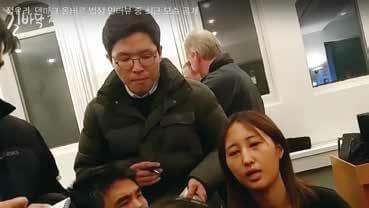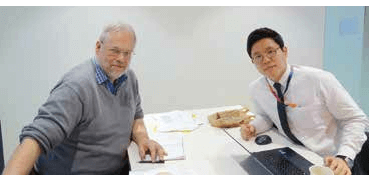 WAS LEE RIGHT TO call the police? The reaction in South Korea was muted. A few voices on the internet criticized JTBC for "irrevocably opening the journalism parallel to Pandora's Box." They stated that the role of the journalist should be to observe and report, not to become an active participant, and that JTBC had taken advantage of its own actions in being the first to report the arrest as exclusive news.
But, generally, people in Korea were so angry at President Park and her associates that most tended to believe it was in the public interest to have young Chung arrested as soon as possible. The public image of her was a spoiled young girl who had greatly benefited from corruption, entering schools and universities using political pressure on school authorities. Business giants like Samsung had paid for her horses and her stud farm rental fees. Many thought the journalists' task in that situation was to collaborate in the arrest.
I READ ABOUT THE incident the following day on a Danish news website: a report that the Danish police had arrested the so called "horse girl" after a tip from a South Korean journalist. It made me wonder, as it did many of my colleagues from all over the world that I later talked to about the case. Calling the police? It's something that you just don't do. It makes you too much a part of the story.
A few months later, while in Seoul on another assignment, I contacted Lee Ga-hyuk hoping to talk about what really happened during those hectic days in Germany and Denmark. We had a quiet and informal talk as col leagues on the ground floor of JTBC's modern headquarters in Seoul's so called "digital media city." JTBC has recently become an extremely popular television channel, especially among the young. It has the same owner as one of the established conservative newspapers, but has a liberal image. And it's considered a critical voice to the government and power.
"We felt we had to speed up the process, so we chose to go to the Danish authorities"
It wasn't as if JTBC tried to hide its involvement in Chung's arrest at the time. Their headline read, "JTBC called the police for fear of escape" you can hardly play a more proactive role in a news story than that.
Upon orders from his editors, Lee Ga-hyuk had refused to give interviews to several Danish media while in Denmark. But it was obvious that he knew of our concerns, and he wanted to explain.
Lee emphasizes that their original intention as they drove from Germany to northern Jutland was to find Chung Yoo-ra, talk to her and give her an opportunity to explain herself. That was the report he wanted to send home. But the doors and shutters to the villa remained closed and his story was at a standstill.
"I KNOW JOURNALISTS should not be part of their own stories," Lee says. "But I don't think these ethics can be used in our situation. We had driven more than 900 kilometers. We had waited for a day. It was dark and we were freezing. The neighbors were suspicious of us, and I can't blame them for suspecting we were Asian terrorists. And we were afraid of getting beaten by Chung Yoo-ra's bodyguards."
I asked him why, after confirming that Chung was in the house, he didn't just do a stand up report from in front of the house, reporting the facts. "We did consider that as a possible solution," Lee says. "Another possibility was to wait in hope that she would choose to talk to us. But we began to fear she would flee or destroy evidence."
The final decision was not Lee's alone. "We discussed the matter with our editors and lawyers in South Korea, " he says. "We felt we had to speed up the process, so we chose to go to the Danish authorities."
Lee stressed that he did not go to the police in order to be able to film the arrest and get footage of the arrest as an exclusive. He claims that he and his cameraman had no idea in advance that they would be allowed to be present at the arrest. In fact, in the end, they were only allowed to be there at a relatively long distance.
AFTER SEVERAL MONTHS OF legal limbo, Chung Yoo-ra was extradited to Seoul in late May where she was arrested, but later released, and now awaits trial. Her mother is in court, as is the former president she served. Meanwhile, South Korea has elected a new president and is looking forward.
"It's a big word to use, but during those days in northern Denmark, we actually felt like we were on a mission," Lee Ga- hyuk explains. "We felt we represented all South Koreans. We were their eyes and ears while they were waiting at home for any news.
"So we chose to become part of the story."
---
Asger Rojle Christensen was Tokyo correspondent for various Danish news media from 1989 until 1995 and again from 2013. He is based in Japan as a journalist/analyst reporting on Asia. (A Danish version of this article was first published in Journalisten.)