Issue:
It's the season for film lovers, with much more on offer than the usual multiplex fare
---
Here's a figure that may not have snuck up on you: There are almost 3,000 active film festivals in the world, and at least 120 of them take place in Japan.
Festivals have always bridged the paradoxical position of cinema as both art form and product to be sold, playing host to screenings, panels and parties that promote sales as well as launching careers. But in these fraught times for film viewing, festivals are more vital than ever to the livelihoods of everyone in the industry a tightknit global community of filmmakers, distributors, programmers and critics who rely on festivals to reach and read their initial audiences.
The industry's woes may be well publicized, but make no mistake: film is still big business. Although just displaced by China from its long held No. 2 position, Japan remains the world's third largest film market (accounting for $2.4 billion in 2012, just behind China's $2.7 billion). It is also big diplomacy. With the tense political situation between Japan, China and the Koreas, cultural transactions ("soft power") like film festivals have become increasingly important to peace and prosperity in the region.
As arthouse cinemas continue to shutter (since 2008, 25 in Tokyo alone), as specialty distributors bite the dust, as government and corporate support for filmmaking shrinks a little more each year, festivals have become the new theatrical run for many films and for those lucky few, the gateway to awards and commercial success. The current generation of independent filmmakers almost always relies on buzz from the festival circuit to build sustainable careers. So today's festivals serve the dual role of propping up diplomatic relations and buttressing a market in transition.
Japan's peak festival viewing season is upon us, starting with the Yamagata International Documentary Film Festival (Oct. 10 - 17), followed immediately by the Tokyo International Film Festival (Oct. 17 - 25) and a month later by TOKYO FILMeX (Nov. 23 – Dec. 1). Three festivals in just over two months may look like cinematic overload, but each has its own personality, its own thematic focuses, its own stylistic preferences. Yet like most festivals, these three are run by nonprofits facing the same challenges as the filmmakers they support; underfunded, understaffed and overextended, they are held together by indefatigable volunteers, appreciative filmmakers, enthusiastic audiences, a stitch here, a safety pin there.
Although their submissions and audience numbers are increasing and they claim to be reaching the holy-grail younger demographic, YIDFF, TIFF and FILMeX are struggling to stay funded, to exploit social media to their advantage, to help get their foreign films distributed in Japan, and to help their Japanese filmmakers find festival berths and sales overseas.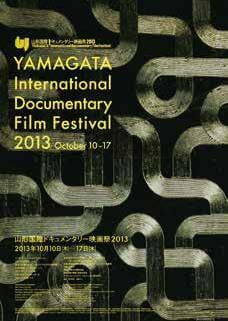 Here are brief snapshots of the fall festivals, in order of occurrence:
YIDFF
Founded in 1989 as Asia's first ever documentary festival to commemorate the 100th anniversary of Yamagata City, YIDFF has been held biennially ever since. Located in the scenic mountains of Yamagata, some 370 km north of Tokyo, the festival screens an eye popping number of films, hosts several hundred guests, attracts close to 25,000 visitors and still feels intimate.
YIDFF Tokyo Office Director Asako Fujioka celebrates her 20th year with the festival in 2013. "I didn't give birth to it, but maybe I'm like the surrogate mom," she laughs. Fujioka joined YIDFF after a childhood spent overseas and an early career in film distribution. The festival was then, as now, a magnet attracting emerging documentarists across Asia. Fujioka attributes this to YIDFF's many special events and programs highlighting the history and diversity of alternative, independent, nonfiction film. "We've chosen not to be on that mad festival circuit, chasing premieres. Other festivals try to bring the biggest names, but our focus is on the films."
YIDFF 2013 is highlighting work from Southeast Asia in all its sections. Fujioka touts The Ethics Machine: Six Gazes of the Camera, with films and discussions about the ethical choices facing documentarians. "When 3/11 occurred, many Japanese filmmakers began braving taboos," she says, "but they were too respectful to their subjects, gave them too much distance. This made the films a bit constrained and not very interesting in the end."
Fujioka is also excited about a 45 film retrospective devoted to Chris Marker, the late French filmmaker who brought us La Jetée, Sans Soleil and AK, an essay film on Akira Kurosawa which will all be shown at YIDFF. Says Fujioka: "Marker had a strong connection with Japan. He loved it, he made several films here, he had friends here. So to have this retrospective here is very special. We're doing the largest one up until the huge one at Pompidou Center."
TIFF
TIFF begins its second quarter century with a new director general, Yasushi Shiina, a shiny new logo, a new slogan ("A films first festival") and revamped main sections.
A veteran of Asmik and Kadokawa, Shiina was a member of the TIFF Executive Committee for the past 12 years. After being named to replace the affable Tom Yoda, the popular TIFF chairman from 2008 to 2012, Shiina packed his bag with a vision before moving in.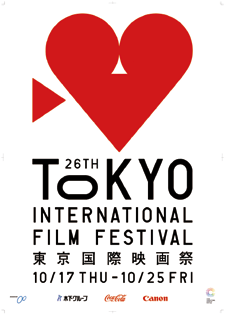 "I'm determined to make TIFF an essential film festival, as it once was," says Shiina. "To do that, we need to achieve a better balance between commercial and arthouse films, which is difficult. We need to raise our artistic profile without compromising on our selections."
Shiina is also considering other improvements. "We're very grateful for Mori Building's support," he says, "but Roppongi only has seven screens, and that's not enough. We're looking at opportunities in Yurakucho, Hibiya and Nihonbashi, so we can expand the number of screens. And there's also the separation of TIFF and TIFFCOM, which will be in Odaiba again for the second year. The festival and market should be together; it's not convenient this way. Another issue is timing: November doesn't have to be the only choice."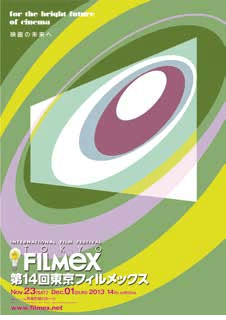 Shiina promises that TIFF is shifting its focus back to the filmmakers themselves, and he's eager to make animé a major focus of the festival. "Animated films earn a lot more at the Japanese box office than live action movies," he says, "and there's global attention on animation. I would like to bring together Japanese and Asian talent to encourage collaboration." The 2013 festival lineup* will also include more home grown productions, with Japanese films to be featured in every section.
One more change that Shiina feels will particularly please Number 1 Shimbun readers: "We are planning a new program especially for international audiences and film journalists, and we're improving our previous system for the press, modeling it after the Cannes Film Festival's."
FILMeX
From its launch in 2000, TOKYO FILMeX had a special brief: to offer serious films for cinephiles and cineastes. Supported by "Beat" Takeshi Kitano's office, its driving force is Kanako Hayashi, an international film festival veteran who spent 11 years promoting Japanese films overseas, and consulted for the Venice and Berlin film festivals.
During the festival run, she is a familiar figure in the Asahi Hall lobby, where she meets, greets and presides over introductions after every screening. "Our most important role is building bridges between filmmakers and their audiences, and between Japan and the world," she says.
Hayashi is proud of the festival's consistent lineups: "At most festivals, the opening and closing films are just fireworks to attract crowds and the media, appetizers to impress the sponsors. FILMeX has to start right in with the main course, so we can only accommodate spectacular films. We cannot compromise on the selection."
Despite having to watch close to 1,000 films, that selection is made solely by Hayashi and Program Director Shozo Ichiyama. She explains: "I can't afford to miss any diamonds in the rough before they get polished. As long as there is clearly talent, I watch them all."
FILMeX 2013* will include 10 competition films, 10 special screenings and a Japanese Classics section featuring films by Noboru Nakamura, a twice nominated Academy Award contender whose career at Shochiku extended from 1941 thru 1979. "He was known as the Great Conductor," says Hayashi. "He worked with composer Toru Takemitsu, editor Keiichi Uraoka, and actors like Keiko Kishi, Isuzu Yamada and Mariko Okada. Nakamura is not well known internationally, but he deserves to be."
Serious about its commitment to the "Bright Future of Cinema," FILMeX features a student jury, conducts workshops to "educate and encourage the next generation," and will be bringing 15 emerging filmmakers to participate in its 3rd Talent Campus Tokyo, for "insider" sessions with industry veterans and coaching by famous mentors.
*TIFF and FILMeX unveiled their full lineups after we went to press. For more, see their websites, and the Movie Committee's blog at fccj.ne.jp.
---
Karen Severns is a writer, filmmaker and educator who lectures widely on film and architecture.