Issue: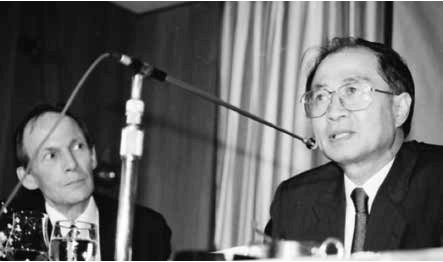 Yasushi Akashi, then head of the UN Transitional Authority in Cambodia (UNTAC), spoke at the FCCJ on July 29, 1993. UNTAC was a peacekeeping operation in Cambodia from 1992 that had organized and conducted elections there in May of 1993, resulting in a coalition government. Henry Scott-Stokes, Club treasurer, gives his full attention to the speaker's comments.
Yasushi Akashi was born on Jan. 19, 1931, in Akita Prefecture. After graduating from the University of Tokyo in 1954, he went on to study at the University of Virginia under a Fulbright scholarship followed by studies focused on law and diplomacy at Tufts University. In 1957, he joined the UN the first Japanese national to do so initially as a junior officer. He represented his own country from 1974 to 1979, when he served in the Permanent Mission of Japan to the UN as a Counsellor, then Minister, and finally as Ambassador.
An appointed international civil servant to the UN Secretariat, Akashi was named to two successive posts as an Under Secretary General (USG), for Public Information (1979) and for Disarmament Affairs (1987), before being named as the Special Representative of Secretary General (SRSG) in Cambodia in 1992. In 1994 he became the SRSG in the former Yugoslavia. Both were areas of brutal civil wars and personal risk that an international civil servant accepted as part of the job. He served in 1995 as Special Advisor to the UN Secretary General before in 1996 again becoming a USG, this time as Humanitarian Affairs and Emergency Relief Coordinator. Following 40 years of distinguished service in the UN, he retired in 1997.
Akashi's public service did not end when he retired from the UN. He went on to serve as President of the Hiroshima Peace Institute as well as of the Asahi Shimbun Asia Network (AAN) until February of 1999. The Government of Japan then called on him to be its representative for Peace Building, Rehabilitation and Reconstruction in Sri Lanka. He served, too, as Chairman of the International House of Japan from 2009 until his retirement in 2018.
Akashi has also found time to write books on international relations, including The United Nations Tracks and Prospects, Between War and Peace People Across the Border, and Skills to Negotiate with a "Dictator," that were published in Japanese. He ran for governor of Tokyo in 1999 with the support of the LDP and Komeito, but lost to Shintaro Ishihara, the well-known firebrand, author and former Diet member.
Akashi remains active today in a number of roles, including as a speaker at many forums.
---
– Charles Pomeroy
editor of Foreign Correspondents in Japan,
a history of the Club that is available at the front desk