Issue: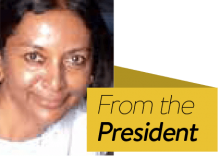 BEING ELECTED PRESIDENT OF the Foreign Correspondents' Club of Japan on its 70th anniversary is a tremendous honor and a landmark in my career and personal life. I have been a member for the past 20 years, observing the twists and turns of this gracious organization. Working alongside and exchanging views with correspondents from all over the globe has been, without a doubt, an enormous opportunity for personal growth.
The Club has always been a place where I could add depth and intuit to a story that would otherwise have definitely had a narrower scope. Indeed, taking over the reins is the least I can do in return for being able to share the prestige and learning opportunities that have been extended to me.
I want to remind colleagues of the geopolitical and economic changes that are reshaping the character of the FCCJ. When I first joined the Club, the membership largely consisted of correspondents from the more influential media representing the wealthier Western hemisphere. Today, the situation is evolving.
With Asia's growing economic and political muscle, media companies in the region have started to expand their horizons. Large organizations have dispatched full time correspondents to Tokyo; smaller ones that cannot afford to send their own staff are also looking for ways to get more stories from Japan. I believe this trend will continue, at least for the next decade.
The story today is about a thriving region that has shed its colonial past and is searching for a unique identity. Just take a look at the new media organizations popping up in the region. Indeed, the discussions taking place in the editorial rooms that dot Asian cities are all about taking steps to report development in their own style. Social media is playing its own role in promoting this trend, and the Asian media is relying less on parachute journalism from the West to tell the region's stories.
All this signals important opportunities for the FCCJ to carve its place in international news reporting about Japan and Asia. The Club offers a physical cocoon for new correspondents to settle down with their laptops, but that comes from its inspiring history as a top notch location for newsmakers and news reporters, and unmatchable access to a wide Japanese network of contacts. The FCCJ is no longer just a beacon for news reporting about Japan to the world outside; it also plays a powerful role in communicating information to the Japanese public about local issues that are ignored by the mainstream media.
I would like to offer my best wishes to the Club, its employees and, most importantly, its Members on the 70th anniversary of the FCCJ. And I look forward to celebrating many more years of success.
---
— Suvendrini Kakuchi