Issue:
October 2021
Chaotic evacuation from Afghan capital highlights weaknesses in Japan's asylum system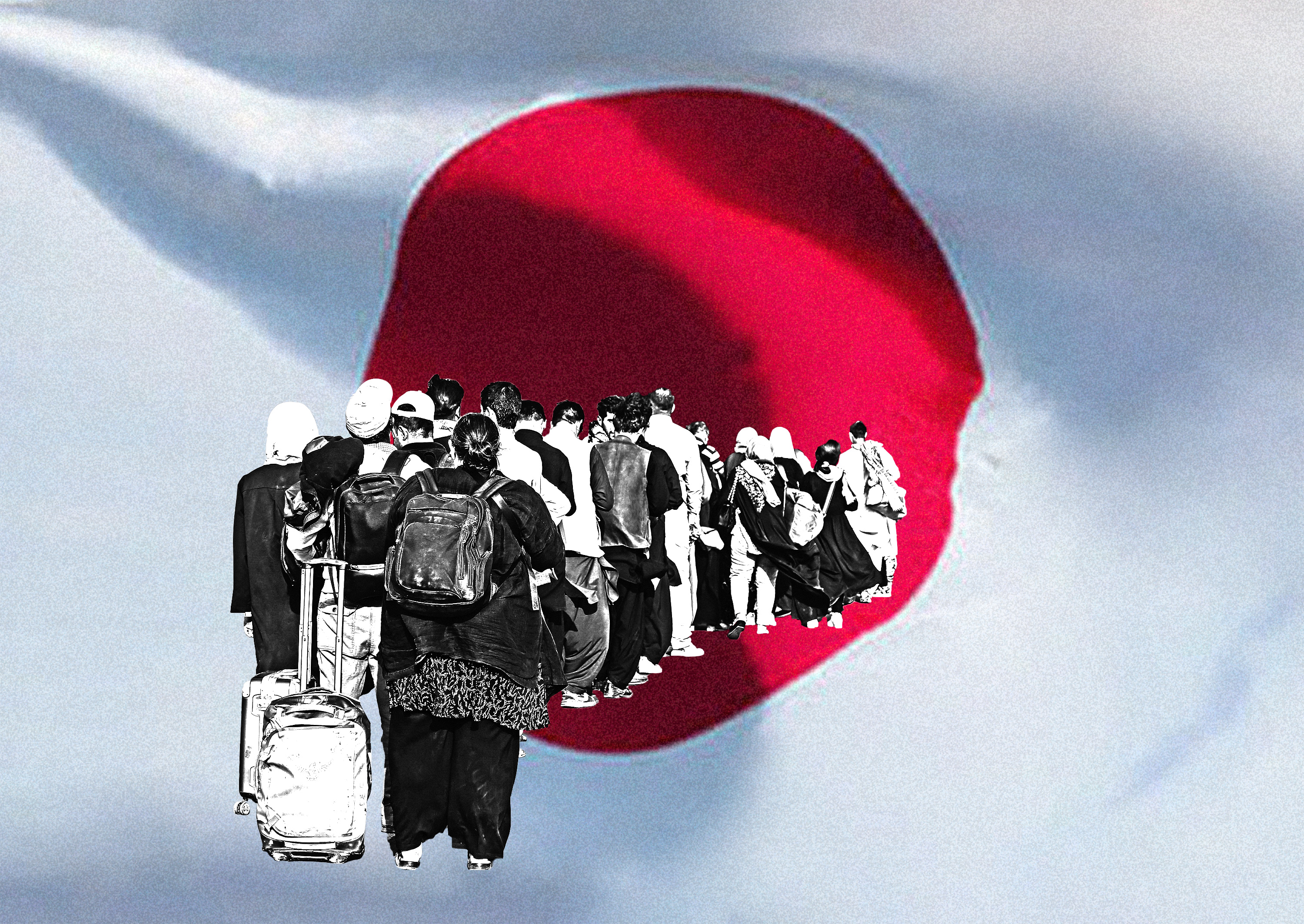 Muhammad (not his real name), who lives in Japan with his family, lies awake most nights these days. The Afghan is waiting anxiously to welcome his extended family – parent and siblings — who are desperate to leave Kabul now that the capital is ruled by the Taliban.
With help from Japanese supporters, Muhammad, who belongs to a minority ethnic group in Afghanistan, has painstakingly prepared the list of documents his relatives need to apply for a visa at the Japanese embassy in Islamabad, Pakistan. Yet, the road to Japan for his family promises to be long and bumpy. The eight people Muhammad is sponsoring must first gain entry to Pakistan – a difficult task that brings with it yet more excruciating uncertainty. "The process of bringing back loved ones from Kabul is a maze of Japanese bureaucratic challenges," Muhammad said in an interview.
Japan is no haven for the world's persecuted, as past global refugee crises have demonstrated. When 6 million were displaced during the war in Syria in 2011, for example, Japan belatedly accepted 95 refugees as university exchange students. Of the 12,000 applications filed in an average year by foreigners seeking asylum in Japan, just 2% are successful.
Britain, by comparison, accepts more than half its refugee applications a year. Even South Korea, which is no great friend of asylum seekers, did a better job than Japan, bringing into the country almost 400 Afghans who had worked for the South Korean government soon after the Taliban takeover. The Japanese justice minister, Yoko Kamikawa, told reporters at the end of August only that "the government as a whole will need to consider" accepting Afghan refugees.
Muhammad is not alone in being made to wait for his family. Also counting the days until she can escape from Kabul is "Afsana", a young woman who is in touch with her supporters in Japan. In a Viber call, the English-speaking Afghan said she now lives locked up at home with her mother and two sisters. "I fear oppression from Taliban rule because they can be especially violent against women," she said. "I cling to the dream of studying in Japan and fulfilling my ambition to become a MBA graduate," she added, her courage and determination to overcome the odds evident in her every word.
At a recent press conference, representatives of four Japanese NGOs with offices in Afghanistan explained why the government in Tokyo had offered so little support to people desperate to flee the regime in Kabul.
After the Taliban moved into Kabul on August 15, Afghan staff who had worked for the Japanese government were not allowed to take members of their family with them on Japan Self-Defense Force evacuation flights. The only exceptions were for the relatives of local staff who had worked for the Japan International Cooperation Agency.
Chiaki Furukawa, a member of an international NGO that has been working in remote areas of Afghanistan, said local employees of her organization had been visited by the Taliban because, having worked alongside foreigners they had been identified as potential threats. Despite the dangers, some Afghan workers refused to leave Kabul without their families, she said.
Professor Reiko Ogawa, a sociologist at Chiba University, is working to help former students from Afghanistan and their families to enter Japan. "I am overwhelmed by the paperwork involved to get visas," Ogawa said. "Even though we have offered people university sponsorship, Japanese immigration regulations put up insurmountable hurdles that essentially do not offer humanitarian pathways to Japan."
"Even though we have offered people university sponsorship, Japanese immigration regulations put up insurmountable hurdles that essentially do not offer humanitarian pathways to Japan."

Professor Reiko Ogawa, a sociologist at Chiba University
The situation has highlighted Japan's inability to put emergency immigration measures into force and save lives during acute humanitarian crises. "This position makes no sense given that Japan is a member of the international community and a signatory to the international refugee convention," Ogawa said.
Another major concern for advocacy groups is the treatment of refugees who are traumatized and need extra support. Foreigners who arrive in Japan with little money or qualifications face insecure employment, the language barrier and social isolation. "Japan is woefully behind most other countries when it comes to providing a speedy lifeline to refugees. The lack of public awareness about outsiders is a key problem," Ogawa added.
One of about 3,500 members of the Afghan community in Japan, Muhammad initially came here to work for an Afghan company, and then stayed on. He now runs his own company, and his four children attend local schools
Muhammad, who belongs to a small Afghan community living on the outskirts of Tokyo, continues to struggle with the language barrier and feelings of helplessness. Members of the close-knit community help each other.
He is now looking for a new apartment for his relatives when they arrive. Since most Afghan women are traditionally homemakers, it will hard for them to find jobs here, but their children will be able to go to school. "The girls, in particular, will lead very different lives to the ones they had in Afghanistan," he said.
Japan, the world's third-largest economy, a safe and affluent country, is becoming a more attractive destination for refugees. "The Japanese also have experienced the trauma of war-related displacement, in which families were torn apart, during World War II," Ogawa said. "It is a pity that the government hasn't taken the lessons of the past seriously enough to help others in similar situations".
---
Suvendrini Kakuchi is Tokyo correspondent for University World News in the UK.