Issue: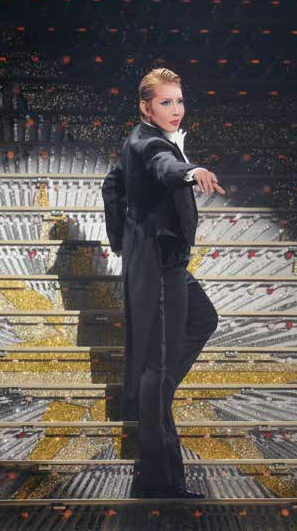 One of Takarazuka's top otokoyaku stars calls it a day with an extravagant good-bye show.
COOL JAPAN COMES IN many forms. Its unique content includes traditional Kabuki, where all the actors are male, Bunraku puppet theater, the drama of Noh, modern manga, the culture of anime and cosplay. Also included is the spectacular, glossy Takarazuka all female revue, where some of the girls will be boys.
Now in its 101st year, the Takarazuka Company has been running a special double bill in their Tokyo Theater featuring 16-year veteran top otokoyaku ("male" star) Reon Yuzuki, taking her final bow with her musumeyaku female partner of six years, Nene Yumesaki. Running from March 27 to May 10, the unique double production features spectacular stagings of an historical drama, "Like a Black Panther" and a gorgeous musical review "Dear Diamond!!" Like all recent Takarazuka productions, all the shows have been sold out.
The Yuzuki-Yumesaki duo took the leading roles of Napoleon Bonaparte and Josephine in "Napoleon, the Man Who Never Sleeps" in March, 2014, a specially commissioned musical commemorating the 100th anniversary of the Takarazuka's founding. Demand for tickets was intense.
The origins
In 1913, Ichizo Kobayashi, founder of Hankyu Railways, was looking for a way to bring more visitors by Hankyu trains, of course to the newly established Takarazuka hot-spring resort near Osaka. It seems that hot spring water alone was not enough to bring in the public, so the Kansai entrepreneur sought another solution and hit on the idea of all female musical review. He emptied the swimming pool, installed seats, started the Takarazuka Review and never looked back. Since then, the Review has grown in stature to become a domestic theatrical giant and has traveled far afield. The Tokyo Theater opened in 1934.
A unique characteristic of Takarazuka Review is that all the performers are graduates of the Takarazuka Music School. They study ballet, dance, singing and other cultural programs for two years. The entrance examination is more selective than Tokyo University's as the success ratio is one in every 26.6 applicants.
Currently there are five troupes comprising the Hana (Flower), Tsuki (Moon), Yuki (Snow), Sora (Cosmos) and Hoshi (Star) troupes. Yuzuki has been the top star in the Hoshi (Star) troupe for six years with Nene Yumesaki as her musumeyaku partner. (In addition to the five troupes, there's an elite squad of veteran performers in a special division who join any troupe as needed.)
With 400 performers and directors, composers, musicians and back-stage technicians for lighting and set changes, the total company includes 1,000 professionals. The quick set changes for which the Review is famous are only possible with such a professional team.
The sayonara show
"Like a Black Panther" is an extravaganza written by Yukihiro Shibata, a veteran in-house director/ writer. Directed and choreographed by Tamae Sha, a former otokoyaku performer, it is a dramatic vehicle to present the sleek and dynamic image of Yuzuki, whose character has been described as "black panther like." There is spectacular dancing, passionate singing, sinister intrigue and unrequited romance in the classic Takarazuka formula. The plot features Yuzuki in the role of Count Antonio de Odalys, a Spanish naval hero, who upon returning from a three year mission, finds Caterina, his former lover played by Nene Yumesaki and is caught up in romance and political intrigue. Yuzuki also portrays the king of all gems in "Dear Diamond!! The Eternal Brilliance of 101 Carats," written and directed by Daisuke Fujii.
Japanese women love Takarazuka for its brilliant stage presentations and the sleek, charming and handsome otokoyaku actors, who although female represent the ideal male in comparison to the reality of less sexy boyfriends or dull husbands. Yuzuki's sayonara performances showcase the talents of this star performer and also provide an outstanding example of the typical Takarazuka glitzy style.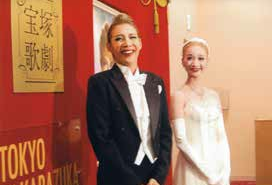 When I asked her what her plans were after graduating whether would she take a break before tackling female roles, she was non-committal. She replied that since she has been playing male roles so intensively she could not think of tackling other roles right now.
---
Haruko Watanabe is former Tokyo Bureau Chief of the Press Foundation of Asia and producer of "the Women Pioneers" video series.