Issue:
Tombo by Hiroshi Tanaka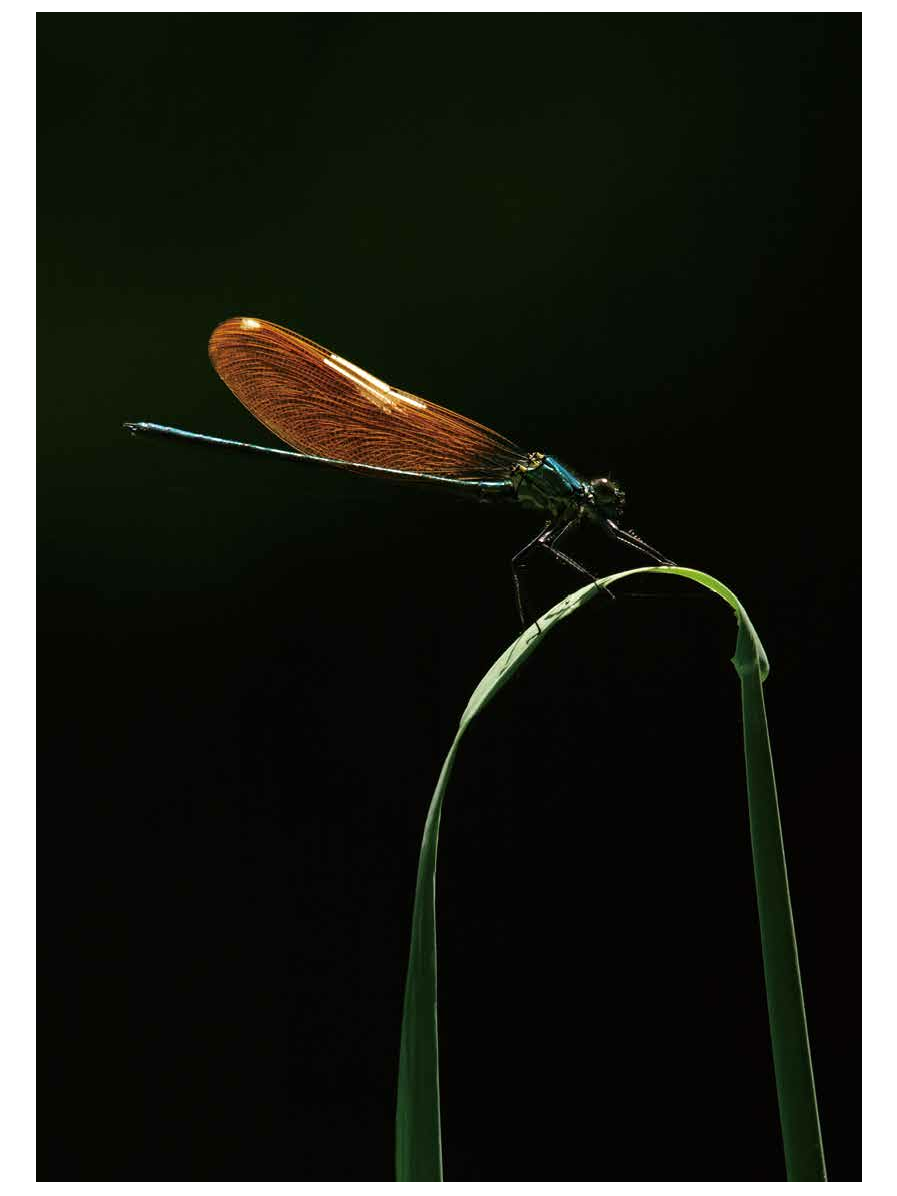 THERE ARE OVER 200 species of tombo (dragonfly) in Japan. The popular insect is the subject of children's songs and is considered good luck because it only flies in a forward direction. The theme of photographer Hiroshi Tanaka's series is "the view from a child's perspective." "Instead of using a net," Tanaka says, "I capture tombo with my camera."
Hiroshi Tanaka spends his weekdays as a businessman and his weekends as a photographer. He has exhibited at the Kashiwazaki City Museum and the Museum of Modern Art. More of his work can be seen at www.tombo-tanaka.com
MEET THE PRESS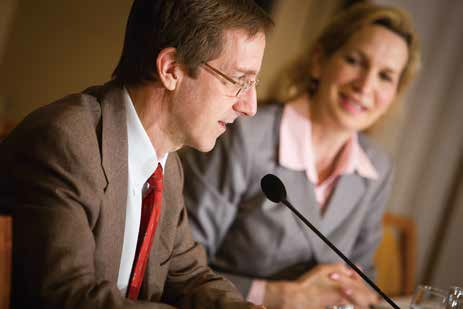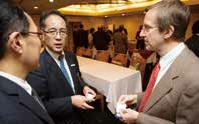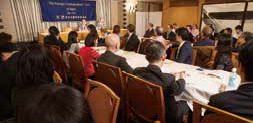 William Mallard, the deputy bureau chief of Reuters' Tokyo office was the guest at the first "Meet the Press" event at the FCCJ on Tues., April 21. Some 50 attendees showed up to listen to Mallard's description of his work leading one of the most vibrant and influential foreign newsrooms in Japan. After his address, he stuck around to answer a barrage of questions, ranging from how to deal with unconfirmed information to the monetary value of up-to-date news items.
This was the first of what will be a series of such events meant to throw light on the cutting edge of the journalism industry from the men and women on the frontlines.
(Photographs by Martin Hladik)
JOIN THE FILM COMMITTEE . . .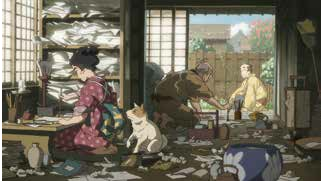 . . . at 7:00 pm on Thurs., May 7 for a sneak preview screening of Miss Hokusai. This breathtakingly beautiful evocation of 1814 Edo brings to life the extraordinary story of eccentric artist Katsushika Hokusai and his outspoken daughter O-Ei, who is now recognized not only as an essential contributor to his later work, but as a groundbreaking artist in her own right. Marking the first collaboration between Annecy-winning director Keiichi Hara (Colorful) and the acclaimed animation house Production I.G (Ghost in the Shell, Giovanni's Island), Miss Hokusai is a revisionist history that literally animates the process of creation in ways that are by turns lyrical, lush, magical and startling. Already scheduled for distribution throughout Europe and sure to be a perennial favorite, Hara's new work is an enthralling tribute to one of Japan's iconic artists – and the assistant who, given different circumstances, might have one day surpassed him.
(Japan, 2015; 90 minutes; Japanese with English subtitles.)
— Karen Severns
HEARD AT THE CLUB
"Some people, including Prime Minister Abe, may say there's no evidence, but I'm alive. I'm the evidence. To say evidence doesn't exist is absurd."
Former "comfort woman" Bok-tong Kim, responding to deniers of official involvement in the sexual slavery systemat the FCCJ, April 24, 2015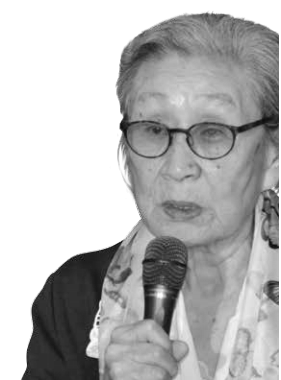 REGULAR MEMBERS
KATSUHIRO ASAGIRI is President of IPS Japan, a member of the Inter Press Service Group. Asagiri obtained his Master's degree in Development Administration from Western Michigan University. In 1992, he was appointed staff writer and editor on development related issues for a monthly magazine. From 2002-2004, he was Deputy Secretary General of the WYPS Japan office, organizing international symposia on themes such as interfaith dialogues and preparing to launch IPS Japan. He is also president of Global Cooperation Council for Asia-Pacific and Tokyo correspondent and Bureau Chief of InDepthNews Asia-Pacific.
SHINICHI HISADOME is the director of the International News Desk at the Tokyo Shimbun. He joined the paper in 1984 and started his career as a reporter on city news. He mainly worked in the Economic News Desk before being transferred to the International News Desk with posts to Washington from 2005 to 2008, and once again from 2011 to 2013. Upon returning to Tokyo in 2013, he was named Deputy Editor at the International News Desk.
KAORI HITOMI manages the TV operations of AP Tokyo since last November. She has been with the TV section of Associated Press for over 17 years, first as a field producer based in Tokyo, then overseeing news planning of the TV operation in Asia and Pacific region – based in Bangkok and covering the world from Antarctica to Afghanistan – covering such news stories as the late 90's Asian economic crisis, the World Cup held in Japan and South Korea, Japan-North Korea abductee related issues, the 3/11 disaster in Japan as well as various political events.
ITSUO KUMAKURA is an editorial writer for the Chunichi Shimbun and Tokyo Shimbun. He joined the Chunichi Shimbun in 1982 and worked as a journalist in branches in Hamamatsu, Gifu, and Nagoya, before joining the foreign news department of the Tokyo Shimbun in 1994. He was posted to Bonn, Germany, between 1995 and 1998, and returned to the foreign news department before a second posting to Germany, this time to Berlin in 2004. From 2010 to 2014, he held a position in the foreign news department.
PROFESSIONAL/ JOURNALIST ASSOCIATE MEMBERS
Terri Nii, KNT Co., Ltd.
Kikumi Nakazawa
Keiji Nakamura, Fukushima Television
Hideki Oe, Office Libertas Co. Ltd.
Shuichiro Ueyama, Ueyama & Associates, Inc.
ASSOCIATE MEMBERS
Toshio Goto, Japan University Of Economics
Naoto Konishi, Poletowin Pitcrew Holdings, Inc.
Fumiya Kokubu, Marubeni Corporation
Toshiaki Otsuka, Nippon Medical School
Masataka Sase, Japan Corporation Center, Petroleum (JCCP)
Yuji Takei, Swift Japan Ltd.
Kurodo Yoshida, Nichizei Business Service Co., Ltd.
Takahiro Yamashita, Yamashita Office Co., Ltd.
REINSTATE (ASSOCIATE)
Hirokatsu Ichimiya, Makino Memorial Hospital
New in the Library
Shoin no imouto o tsuma ni shita otoko no Meiji Ishin
Hideki Tomizawa Tokuma Shoten Gift from Hideki Tomizawa
Japan and Back and Places Elsewhere: A Memoir
Hugh Cortazzi Global Oriental Gift from Kosuke Matsumura
Japan Experiences: Fifty Years, One Hundred Views: Post-War Japan through British Eyes
1945-2000 Hugh Cortazzi (comp.) Gift from Kosuke Matsumura
Tokko Saigo no Interview
Seisaku Iinkai Heart Shuppan Gift from George Baumgartner
Rhythms, Rites and Rituals: My Life in Japan in Two-step and Waltz-time
Dorothy Britton Renaissance Books Gift from Geoffrey Tudor
70 Years After World War II: A news agency as an eyewitness
Shimbun Tsushin Chosakai and Kyodo Tsushinsha (ed.) Shimbun Tsushin Chosakai Gift from Takenori Fujita (Kyodo)
Rising Son
Charles R. Scott Third Wheel Press Gift from Charles R. Scott
Whisper of the Land: Visions of Japan
Edward Levinson; Introduction by Kitaro Fine Line Press Gift from Edward Levinson
Irrational Exuberance
Robert J. Shiller Princeton University Press
A Collection of Photographs of The Senkaku Islands
Senkaku Islands Document Material Compilation Association (comp.)
Empire of signs
Roland Barthes ; Richard Howard (trans.) Hill and Wang
Rising Sun and Tumbling Bear: Russia's war with Japan
Richard Connaughton Cassell
River Town: Two Years on the Yangtze
Peter Hessler John Murray
Taiheiyo senso no nikusei vol. 1 & vol. 2 (Sengo 70-nen kikaku Bunshun magazine book)
Bungei Shunju
Genius English-Japanese Dictionary (5th edition)
Kosei Minamide Taishukan Shoten
Kadokawa shin jigen (Revised edition)
Ogawa Tamaki, Nishida Taichiro, Akatsuka Kiyoshi (ed.) Kadokawa Shoten
Kokkai benran (137th edition)
Kosaido