Issue:
Fitting its perception as a young, forward-looking district of Tokyo, Shibuya ward and its mayor lead the way in giving rights to the LGBT community.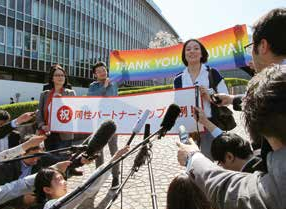 DESPITE A WEDDING HELD in 2013 that announced to friends and family their commitment to each other as couples have done for centuries Hiroko Masuhara and Koyuki Higashi say their union remains on the social fringes. Though they live as a lesbian couple, "We yearn to be recognized legally as a married couple. Because that is what our relationship is," said Masuhara in an interview.
A giant leap toward their long-held dream took place when Tokyo's Shibuya ward announced a landmark ordinance to issue " proof of partnership" certificates that would register unions between members of gay couples. Spurred on by plucky Mayor Toshitake Kuwahara, the law passed in the local assembly on March 31, making the ward the first in Japan to officially accept registration by non-heterosexual couples.
There is still a long way to go in terms of reaching equal legal status with heterosexual counterparts on such rights as family inheritance or adoption of children. Yet the move has been widely celebrated by Japan's lesbian, gay, bisexual and transgender (LGBT) community.
"We are absolutely delighted with the new legislation. It is a step towards legal acceptance and a symbol of hope for sexual minorities that makes Japanese society more tolerant and diverse," explained Masuhara.
As Mayor Toshitake Kuwahara explained at the FCCJ in March, the motive for the change he has ushered in is simple he is working to meet the needs of the rapidly changing population of Shibuya ward as well as Japan. "Sexual minorities face painful discrimination, such as not being able to rent accommodations. They are viewed as different in a Japanese society that wants to believe it is homogenous. As a result these people are seen as a threat to a carefully protected status quo," he told the press.
Kuwahara has been mayor since 2003 and obviously seen first hand the social transformation through the years. "Shibuya is now a diverse community that includes foreigners and young people who seek a change from the monolithic standards of the older generation. To cope, there is a vital need to build empathy in order to make Shibuya a peaceful and vital place," he said.
Shibuya ward promotes its official image as a youth and fashion centered area in Tokyo; it is also home to a large gay bar district. The mayor believes the new certification extended to the LGBT community which includes special consultation services and penalties for companies that do not cooperate will facilitate badly needed public understanding to support the legislation.
But, as expected, lining up against him are Japan's influential conservatives. The Liberal Democratic Party is leading the pack, with party members opposing the proposal during the voting in the Shibuya assembly elections last month. Sadakazu Taniguchi, a powerful politician and secretary general, referred to his own value system as he declared that Shibuya ward is encouraging social disorder by eroding Japan's traditional family values. Other revisionist groups issued statements pointing out that legally accepting same-sex marriages will reduce Japan's birth rate because these unions will not procreate.
Social experts point out that the embattled mayor's situation epitomizes the deep-rooted contradictions in Japanese society. "What is notable in Japan is that opposition against the rights to sexual minorities is not based on religious beliefs as has been the case in Western or other countries," says Professor Kimio Ito, who teaches gender at Kyoto University. "In fact, television regularly features popular gay or transsexual personalities and there are also sexual minorities in politics."
But this does not mean Japan is progressive, says Ito. He describes the resistance from conservatives as a clash between cultural diversity and a nationalist ideology that promotes the racial homogeneity myth that is carefully propagated by the government through education. "Japanese society is built around this nationalist psyche and that has made it difficult for the country to accept differences and a true sense of modernity," Ito says. "Our so-called tolerance is superficial."
Indeed, LGBT rights proponents view their fight to bring change as linked closely to the national debate about how to develop a dynamic Japan, something that is also championed by the current government as imperative to maintain global competitiveness.
For example, Maki Muraki of Nijiro Diversity says that the advocacy NPO supporting LGBTs focuses on education programs, which she says is the key to bring change. "An educated public that is aware of the issues can foster understanding and empathy," she says. "This is the best way to combat harassment and develop the concept of diversity."
Currently her clients include Japanese companies where employees are made aware of the social discrimination issues faced by people such as transvestites, who might be afraid of using public toilets because of being identified. "Our study programs reveal that the Japanese have not been exposed to close discrimination," she said. "These issues are invisible in Japan because nobody dares to discuss them. Television features only humorous cases."
Meanwhile, other wards in Tokyo are also becoming emboldened to take steps to accept sexual minorities. Transgender assembly politician Ai Kamikawa is leading the way to recognize gay relationships through certification in Setagaya ward, one of Tokyo's largest. Whether the momentum from Shibuya's legislation will have an effect has yet to be seen.
---
Suvendrini Kakuchi is a correspondent for the UK-based University World News, with a focus on higher education issues.