Issue: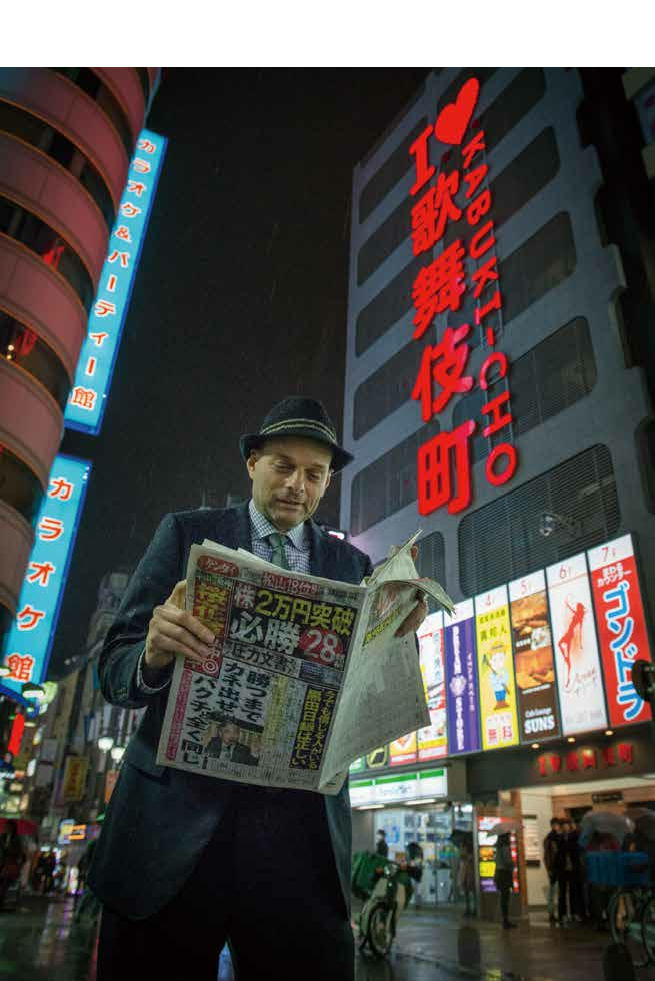 Brett Bull serves up tales of vice and iniquity every week on Tokyo Reporter.
I'm in a dive bar in Kabukicho, Japan's larg- est red-light district, drinking beer with a man who devotes much of his free time to writing headlines like "Japan's taxi drivers rate raunchiest rides on their peter meters."
Brett Bull is a muckraking writer and translator, a connoisseur of Japan's gutter press and the juicy smorgasbord of immoral- ity it serves up. We're discussing the fate of a 26-year-old hostess whose body was fished out of the Sagami River. There was a boy- friend who began stalking her. A nasty break- up. And signs of head trauma on the corpse.
True-crime cases like hers are Bull's stock in trade. His online alias, Tokyo Reporter, is also the name of his website that chronicles all manner of Japanese vice and crime. The site overflows with titillating articles about corrupt politicians, small-time hoods, fallen porn stars, gangsters and a seemingly end- less parade of businesses getting busted for prostitution – typically for pimping out joshikousei, euphemistically "JK," or underage girls.
Tokyo Reporter mostly consists of news translated from Japanese sources – straight news and material from weekly tabloid magazines. Some of the posts are truly stranger than fiction. In April, Tokyo Reporter ran a story from the Kanagawa Shimbun newspaper about a former Yokohama school princi- pal who was arrested for child pornography in the Philippines. What made the bust extraordinary, though, was this: "A search of the suspect's home by investigators revealed approximately 400 albums containing 147,600 photos showing him perform- ing sexual acts with more than 12,700 females."
Like much on Tokyo Reporter, it boggles the mind.
But there's huge appetite for such lurid tales from Japan's seamy underworld. The website, the only one of its kind in English, regularly draws about 70,000 unique visitors a month and has over 38,000 followers on Twitter.
Its success can be attributed in part to Bull's choice of mate- rial. As its editor and chief writer, he relies on a mix of mainstream Japanese news sources and tabloids such as Shukan Jitsu-wa, Shukan Taishu and Shukan Asahi Geino. As faithful readers of the Number 1 Shimbun know, however, stories in Japanese weeklies can be pure hokum (see Mark Schreiber's August 2013 cover story on the ficti- tious eyeball-licking craze). So Bull ensures there are multiple sources confirming most of the serious news he posts.
It boggles the mind
"I try to pick stories that I think are based on reality," says Bull. "I try to avoid stuff that's ridiculous, and I try to focus on stories where I can link back to an original Japanese article."
The tabloids sometimes break news, he says, but mostly embellish stories from mainstream press such as the Asahi, Mainichi or Yomiuri newspapers. He points to the murder of the hostess as an example – the weeklies added detail to the story after it broke.
"The fact that she was found floating in the river was covered by all the major news outlets. The tabloids just take that and build it up by talking to some investigator."
Bull does sometimes indulge in some of the more outland-ish tales from the tabloids, but these tend to be the kind of material that the magazines recycle: stories, for instance, about Chinese tourists visiting soaplands in Yoshiwara, Kore- an prostitutes flooding into Japan or the antics of drunken foreigners in Kabukicho and Roppongi.
"The tabloids have certain themes that recur every year, such as taxi drivers who take out the fare in trade from female customers," he notes wryly. Another example is recur- ring tales of erotic hijinks among hanami revelers during spring cherry blossom season.
The tabs are often completely derivative of one another. As Bull thumbs through an issue of Shukan Jitsuwa, pausing to chuckle at the ads for artificial vaginas molded from the genitals of famous porn stars, he notes that the magazines he reads all ran stories on the centenary of the Yamaguchi-gumi crime syndicate. Yakuza, like porn stars, are often treated like heroes by the gutter press, which seems to elevate them as rebels who have freed themselves from the strictures of orthodox Japanese society.
Nearly everything is fair game in the magazines, but one taboo is AKB48, he notes. Such is the economic and political power of the all-girl band, which had rev-enues of over $200 million in 2011 from CD and DVD sales alone, that few media out-lets will run muckraking stories on them.
In 2013, for instance, Tokyo Reporter posted a story based on a Shukan Jitsuwa article which stated that AKB48's manage- ment agency was trying to cover up the arrest of the moth- er of an AKB48 member for sex with a minor. The scandal received limited coverage due to pressure from the manage- ment company, Shukan Jitsuwa alleged.
Bull is well aware that his risqué translations might incur the wrath of Japanese nationalists who bristle at perceived insults to Japan's honor. After all, an online campaign by zealots forced the now-defunct Kodansha International to pull from the market its highly amusing Tabloid Tokyo series of books of translated gems from the weeklies. But he hasn't been the target of any pushback so far.
Tokyo Reporter stories end with a disclaimer that says in part: "Every effort has been made to ensure accuracy of the translations. However, we are not responsible for the verac- ity of their contents. The activities of individuals described herein should not be construed as 'typical' behavior of Japa- nese people nor reflect the intention to portray the country in a negative manner."
Bull, 46, is a native of Newport Beach, California. Surprisingly, journalism is only a part-time avocation; he has an office job with a Japanese construction company that often takes him on over-seas trips. Regardless of where he is, he manages to write a Tokyo Reporter newsletter and update the website every week, while microblogging on Twitter.
Bull has no formal background in journalism, but he has done freelance articles for the Japan Times, Variety, The New York Times and other media. He has interviewed ex-gangsters, right-wing extremists and porn stars on set.
Oddly enough, it was his day job that got him interested in Tokyo's demimonde of vice. His colleagues would bring him out to hostess clubs, where he got to chatting with the girls. He found them surprisingly down to earth, and became inter- ested in who they were as real people. That sparked his pas- sion for reading more about those who inhabit those strata of Japanese society. He began writing for a friend's website and eventually decided to launch Tokyo Reporter in 2008.
"I really like reading news, and I do this kind of news because I think nobody else is doing it in English," he says. Collabora- tors have come and gone; currently Bull works with two other translators on the site, which earns enough in ad revenues to cover the server bills.
Recently, Bull has focused on the cleanup of Kabukicho, a slow but ongoing process that echoes the sanitization of Times Square in New York. The establishment of Robot Res- taurant, a family-friendly eatery with over-the-top mecha- tronic attractions, and the recent opening of the Shinjuku Toho Building, topped with a giant statue of Godzilla, have injected a Disney element into sin city. Developers are keen to banish the seedy image and aggressive touts; "safety" is the new watchword. Meanwhile, fewer and fewer Japanese are patronizing its nightspots. Kabukicho has totemic value for Bull, and he views its changing character wistfully.
"All the old theaters have closed. There is a push to clean it up, and I assume more blocks will be demolished. I do think part of it is economic, but Japan seems to be getting less tolerant of this kind of stuff. The Internet has changed things too. Many people around here have said to me, 'If you clean up Kabukicho, you remove the reason to come toKabukicho.'"
Shinjuku's fabled fleshpots may dwindle, but vice will never fade from Japan. And Tokyo Reporter will be there to chronicle it.
---
Tim Hornyak is Tokyo correspondent for IDG News Service, a global information technology newswire.