Issue: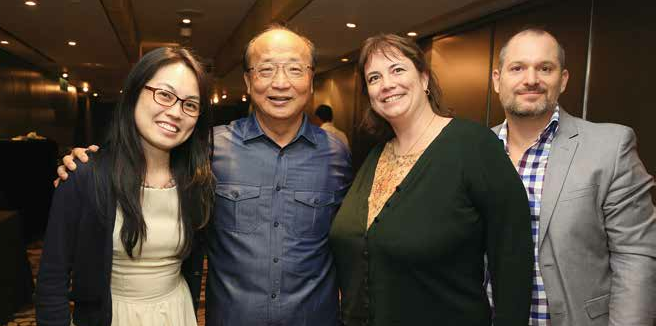 Advocating for members or hosting politicians, this Taipei-based Club's lack of a home is more than made up for with
On the first Thursday of each month, a small group can be seen hud-dled in one of the many bars dotted across Taipei. It may be in the glitzy surrounds of a five-star hotel. Or it may be a tiny one hidden in one of Taipei's many winding back alleys, amid Chinese apothecaries, hawkers' stands and hordes of motorcycles. But the crowd is always more or less the same including a smattering of academics and Sinologists, journalists from Taiwan's English-language media, public relations executives, economists and the odd politician pressing the flesh.
But the most important component of these gatherings is the group of foreign correspondents whose Club hosts these events. Their aim is to foster intelligent discussion about events in Taiwan, a tech powerhouse in a strategic regional location and yet one of Asia's most under-reported nations.
The Taiwan Foreign Correspondents' Club is a largely nomadic affair, formed in 1998, and armed only with a charter, a tiny budget and a list of members. Unlike the foreign correspondents' clubs in Hong Kong and Tokyo, the TFCC lacks a clubhouse and other lavish assets. Taiwan's diplomatic isolation means the Club will never be a hub for correspondents across the region.
Many TFCC members have complained that with China's spectacular economic rise and new status as a world power, Taiwan continues to drop off the mental radar of foreign editors, even though it still remains one of the region's most dangerous flashpoints and its vibrant multicultural democracy deserves attention in its own right. Taiwan's status in Beijing's eyes as a renegade province to be retaken by military force if necessary makes the island a freelancer's paradise when cross-Strait tensions rise.
One of the reasons why the Club cultivates the foreign correspondent community is to help ensure that Taiwan's story is told accurately with reporting that is set to international standards. But Taiwan's existential concerns are not the only concerns of Club members. The vibe of the Club is casual in the extreme and annual membership is relatively inexpensive: it only costs NT$3,000 (almost US$100) to purchase individual membership. It is also relatively easy for expatriates to become associate members.
Currently the Club has 28 correspondent members. Although many of them have full-time jobs, they tend to be either with wire services such as Bloomberg and Reuters or Asian English-language media, such as Kyodo News and Channel News Asia. There are also 26 associate members and eight corporate members that include the Australian Office Taipei and the British Trade and Cultural Office, the de facto embassies for the two countries.
TFCC members are relatively young, with most correspondent members under the age of 50. Taiwan may not be a top posting for experienced correspondents, but it is often a place where Mandarin Chinese speakers get their first break in journalism or where young reporters in wire services start their climb up the career ladder before eventually moving to China.
Lloyd Roberts, PR manager for the Eiger law firm and the current TFCC Activities Chairperson, has served on TFCC committees for around seven years and has resided in Taiwan for over two decades. He notes that the gender and ethnic mix of the Club have both slowly changed. When the Club was founded in 1998, it consisted mostly of white men. "Even though it was the 1990s, it was a man's game," Roberts says, adding he thinks this was not due to overt sexism, but more because there were not many Western women in Taiwan at the time.
Women's participation has since increased. Last year, for the first time in the Club's history, women were elected to all three of the TFCC's top committee posts only open to correspondent members: treasurer, vice president and president. Localization is another trend. A few of the Club's original founders possessed no Asian language skills but now it is rare to encounter correspondent members who are not fluent in Mandarin Chinese. "You see a lot more Taiwanese American and Taiwanese reporters than before," Roberts says. Despite this, the lingua franca of the Club has remained English.
The five-member TFCC committee headed by the President uses the Club's tiny budget from membership dues to organize various events, including Happy Hour usually held on the first Thursday of each month and press events with speakers that recently have ranged from Taiwan's President Ma Ying-jeou to the White Wolf, a former leader of the Bamboo Union, one of Taiwan's most notorious triads.
Government officials, business leaders and other speakers rarely use TFCC events for breaking news or communicating establishment policies. But it is still relatively easy for the Club to obtain speakers from the highest levels of Taiwanese government. Foreign correspondents are respected and officials like to use any opportunity they can to raise the island's international profile.
While there is an abundance of information available in Taiwan's freewheeling democracy, much of the Chinese-language print media tends to be parochial, shamelessly sensationalistic and often given to scurrilous rumor-mongering. Frequently, as was the case when President Ma spoke to the Club a few weeks ago, correspondents use these TFCC press events to ask speakers questions of interest to the international community that are rarely addressed in press briefings with local journalists. For example, at the recent briefing President Ma was asked by a Reuters reporter to clarify Taiwan's claims in the South China Sea.
Roberts points to the arduous and unpaid work of the committee members as the reason the Club has continued to flourish all these years. "It says something that we have got this far without fancy clubhouses," Roberts says. (As Vice President of the TFCC and then President, I can also personally confirm the responsibilities involved in a TFCC post are close to becoming a full-time job.)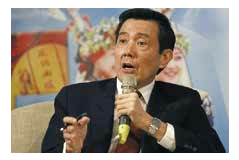 The Club also advocates for its members. Some vestiges of the former martial law regime still remain in the form of over-regulation and other minor forms of government interference. Martin Williams, Asia Editor for the industry publication Gambling Compliance and TFCC President from 2012-2013, says one of the biggest challenges of his presidency was maintaining a cordial but effective relationship with the government while defending members' rights.
One issue he recalls involved government discrimination against journalists from greater China. The Club's loose definition of a foreign correspondent is any journalist who writes for publications outside Taiwan. So while the TFCC defines journalists who work for media organizations from Hong Kong, Macau or China as foreign correspondents, the Taiwanese government, officially known as the Republic of China, defines them as Chinese compatriots. During William's tenure, the government refused admission to journalists from Greater China at an event it sponsored for introducing correspondents to Taiwanese Cabinet ministers and their staff. Williams successfully negotiated at length for their admittance. Over the years, there have been other battles with the government over red tape issues.
Relations between correspondent members and associate members are cordial. Roberts notes several reasons why associate members join the Club. First of all, he says, social networking is a draw. The Club's membership fees are much more affordable than other expat organizations, such as the American Chamber of Commerce in Taipei, where joining fees stand at almost US$500 and annual dues US$900.
And one other social event the TFCC organizes, the annual Christmas party, has now become "legendary," Roberts notes. There are expensive raffle prizes galore, including the latest smartphones and other gadgets donated by Taiwan's tech companies. "It's the only expat party in town that is kidfriendly . . . with a Santa," Roberts adds.
Associate members may also be aspiring journalists wanting to make industry contacts, and Roberts notes that diplomats like to join the Club "to keep abreast of Taiwan's political situation." Associate member Michael Boyden, the managing director of Taiwan Asia Strategy Consulting, says the Club's speakers give him ideas for finding speakers to address his company's own forums.
The challenges the Club faces are the same as nearly every other FCC in the region. Journalism is in a considerable state of flux, media organizations are cutting budgets and the numbers of correspondent members have been slowly but steadily dwindling over the years. The Financial Times eliminated its full-time Taiwan correspondent at the end of 2013, for example, and the Associated Press eliminated the position of Taiwan bureau chief and two correspondent positions, leaving behind a few stringers, photographers and local news researchers. This in turn corrodes the Club's tiny budget needed for organizing social events.
Meanwhile, there are increasing numbers of bloggers, stringers and other part-time journalists who mingle writing with other occupations. The TFCC's charter defines correspondent members as those that satisfy the committee that their professional duties are representing the foreign media in a journalistic capacity. The Club's charter also says it will be dissolved if numbers of correspondent members fall beneath 15. The TFCC's future challenge will be broadening its definition of a foreign correspondent sufficiently to keep the Club alive without deprofessionalizing the industry.
The dwindling correspondent num-bers are also due to Taiwan's unique political situation. After the fiercely confrontational pro-independence President Chen Shui-bian was voted out in 2008, tensions with China subsided. President Ma then sought economic integration with China, signing 21 cross-Strait agreements. The resulting calm seems to have convinced many foreign editors (fortunately not my own) that in terms of regional political news, Taiwan is much less important.
One Taiwan bureau chief a few years ago even told me he thought I should go home as Taiwan and China were heading towards a convergence and there would be far fewer opportunities to write for the international press. Now that President Ma's KMT has been drubbed in municipal elections last year at the hands of the pro-independence DPP, a DPP presidential victory seems probable. Tensions with China could rise again, attracting the attention of foreign editors once more. "The irony is that if the cross-Strait situation deteriorates dramatically, the Club could find a few more members," Williams concludes.
---
Jane Rickards was Vice President, then President of the TFCC in 2014. She is a stringer for the Economist.