Issue:
THE COMPLEXED AUTHOR
---
From now until our 70th anniversary in November 2015, we will turn these pages over to the history of the Club, both of the many esteemed and important guests who faced us – and the world – from the FCCJ dais and of the many Members who have made the Club such a fascinating place to be.
YUKIO MISHIMA WAS BORN Kimitake Hiraoka in 1925; his famous pen name was assigned by teachers when they submitted his early works to literary journals. He was a prolific writer who became focused on traditional Japanese values versus the spiritual emptiness of modern life. His output included 34 novels, roughly 50 plays, at least 35 books of essays, 25 books of short stories, one libretto, and one film script as well as waka poetry. His more famous works included Confessions of a Mask and the four- volume epic, The Sea of Fertility (Hojo no Umi). He was nominated three times for the Nobel Prize in Literature, but lost out to Yasunari Kawabata, a result attributed by some to his rightist leanings.
Unfortunately, these leanings and the "spiritual emptiness of modern life" led Mishima into an obsession with physical fitness, the martial arts, the emperor system, and the creation of a right-wing group, Tate no kai. Their failed attempt at a coup d'état in November of 1970 at the headquarters of Japan's Self Defense Forces led to his ritual suicide at the age of 45.
The Mishima dinner was only one of many memorable events organized by the Club's "This is Japan" committee. The committee had been active for roughly a decade before I was recruited as a member in 1966 by then-Chairman Bill Lange of Germany's Deutsche Presse-Agentur (DPA). Until then, he had been a one-man show, as the inspiration behind many interesting nights that ranged from presentations of Japanese tattoo artists and ninjutsu experts to fashion shows and sumo champions. Only a few of the more notable evenings such as Mishima and the Hanae Mori fashion shows are listed in our history book.
As chairman after Lange left Japan in the late 1960s, I carried on his legacy for several years until my own departure from Japan in the mid-1970s led to its demise. Unfortunately, there seemed little interest in reviving the committee after my return a year or so later.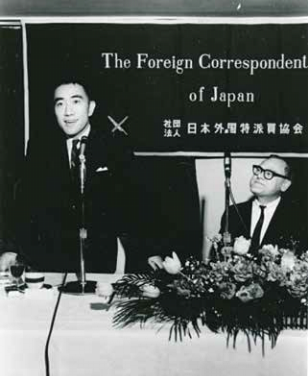 Yukio Mishima, Japan's stand-out writer of his era, appeared at a "This is Japan" evening at the Club on April 18, 1966. Seated next to him is John Roderick, the AP's foremost China Watcher and then president of the FCCJ. Roderick remained active in journalism as an AP special correspondent for over two decades following his retirement in 1984 up until his death on March 11, 2008. A key mover in the creation of Number 1 Shimbun, he was the first editor.