Issue:
THE GODDESS OF SHIMBUN ALLEY
---
"TALK OF MARILYN MONROE'S Tokyo honeymoon (see page 14) stirred many a fond memory of older Club Members.
"The truth is, the Imperial Hotel was as close as Marilyn ever got to the FCCJ on her 1954 trip to Tokyo, but compensation of sorts appeared shortly afterwards in the arrival of a radical new magazine from the U.S. that had just launched its first edition with none other than Marilyn on the cover. To the delight of the correspondents in the club, Playboy also included the now iconic nude centerfold of a youthful, precelebrity Marilyn, bewitchingly posed against a rich, red velvet background.
"The foreign hacks' hearts were set aflutter. INS Tokyo Bureau Manager Marvin Stone enlarged the photo to grace the walls of the Stag Bar, but somehow the costly print came out too big for display within the cozy dimensions of the room. It was only after the move to the Chiyoda Building Annex in 1958 that Marilyn finally made her long awaited Stag Bar debut. A Japanese model was hired to star in a beguiling nude photo wearing only a fig leaf and pointing to the 'For Stags Only' entrance of Marilyn's shrine.
"'This being the fifties,' recalls Charles Pomeroy, 'women were barred, and no one complained.
"'We let the boys be boys,' chimes in Sandra Mori, 'and even the women all thought Marilyn's picture was beautiful.'
"Many meetings of great minds as well as some epic fights unfolded with some regularity before the altar of Shimbun Alley's goddess not to mention some legendary wild parties. The New York Times' A.M. Rosenthal's sayonara in 1963 upon his promotion to editor-in-chief back home was one such memorable occasion. After a well-lubricated dinner, the gents retired to the basement Stag Bar, where Rosenthal started to sing, 'The working class can kiss my ass, I've got the boss' job at last,' and with every chorus, the revelers tossed their drinks at Marilyn. Thanks to their poor aim either from the effects of too much alcohol or divine intervention Marilyn emerged unscathed, adding yet another chapter to the FCCJ Goddess Myth.
"Through multiple renovations and moves, Marilyn continued to smile upon the assembled faithful at Tokyo's illustrious watering hole until well into the 1980s. Though the Joe and Marilyn show was but a flash in history, more than 50 years after her death, rumored sightings of the goddess in FCCJ's underground vaults have still continued. As AP photo editor Sam L. Jones was quoted 30 years after the aforementioned sayonara party, 'If Marilyn Monroe's picture could survive Rosenthal's sayonara party, it could survive anything.' (In fact, the Number 1 Shimbun art director was able to unearth the framed photo on an intrepid journey to the underworld of the Yurakucho Denki Bldg., above.)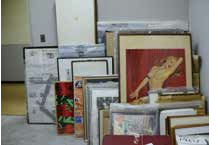 . . . "All the papers had to say/Was that Marilyn was found in the nude". . .
"With the eternally popular sex symbol having just been named this year's global campaign face for Max Factor, perhaps it is time to bring back the Goddess to Shimbun Alley."