Issue: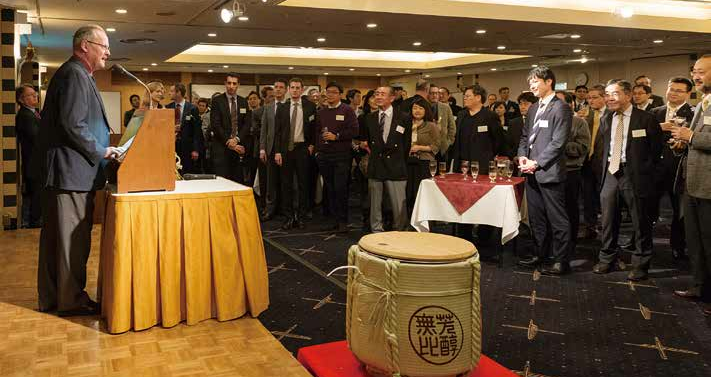 HACKS & FLACKS
Hacks-n-Flacks, the Club's annual New Year's party that unites journalism and PR in a boozy schmoozathon, drew a capacity crowd of 260 on Jan. 23. Reminding our PR pals that supporting the FCCJ is good business, emcee John R. Harris recommended three ways to do just that: 1) become an Associate Member; 2) hold PR events at FCCJ (where prices are a fraction of hotels); and – most important! – 3) advertise in No.1 Shimbun. Guests sipped sake and whiskey donated by Kato Kichibe Shoten and Suntory and scarfed sushi from Masukomi Sushi.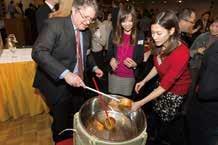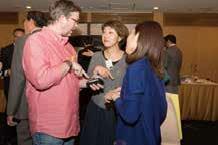 Emcee John R. Harris schmoozes the crowd. Below, Club Vice-President Michael Penn serves guests; Telegraph correspondent Julian Ryall gets to grips with meishi etiquette.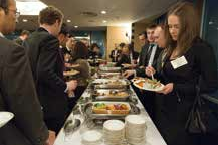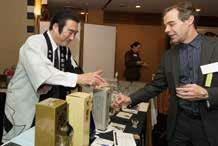 Below, the Club provided a buffet and drinks; Kato Kichibe Shoten provided saké.
CHARLIE HEBDO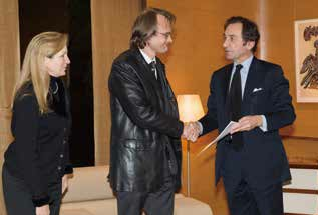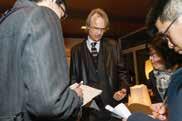 ON JAN. 9, A GROUP of journalists gathered at the French Embassy residence to submit a letter of condolence to the ambassador following the attacks on Charlie Hebdo magazine. The letter was signed by over 80 people, gathered in just a few hours by the letter's organizers, London Times Asia editor Richard Lloyd Parry and Le Figaro's Regis Arnaud. In Japanese, English and French, the letter read:
We, the undersigned, Japanese and foreign journalists working in Japan, condemn unreservedly the murderous attack on the offices of the French magazine, Charlie Hebdo, in Paris on Wednesday.
Japan, which has also suffered extremist violence, understands well the shock and pain inflicted by such acts. We regard it as the right and duty of all journalists to report, to challenge and, on occasion, to ridicule individuals and institutions, including religions, without fear of retribution. We offer our sincere condolences to the families of those who died in the attack; and we declare solidarity with our brave French colleagues as they continue to do their jobs in the face of violence and intimidation.
Flowers by Toshiki Sawada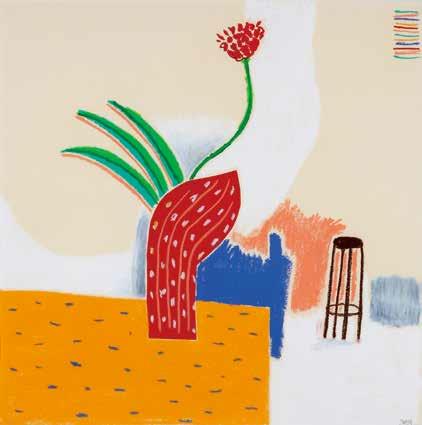 TOSHIKI SAWADA (1959-2010) was an illustrator and picture-book writer active in a wide range of fields, including not only books, but advertising, painting and more. The collection shown at the Club consists largely of paintings of flowers dating from the beginning of his career (1985 to 1990).
Oil crayons, colored pencils, watercolor, acrylic paint, colored paper etc. are used to produce these brightly colored flower pictures. He also worked freely in a variety of techniques, including silkscreen and paper-making, to produce works in "molded washi paper."
In addition to the works in the Main Bar, an exhibition of his silkscreen pictures is on display in the Masukomi Sushi restaurant.
Toshiki Sawada was born in Aomori Prefecture. He worked at the K2 Design Company before going freelance. Awards include the Japan Picture Book Award and its Readers' Prize award. He died in 2010 of acute myelogenous leukemia.
"Journalists shouldn't rely on Wikipedia. I have lots of enemies in Japan, and they always try to change the information on my page."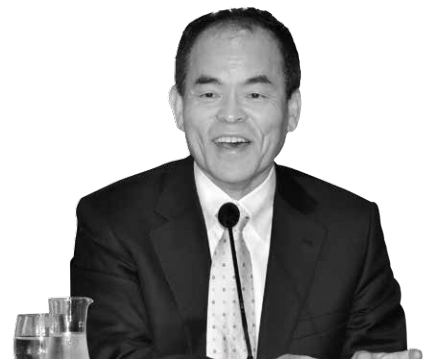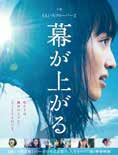 . . . at 6:30 pm on Mon., Feb. 23 for a sneak preview screening of The Curtain Rises, the cinematic debut of Japan's most popular girl group, Momoiro Clover Z ("Momoclo" for short), who will all be on hand for the Q&A. Adapted from the bestselling YA novel of the same name by renowned avant garde theater director Oriza Hirata, The Curtain Rises features a rare comingling of tried and tested talent from screen, stage and song. The director, Katsuyuki Motohiro of Bayside Shakedown (Odoru Daisosasen) series fame, worked from a script by Kohei Kiyasu, screenwriter of the 2013 Japan Academy Prize-winning The Kirishima Thing, another story about the importance of clubs to high school social hierarchy. The film also stars 2014 Berlin Silver Bear-winning actress Haru Kuroki as the girls' inspiring, feminist teacher. (Japan, 2015; 119 min; in Japanese with English subtitles; Courtesy of T-Joy.)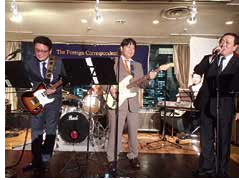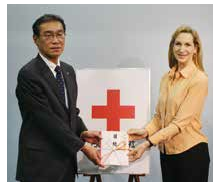 Gi!nz: left to right: Masaji Matsuyama, Yoshimasa Hayashi, Yasukazu Hamada
FCCJ president Lucy Birmingham giving a Y266,900 donation to Red Cross Director General Mr. Hiroshi Narita from the Gi!nz (ギインズ) Band charity concert held on Nov. 6, 2014. The four Gi!nz Band rock n' rollers are LDP lawmakers of the National Diet, and include Yoshimasa Hayashi (band leader; guitar), Yasukazu Hamada (singer), Masaji Matsuyama (guitar) and Hachiro Okonogi (singer).


REGULAR MEMBERS
MASAKO NAGATO was promoted to foreign editor of the Sankei Shimbun in 2014 after serving five years as deputy foreign news editor mainly focusing on the U.S. She joined Sankei in 1988, and worked as a staff writer for cultural news, city news and international news before being appointed as New York bureau chief in July 2004. In New York she covered international affairs, mainly focusing on the United Nations and U.S. internal politics.
WILLIAM A. RIPLEY is an award-winning correspondent for CNN based at the network's Tokyo bureau. A journalist with 15 years of experience, Ripley is responsible for covering major news stories from Japan and across the Asia Pacific region. Ripley studied journalism at the University of Missouri and started his career in that state before working for television stations in Texas and Colorado prior to joining CNN. He has won four Regional Edward R. Murrow awards and a Heartland Regional Emmy award. He was honored by the Texas Association of Broadcasters with the Steve Pieringer award for outstanding valor in news coverage, which is given to journalists who exhibit bravery by going above and beyond the call of duty.
ASSOCIATE MEMBERS
Kai Lip Ang, Brunei Energy Service Company
Hiroshi Seki, Idemitsukosan Co., Ltd.
Etsuji Imamura, I-Max Corporation
Satoshi Suzuki, San-Ei Shobo Publishing Co., Ltd.
New in the Library
Tsunami reflections: Otsuchi remembered
Charles A. Pomeroy Telemachus Press Gift from Charles A. Pomeroy
Kyodo Tsushin news yotei 2015
Kyodo TushinshaDonated from Tomoki Ueda (Kyodo Tsushinsha)
Asa ichiban no soji de anata no kaisha ga mokaru!: garari to umarekawatta gyoshubetsu 30-sha no himitsu
Noboru Koyama Diamond-sha
The forbidden worlds of Haruki Murakami
Matthew Carl Strecher. University of Minnesota Press
A flock of swirling crows and other proletarian writings
Kuroshima Denji; translated by Zeljko Cipris.University of Hawaii Press
Tei: a memoir of the end of war and beginning of peace
Tei Fujiwara; translated by Nana V. MizushimaTonnbo Books