Issue:
Steve McClure bites into Bento.com and finds a tasty treat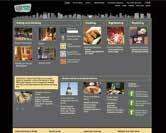 PERUSING ONLINE restaurant guide Bento.com, I became aware of a nagging, gnawing sensation: hunger. You can read only so many restaurant reviews describing the gastronomic pleasures on offer at the many fine eateries in Tokyo and other major Japanese cities before the gastric juices start flowing and the need to nosh becomes uncontrollable.
Bento.com is aimed at people hungry for information about dining in Japan, and the info it serves up scores high marks in terms of fairness and reliability. It is without question the best English language site of its kind (it also publishes reviews in Japanese).
It is selective and subjective by definition, but for the most part the restaurants reviewed on bento.com are well chosen and fairly assessed. The site's been going since 1994 and now lists more than 2,000 restaurants, izakaya and bars in Tokyo and Yokohama, as well as 500 establishments in Kansai.
Bento.com says its reviewers rate restaurants "anonymously and impartially" and that the site doesn't accept advertising from restaurants. So high marks for credibility.
Bento.com editor Robb Satterwhite and his team of food critics write in a simple, accessible style. There's none of the pretentious gastro snobbery that food writers all too often indulge in. Instead, they deliver the straight goods when you're weighing dining options giving praise when praise is due and not mincing words when they find fault with a restaurant or bar. The site is a cornucopia of information not just about restaurants, but all aspects of eating and drinking in Japan, including recipes for the culinarily adventurous.
Bento.com appears to have been patched together over the years and can be a bit of a labyrinth to navigate. The site could do with a makeover to make it more user friendly, but that's a relatively minor quibble considering the wealth of useful info available on the Bento.com menu. There's an abundance of search options, which is very helpful. Cross links between the English and Japanese reviews of the same restaurants on the PC version of the site would also help (there are such links on the mobile version, however).
A site like Bento.com obviously can't hope to rate every single dining or drinking establishment in Tokyo or other Japanese cities, where the dedicated trencherman (or woman) is spoiled for choice several times over. But why does Carmine, one of Tokyo's best Italian restaurants (in my semi informed opinion) get just a one sentence description informing us that it is "the home base and launching pad of one of Tokyo's most famous Italian chefs?"
And why isn't Popeye offering the most extensive selection of Japanese craft beers of any Tokyo beer bar not included in the section on brewpubs and beer bars, along with the many other more mediocre establishments? (There is, however, a review and news about Popeye in Bento.com's "Brews News" section.) I was surprised to see just how many Belgian beer bars there are, by the way. No fewer than seven "Brussels" bars have now sprouted up in Tokyo, for example.
The "Special Features" section lists various restaurants and bars according to criteria such as the view they offer, late-night opening hours, Wi-Fi accessibility, pet friendliness and non smoking environments. Information on wheelchair access would also be a good idea. Each review has a Google Map feature showing how to find the establishment being rated, which is extremely useful. Also cool are the glossaries of Japanese food terms, such as this guide to yakitori: http://bento. com/rf_yaki.html. Photos of the food sampled by bento.com's intrepid reviewers would be helpful as well, but that could blow their cover, I suppose.
So kudos to bento.com for providing a great public service. It's a site to dine for.
---
Steve McClure publishes the online music-industry newsletter McClureMusic.com. He has lived in Tokyo since 1985.