Issue: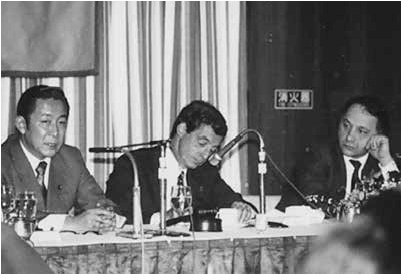 When he spoke at a Club luncheon on Feb. 28, 1994, Ryutaro Hashimoto was a strong contender for the leadership of Japan's Liberal Democratic Party (LDP). Two years later, he was elected PM. To his left is FCCJ president Lew Simons (Knight-Ridder).
Born on July 29, 1937, in Okayama Prefecture, Ryutaro Hashimoto followed in the footsteps of his father, Ryogo, an LDP stalwart, winning his Diet seat in 1963. He steadily climbed the LDP ranks, with stints as minister of health, of transport and of trade on his way to the top.
His career covered the tumultuous times following Japan's burst economic bubble that resulted in the LDP's shocking fall from political power in 1993. He held the post of trade minister (MITI) in the coalition government headed by Tomiichi Murayama of the Socialist Democratic Party. Hashimoto eventually replaced Murayama as prime minister in January of 1996 and served in that capacity until July 30, 1998.
Hashimoto successfully streamlined certain governmental structures, including the cabinet, but for the most part failed in his attempts at political and economic reforms due to political infighting. He is remembered primarily for the 1996 agreement with the U.S. to relocate its Marine air base at Futenma to Henoko, which even today faces opposition. He is also remembered for implementing an increase in the consumption tax in 1997 from 3 percent to 5 percent, and the recession that followed.
Hashimoto resigned as PM in July of 1998 after a major loss of LDP seats in the Upper House election that year. However, he continued as the leader of the largest faction and in 2001 again became a candidate for prime minister. Ironically, he lost to Junichiro Koizumi, whom he trounced in a 1995 race for LDP leadership. His political career came to an end in 2004 after disclosure of an illegal campaign donation.
Hashimoto died at age 68 on July 1, 2006 following an abdominal operation.
(I interviewed Hashimoto in 1985 regarding the future of healthcare and was impressed by his broad knowledge and insights. His description of the problems and possible solutions became so detailed that he extended our scheduled half hour to a full hour.)
---
– Charles Pomeroy
editor of Foreign Correspondents in Japan,
a history of the Club that is available at the front desk