Issue: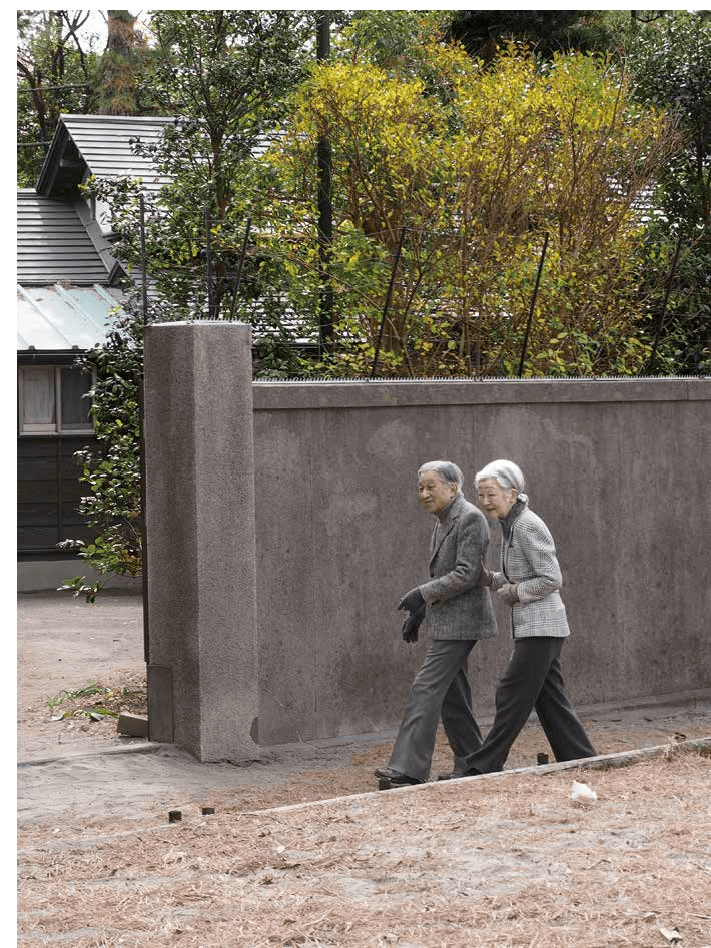 A look back at the reign of the retiring Emperor Akihito and how he changed perceptions of his symbolic role.
By Andrew Horvat
---
Thirty years ago, on the passing of Emperor Hirohito, I wrote that the only thing we can be certain of regarding the late monarch's views was that he treasured his memories of his visit to Disneyland. We could be sure of this because a photograph of Hirohito taking part in a rice plant ing ceremony showed him wearing a Mickey Mouse watch. On all other matters, the monarch's opinions came to us indirectly, through the statements of those who claimed to have spoken with him. As a result, Emperor Hirohito's opinions on the crucial issues and events of his 68 years on the throne during war and peace remained largely a mystery.
With the ascendance of Emperor Akihito, all that would change. To be sure, Akihito would adhere strictly to his constitutionally mandated role as "a symbol of the state and the unity of the people," and thus refrain from making statements on matters of policy. All the same, through his actions, his choice of words and phrases, places to visit even his body language Akihito would make it clear that he is a people's monarch, that he is a strong supporter of Japan's postwar constitution, and that he sees a role for the emperor in promoting peace, reconciliation, and a Japan open to the rest of the world.
Akihito made his liberal and democratic views clear even before responding to questions at his first press conference after becoming emperor. When the captain of the Imperial Household Agency press club rose to ask the first question, the emperor stopped him, saying, "Please remain seated." This unrehearsed comment came as a bolt from the blue and for a few seconds the reporter just stood in silence. Then, in a trem bling voice, he blurted, "But your Imperial Majesty, it has been decided that I should stand."
"In that case," said the emperor, "Please feel free to stand."
IN THE PAST THREE decades, it is this simple exchange between emperor and press, not the content of any of the questions and answers that I listened to from my seat in the back of the room, that remains fixed in my mind. And that is how it should be, because by asking the reporter not to "stand on ceremony," the new emperor indicated clearly that he wanted a more relaxed, closer relationship with his people than could be achieved during his father's reign, the first half of which was defined by a statist ideology that encouraged his subjects to see an emperor as a "god incarnate," a distant, though benevolent figure upon whom subjects were not permitted to gaze directly. Postwar efforts to turn Hirohito into a people's monarch were not entirely successful. It was evident from that first press conference that the new emperor would move quickly to shrink the distance between the imperial institution and the people.
The first change Akihito made was in the language he used in public. Unlike the strictly regulated speech of his father it was thought that emperors should not use polite language when speaking to their subjects Akihito chose to speak in public using normal everyday Japanese.
But that was not all. Through his 30 years on the throne, Akihito has used language with great care, making his liberal and inclusive views known often by means of a single word or expression to convey a major message. For example, when Japanese news organizations reported in 2015 that the emperor and Empress Michiko would visit Palau to mark the 70th anniversary of the end of World War II, and that they would pay their respects to the 10,000 soldiers killed in 1944 on the nearby island of Peleliu, Akihito stated on his arrival that he had come to remember "all those who had lost their lives." The expression, in Japanese "subete no hitobito" (all people) was intended not only for the Micronesians present at his welcome banquet but also for audiences back in Japan. By referring to the total number killed on Peleliu as 10,000, the Japanese media had ignored the 1,700 US Marines who had perished in the same battle. As during his visit to Saipan ten years earlier, the emperor made a point of paying his respects to the dead of both sides.
"TO STAND CLOSE TO THE PEOPLE"
HE MADE HIS INTERNATIONALISM even more clear in his farewell address on Feb. 24 this year when he recalled that in his travels, he had met many people of Japanese ancestry living in foreign countries. Referring to the prospect of increasing numbers of foreigners coming to Japan to augment a declining labor force, Akihito added that he hoped that these foreigners would receive a warm welcome as they integrated into Japanese society.
Sometimes, Akihito's message could be indirect, but nonetheless quite clear to those to whom it seemed to be intended. For example, in his speech two years ago requesting the Japanese government to take legal action to permit him to step down, he referred to the role of the emperor as "symbol" eight times in ten minutes. On Feb. 24, in an eight minute talk, he used the word five times. Could he have been directing his message at conservative politicians making moves to rewrite Japan's postwar constitution, the first line of which refers to the emperor as a symbol of the Japanese nation and the unity of the people?
Akihito has spoken often about how he has given much thought in his time on the throne to how he could best fulfil his symbolic role. He often used the words "kokumin ni yorisou," meaning "to stand close to the people" in how he has seen that role. But he and Empress Michiko have done more. During many visits to evacuation centers to comfort residents of areas affected by natural disasters, he and the empress went down on their knees when speaking with families who had spent days living in gymnasiums or community centers separated from each other by cardboard partitions.
Judging from the results of surveys, Akihito's efforts during the past 30 years to democratize the imperial institution have met with virtually unqualified success. According to an NHK survey conducted in 2009 on the 20th anniversary of Akihito's ascent to the throne, 85 percent of respondents either agreed wholeheartedly or in large part with the statement that the emperor was fulfilling his constitutional role. The results of a Mainichi Shimbun survey taken this year raised the ratio to 87 percent. Questions relating to how close people felt to their emperor also elicited high scores.
If one were to find fault with this liberal, democratic, inclusive and caring emperor, it would be that he gives hereditary succession a good name.
---
Andrew Horvat was FCCJ president in 1988/89, and represented the Club at the funeral of Emperor Hirohito and the first press conference given by Emperor Akihito.