Issue:
Jorge Luis Borges wrote that he "always thought that paradise will be a kind of library." This month we focus on the committee in charge of the lofty kingdom upstairs.
More tech upgrades, more elbow room, more attractive surroundings and access to more books, newspapers and periodicals than ever before. The Library, Archives and Workroom Committee has traditionally provided the tools to enable working journalists to go about their jobs, and the present 10 strong committee is busy enhancing the facilities and services in the FCCJ's new premises.
The "brains and memory" of the Club, the library subscribes to 10 foreign and 15 Japanese language newspapers, as well as 50 magazines, including Time, The Economist and Der Spiegel. It can access information from a number of databases, including those of Kyodo News, Reuters and the Factiva service, and has a comprehensive clipping archive that dates back to the 1950s.
The library staff are skilled in fulfilling Members' requests for assistance in their research – a service that one journalist has described as "achieving the impossible in an infeasible amount of time" while a collection of 300 rare books is the envy of many other institutions. Those titles include Lafcadio Hearn's Fantastics and Other Fancies, from 1914, and the 1880 work, The Classical Poetry of the Japanese, by Basil Hall Chamberlain.
The library has approximately 11,000 books on its shelves, as well as more than 1,200 DVDs, with more being added regularly.
"I think we have a very good library service, with more space now than in the old location," said Suvendrini Kakuchi, co-chair of the committee and correspondent for University World News. "It's really important that we have these services as it's one of the primary reasons that a journalist will join the FCCJ."
GIVEN THE LIBRARY'S ROLE as a focal point of the Club, the committee has no plans to rest on its laurels, with digitization a key element of the upgrades. A database of all books is available through all the public computers in the library, enabling Members to search for a specific title, while an e-book library was introduced this past January. Further enhancements are under way, including providing access to online academic journals and the digitization of newspaper clippings.
The committee typically meets once a month although meetings are suspended during August, when many people are away, and in the run up to the Christmas and New Year holidays to discuss the purchase of new books and magazines and any issues that have been raised by Members.
One of the committee's primary responsibilities is to deliver a monthly Book Break event, with an author presenting his or her latest work and then taking part in a discussion with Members. "We discuss possible speakers at our monthly meetings and generally try to get authors of books about Japan or at least about East Asia. It varies from politics through economics, cultural issues, history, international relations and even some non fiction books," said Koichi Ishiyama, the other committee co-chair.
"To make an event viable for the Club, we need 15 people to attend and it is rare that we don't get that many people, with 30 guests about the average," Ishiyama said. The late Japanologist Dr. Donald Keene attracted nearly 90 guests when he spoke at the Club around four years ago, while ninjutsu master Masaaki Hatsumi brought in 127 for "Dojo Giga Heaven."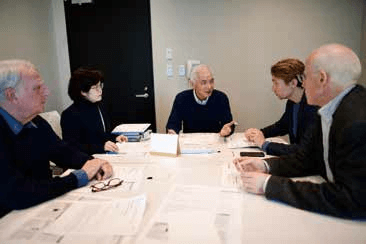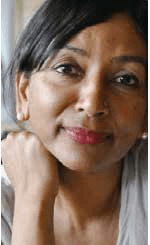 OTHER EVENTS THAT HAVE proved particularly successful have been tie ins with the publication of books, such as the memorable evening events dedicated to ninjas and practitioners of traditional Japanese tattoo artistry.
"We often get too many proposals, or a book might be too similar to something that we had relatively recently," said Ishiyama. "But Book Break events are really important to the Club because they generate revenue and raise our profile. The Tokyo American Club and the Mori Hills Club, both of which have lending libraries for their members, don't have anything similar. Since they are effectively our rivals, these events give us something unique and can attract new members to the FCCJ."
Ishiyama says he considers being a member of the committee something of a perk when it comes to meeting famous authors who are releasing new and interesting books. "These are people that I'd probably never otherwise get a chance to meet," he said. "They are really smart, they're incredibly interesting to talk with and they've just written books that a lot of people want to read. I'm lucky to be able to speak with them."
Members donate around 15 books to the library every month, while the committee approves the purchase of at least five new titles each time they meet. On occasion, when the selection is of a particularly high standard, that list expands to 10 books.
A good portion of the rest of the committee's time is spent dealing with queries and complaints from users of the facilities, or issues that crop up anything from a mug of coffee being spilled into one of the communal computers to articles being torn out of the shared newspapers or someone not being quite as considerate towards others as they should. Ishiyama shrugs: "It happens, and we have to deal with it."
THERE HAVE BEEN A number of minor glitches in the library and correspondents' work room that only became apparent after the move was completed, Ishiyama says, but are being ironed out. The layout of the space has been tweaked as it became apparent where improvements could be made, while other enhancements such as better lighting in the area set aside for easy chairs and shared computer terminals are being planned.
By and large, Club Members who use the space and staff who work there are extremely happy with facilities that are approximately 20 percent larger than the library in the Club's former premises and far more stylish and up to date. What pleases Ishiyama and the committee most of all, however, is the sudden end to the disappearance of the library's books and periodicals.
"In the old library, we were losing around 200 books every year," he said. "The stacks were open and anyone could go in, so people would take books and not always return them. That meant that we had to use our budget to replace those books every year." The layout of the new book cases, and the need for anyone who wants to rummage through the selection to check in with the librarian first, appears to have remedied that problem, Ishiyama said.
Hiroko Moriwaki, who has served as the head librarian for six years, says the new database makes locating books easier, and the "more spacious and modern" library space makes her job more enjoyable. "Everyone who comes here to work likes the new facilities," she said. "I think all the members of the committee are working very hard for the rest of the Club.
"It's just a nice place to work."
---
Julian Ryall is Japan correspondent for the Daily Telegraph.