Issue: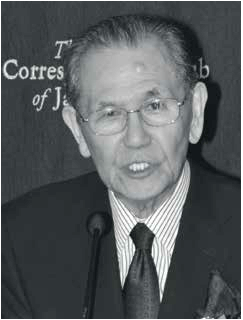 He came out of retirement, calling on Japanese and U.S. leaders to pay visits to Hiroshima and Pearl Harbor
FUMIO MATSUO, ONE OF our most distinguished regular members and a veteran Japanese journalist known for his efforts in calling for "true" postwar reconciliation between Japan and the U.S, died of natural causes on Feb. 26 while on a trip to New York state where he was visiting his family. He was 85.
A native of Tokyo, Matsuo joined Kyodo News in 1956 after graduating from Gakushuin University. He served as Kyodo's correspondent in New York and Washington D.C. from 1964-69 and as Bangkok bureau chief from 1972-75, where he was president of the Foreign Correspondents' Club of Bangkok from 1973-74. He returned to Washington as bureau chief from 1981 to mid 1984. He became a member of the FCCJ in 1985. When he retired from Kyodo he was deputy director of the agency's economic news department. "He was a tough boss," recalls Shiro Yoneyama, who worked under him at Kyodo. "But his colleagues admired his talent."
In 2002 at the age of 68, he came out of retirement and returned to journalism, writing articles calling on Japanese and U.S. leaders to pay respective visits to Hiroshima and Pearl Harbor in symbolic acts of reconciliation between the former wartime foes. He received the Japan National Press Club Award in 2017 for helping the realization of landmark visits to these historic sites in 2016 by then U.S. President Barack Obama and Japanese Prime Minister Shinzo Abe.
Matsuo was recognized as an expert on U.S. political affairs. His interest in the United States stemmed from experiencing as a nine-year old schoolboy the Doolittle Raid on the Japanese capital and other places on April 18, 1942 following Japan's December 1941 attack on Pearl Harbor in Hawaii.
In 2004, he published the book, Democracy with a Gun: America and the Policy of Force, which won the 52nd Annual Award of the Japan Essayist Club and was translated into English in 2007. His editorial, "Tokyo Needs its Dresden Moment" in the Wall Street Journal of Aug. 16, 2005, generated significant discussion on both sides of the Pacific on the nature of reconciliation. Other books included The Day President Obama Offers Flowers at Hiroshima in 2009 and The Accommodating History of the U.S.-China Relationship in 2017.
Although modestly regarding himself as one of the "analog generation," he established his own home page and developed a blog "America Watch" to help get his message of "true reconciliation" across.
At the FCCJ, he was a familiar figure in the Main Bar, where he frequently held court at one of the Correspondents' Tables.
---
– Kyodo and other sources