Issue: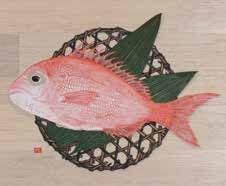 Shu Kubo dyes washi paper and creates his original "mixed media" works: a combination of materials such as pastel, acrylic paint, fabric, sand and western papers together with washi. His work becomes three-dimensional through the layering of multiple thin washi. His themes include "seasonal traditions" and "food in season."
In the spring of 2008, Kubo held a highly acclaimed New York exhibition. The following year, his kirie (cut paper) work brought him back to the city as a special advisor for Japan's Ministry of Cultural Affairs. Since 2010, through the Japan Foundation's cultural exchange program, his activities have expanded to Spain, Portugal, the Philippines, Malaysia, Ukraine and Russia. Last year, he was the principal artist for Japan-U.S. Cherry Blossom Centennial celebration and his work was shown in the Empire State Building lobby gallery.
---
Shu Kubo was born in 1951, and held his first solo exhibition in Osaka in 1977.