Issue:
FOR 'COUNTRY MICE' VENTURING, IT'S ALWAYS A DILEMMA. DO WE miss the last train or miss out on the fun? It's even worse to ride the late train knowing that come dawn you have to ride two hours back the way you came. Injury adds to insult for those of us who who pay JR ¥5,000 return.
The good news, I recently discovered, is that someone who can help now cares. A sayonara party I didn't want to miss didn't start till nine and the place I usually stay was full. So on a whim I decided to seek help from the Tokyu people who now run the Club's restaurants.
"We'd be delighted," was the immediate response from Kenji Itakura, manager of international sales & marketing at Tokyu Hotels. "We want to introduce FCCJ Members to all our properties, so where would you like to stay?"
Tokyu Inn, the better than average business hotel handily located near Kamiyacho Stn. Or perhaps the mid market Akasaka Excel Hotel Tokyu, conveniently on top of Akasaka mitsuke Stn. But caught up in the moment, I blurted out, "Why not the Capitol Tokyu?" The ¥22,000 special offer for FCCJ Members was a bit beyond my budget, but I thought, what the hell?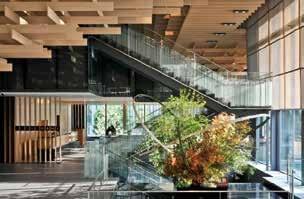 Checking in, I was charmed to find myself upgraded to the nicest hotel room I've ever stayed in, with huge windows that offered a stunning view of the Kantei, Diet and Imperial Palace with Mount Tsukuba in the distance. With work still to do I was glad to find an ample desk and (unlike the nickel and diming Westin) free high speed internet. Even better was the spacious shower with nozzles coming from all directions.
The old and much loved Capitol Tokyu with windows that opened and Beatles slept here cachet was a hard act to beat. With its confusing lobbies, the new Capitol may not inspire love at first sight but the garden view from my table and the best ever Western breakfast in Japan won my heart.
Okay, so not everyone can expect such an upgrade. But Itakurasan and his team are working on ways to make a wide range of benefits accessible to FCCJ Members. In a nutshell, we are entitled to two streams of preferential treatment: one individual, the other corporate.
Individuals can get the Tokyu Comfort Member card. And where mere mortals pay to join, FCCJ Members get it free, along ¥500 worth of points just for filling out the form available at the Club's Front Desk. When reserving online or by phone, your Comfort Member number will get you lowest rates on all Tokyu Hotel properties, plus points for your spending.
The FCCJ's membership in Tokyu's corporate program is accessed through an online password entrusted to our Front Desk staff. Along with rates comparable to the individual program, booking via the corporate channel gets you preferential booking when everything is fully booked a definite plus when visiting Kyoto in high season. What's more, you don't have to enroll. The Front Desk staff can reserve for anyone they deem part of the FCCJ family. Ask them for further info.
For Members who live out of town, for those traveling around the country or for alumni returning to visit Tokyo, our new Tokyu privileges probably represent good value. So consider picking up a Comfort Member application next time you pass the Front Desk.
---
– John R. Harris