Issue: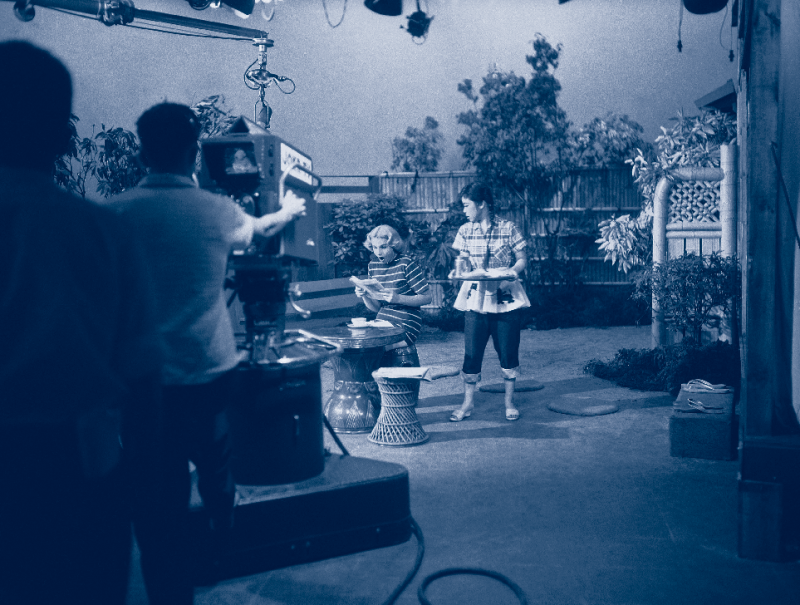 "I love Linda"
A chance encounter in the press club's dining room led to TV stardom for a woman whose husband was a Pulitzer Prize-winning correspondent.
Looking back on the FCCJ's history of over seven decades, many stories can be found of people whose lives were changed by chance encounters at the Club. One of them was the mother of two young boys, who arrived in Japan in the 1950s as the wife of an American correspondent, before going on to stardom in a Japanese TV comedy drama. In tempestuous times when anti American sentiments were on the rise in the country, she was referred to by some in one case, by an American correspondent as "the best ambassador."
Linda Corley Mangelsdorf was born in Boston, Massachusetts in April 1925. When she was three, her family relocated to Honolulu, where her father was employed as a geneticist for the sugar cane growers. There, she picked up a smattering of Japanese language from the family's maid, a Japanese American nisei.
On the morning of Dec. 7, 1941, Linda, who had stayed overnight at a friend's house, heard the roar of aircraft flying overhead, followed by explosions. She saw low-flying aircraft whose wings bore the red circle of the Japanese Hinomaru headed in the direction of the Pearl Harbor naval base. At the age of 16 she became one of the American civilians bearing witness to the Japanese attack on the U.S.
Linda first attended Stevens College in Columbia, Missouri, and later transferred to the University of Hawaii, where she received her degree. In 1949, she came to Tokyo as an industry labor relations analyst for Supreme Command Allied Powers. She made the acquaintance of Keyes Beech, a correspondent for the Chicago Daily News. Beech had worked as a war correspondent in the Pacific Theater, and was well known for his acts of derring do, having been the first correspondent to reach the summit of Mt. Suribachi during the battle of Iwo Jima. He served as FCCJ president from July 1948 to June 1949, and later received a Pulitzer Prize for his reporting on the Korean War.
Linda had intended to pursue graduate studies in Asian Philosophy, but became engaged to Keyes and the two married in June 1951. She once was heard to remark laconically, "I never got my master's degree but I got a husband." The couple returned to the U.S. but came back to Japan in 1955, and Linda had settled down to a mundane existence as the mother of Keyes Jr. and Barnaby. Then one day, while eating lunch in the dining room of the Tokyo Correspondents' Club (forerunner to the FCCJ), she struck up a conversation with a Japanese TV director.
TELEVISION BROADCASTING IN JAPAN began in the 1950s with NHK programming, which was then followed by several commercial TV networks. At the time, the biggest problem facing the broadcasters was the shortage of content. The gap was filled by popular American programs, such as I Love Lucy, The Lone Ranger, Highway Patrol and others, all of which were overdubbed in Japanese. One station had come up with the idea of producing a drama based on I Love Lucy, and they were seeking an American female who could speak Japanese. After overhearing Linda ordering dishes in Japanese at the press club, one of the directors involved with the show promptly approached her about appearing on the program.
Linda agreed, and on April 6, 1958, at the Sunday evening prime time of 7 p.m., she made her debut on JOKR TV (now TBS), in the first episode of "Aoi Me No Tokyo Nikki" (Blue Eyes' Tokyo Diary). The sponsor was Snow Brand Milk Products, and the director was Takanori Yamamoto.
Linda portrayed Shirley, wife of George Parker, the Tokyo correspondent for a fictitious U.S. magazine called Slick. Her hubby George was played by Ken Nilsson, a disc jockey who had studied Japanese at the Military Language Institute in Monterrey, California. The couple's American friend was played by George Furness, an attorney who had defended Class A war criminals during the International Military Tribunal for the Far East.
After overhearing Linda ordering dishes in Japanese, one of the directors approached her about appearing on the program.
There was some striking irony in the makeup of the production staff. Near the war's end Yamamoto, at that time a university student, had been conscripted into the military and trained, as a would be Kamikaze pilot, to crash an aircraft armed with a single 250kg bomb into a U.S. naval vessel. Now, only six years after the San Francisco Peace Treaty came into effect, ending the occupation of Japan, Linda was performing in a TV situation comedy made with the cooperation of a defense attorney for accused war criminals and a former wouldbe Kamikaze pilot.
The basic story plot was that the young American couple would go out to run down stories about things they encountered in Japan. For example, one day George explained to Linda that only men could attend geisha parties. She and her friend discuss the matter and decide to disguise themselves as geisha girls and entertain their husbands.
THOUGH LINDA COULD CONVERSE in Japanese, she was unable to read it, so the program's entire script was written in the romaji, which she would memorize before each broadcast. (American actress Charlotte Kate Fox, who starred in the NHK drama Massan three years ago, also memorized her lines from an alphabetized script, so Linda can be regarded as her predecessor.)
With the popularity of TV just beginning to take off in Japan, the Blue-Eyes saga became a hit sensation. The sheer novelty of a blonde haired, blue eyed American female speaking Japanese was enthusiastically received by TV viewers, and when Linda went on shopping expeditions at Ginza department stores, people lined up to ask for her autograph. The weekly U.S. magazine The Saturday Evening Post was to eventually feature an article by Linda's real life husband correspon dent Keyes Beech titled, "I Lost My Wife to Tokyo TV."
Linda once was ticketed by a traffic cop for exceeding the speed limit. As the story goes, when she appeared in traffic court, the judge, who turned out to be a fan of her show, made the other offenders wait, holding up the "court for an hour while he discussed in detail practically every show in which Linda had appeared. Then he apologetically fined her the equivalent of $4.18 and let her go."
Linda received similarly deferential treatment in the media. As Keyes Beech recalled in a self deprecating tone, "Ten years ago I shook hands with Emperor Hirohito. But when Crown Prince Akihito's engagement to commoner Michiko Shoda was announced, did the Tokyo papers ask me for comment? No, they asked my wife." Her celebrity status reached the point that in the press club bar, Pulitzer Prize winning journalist and former Press Club president Keyes Beech was jokingly referred to by a colleague as "Mr. Linda Beech."
In 1960, when then Prime Minister Nobusuke Kishi grandfather of the current Prime Minister Shinzo Abe revised the U.S. Japan Security Treaty, anti U.S. sentiment boiled over. When Jim Hagerty, President Dwight Eisenhower's press secretary, arrived at Haneda Airport he was besieged by hostile demonstrators, requiring him to be evacuated by a U.S. Marine Corps helicopter.
ACCORDING TO AMERICAN CORRE SPONDENT Terry Turner, when the marchers in an anti U.S. demonstration happened to spot Linda passing by, they cheered and rushed forward to grasp her hand, shouting, "Linda-san, Linda-san!" Then they returned to their "zig-zag" snake dance and resumed chanting "Down with America!" Observing this, Turner described her as "the best ambassador this country had in that beleaguered city."
Around the same time, Nippon Columbia issued a disc titled "I Love Tokyo," marking Linda's debut as a vocalist. She also appeared as a model on Sapporo Beer promotional posters. In a matter of two years, Linda had truly blossomed into Japan's most popular foreign celebrity.
In his article in The Saturday Evening Post, Keyes Beech included an interview with director Yamamoto, in which he was quoted as saying, "We thought about all the outstanding differences between East and West and how to transfer Western humor into Japanese and vice versa. Then we made an important discovery. We discovered that while Americans and Japanese live differently, they will laugh at the same things. What's funny to one is funny to the other. The strength of the show rests on common humanity.
"Keyes supposed that the show's viewers were probably mostly adolescents but believed it appealed to all ages, leading him to conclude, "Young Japanese like it because it brings a modern young American couple into their living rooms. Older Japanese like it because they see a pair of Americans trying to live up to old and disappearing customs that they cherish."
"Tokyo Blue Eyes has had an unexpected result," he wrote. "Although calculated to sell cheese, it has also helped sell America, in that it has brought Americans and Japanese closer together. And it hasn't cost the United States taxpayer one cent."
While Blue Eyes Tokyo Diary was to forever change the life of one American woman from Hawaii, it also turned out to serve as the ultimate in "soft power" enhancing the image of Americans in Japan. It was, no doubt, not the first, and certainly not the last time that the hand of fate moved across a table over lunch at the press club dining room.
The Beeches were to eventually depart Japan, and the couple later divorced. Linda earned a doctorate in psychology and worked in the mental health field. She passed away at age 86 on Jan. 5, 2012. Her ashes were scattered at the panoramic Waipio Valley beach, at the northern tip of the Big Island of Hawaii.
---
Eiichiro Tokumoto, a former Reuters correspondent, is an author and investigative journalist.