Issue: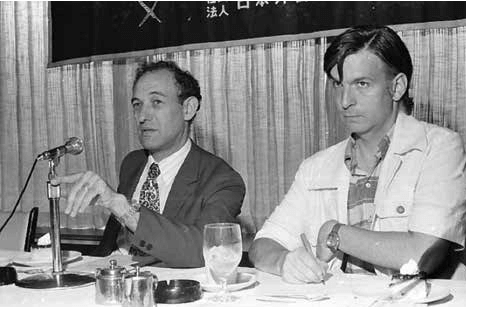 Ezra Vogel, Chairman of Harvard University's Council on East Asian Studies, spoke to Club Members on Aug. 16, 1977. This followed his participation in an FCCJ seminar a year earlier in his previous post as director of Harvard's East Asia Research Center and preceded by almost two years the publication of his controversial book, Japan As Number One: Lessons for America in 1979. Japan as Number One made him famous, with the Japanese version becoming a non-fiction best seller, and ensured a huge turnout for his next professional luncheon in January of 1980. Seated to Vogel's left, pen in hand, is CBS News' Bruce Dunning, noted for his coverage two years earlier of the Danang evacuation during the Vietnam war. (Bruce suffered fatal injuries from a fall in his New Jersey apartment and died in August 2013 at the age of 73.)
Born in Ohio in 1930, Ezra Vogel earned a Ph.D. in social science from Harvard University in 1958 before traveling to Japan, where he carried out research for two years before returning to Harvard. There, he became an assistant professor, while expanding his studies to include China and the Chinese language. He became a tenured professor in 1968, and in 1972 became the director of Harvard's East Asia Research Center, a position that led to his participation in the FCCJ professional seminar in 1976. It had long been Vogel's practice to make annual trips to Japan and other countries in East Asia, which was why following his move to chairmanship of Harvard's Council for East Asian Studies he was invited to speak at the FCCJ on East Asian affairs. When he next appeared at the Club on Jan. 7, 1980, to discuss Japan As Number One some eight months after its publication, his appearance attracted a wall to wall crowd.
Ezra Vogel went on in 1980 to become Harvard's director of the Program on U.S. Japan Relations at the Center for International Affairs, a post he held for seven years. Additionally, he chaired a group for undergraduate East Asian Studies (1972-1991), twice served as Director of the Fairbank Center for East Asian Studies (1973-1975 and 1995-1999), and became the first director of the Asia Center (1997- 1999). He retired from teaching in 2000, the same year he revisited his earlier theme with a follow up entitled Is Japan Still Number One? After retirement, he wrote another book, Deng Xiaoping and the Transformation of China, a reminder that the focus of much of his past work had been on China as well as Japan.
---
– Charles Pomeroy,
editor of Foreign Correspondents in Japan,
a history of the Club that is available at the front desk