Issue:
Shortly after its 120th birthday and a complete design redo, Japan's oldest paper gets a new, little-known proprietor with no news background.
A new owner for the Japan Times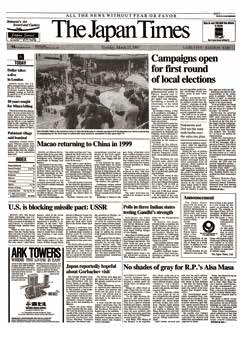 by TIM HORNYAK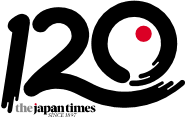 Owned by Nifco since the early 1980s, the Japan Times was bought by News2u last month.
TWITTERATI EYEBROWS SHOT UP in June when news broke that the Japan Times, the country's oldest and largest English-language newspaper, had been sold. Parent company Nifco, the plastic components maker that has controlled the paper for over 30 years, announced it had sold it to News2u Holdings, a Tokyo media firm that distributes news releases. One Twitter user, @taro3yen, was quick to post a photoshopped version of the paper's June 12 edition with "The Japan Press Release" as the new masthead.
(Full disclosure: I am a contributor to the Japan Times.)
In a brief release, the JT said that as a 100-percent-owned subsidiary of News2u, it would continue as a newspaper with its mission of "reporting the news on Japan and the world to both its domestic and international audiences." It said the new owner's resources would give it a bigger online presence and make it more useful to readers. Financial details of the deal were not disclosed.
"We hope to enhance our digital capabilities and reach using News2U's expertise and know-how in those areas," says JT managing editor Sayuri Daimon, noting that the newspaper was a pioneer in creating a web experience that adapts to user devices. "This is an exciting opportunity for the JT to better engage with our readers in the digital era and widen our reach."
THE JT RECENTLY CELEBRATED its 120th anniversary with an extensive revamp. First published on March 22, 1897, the newspaper has been around almost as long as modern Japan itself and has survived while English versions of leading broadsheets Asahi Shimbun and Mainichi Shimbun have not. Having changed its name and absorbed other papers during the 20th century, the JT was brought under Nifco's control in the early 1980s and purchased outright in 1996, not long after circulation hit 75,000 copies. That has plunged over 40 percent to 44,000 today, echoing declines in other developed countries, though online readers and a growing international audience have shored up the drop. Insiders said it was a good time for the property to start fresh under a new owner.
"The Japan Times had a great run under Nifco over many years, through thick and thin," says William Saito, an entrepreneur who served on the paper's advisory board. "I think the sale is less a commentary on the state of Japan and the growing interest among a global audience than a clear indication of how technological progress is changing the face of news media."
Nifco had grappled with the rapidly changing media landscape while trying to cut costs. The JT teamed up with the International New York Times in 2013 and included more wire copy in its print edition, but that hasn't halted the drop in circulation. Nifco's latest financial report shows its "other" business segment, consisting mainly of the newspaper, eked out a small operating profit of ¥8 million in fiscal 2016. Income had been improving after an ad-revenue slump, but operating losses continued for years. Rumors of a sale or closure had long swirled. The clincher was the death of Nifco Chairman Toshiaki Ogasawara late last year.
"Shareholders have been very unhappy about the fact that JT was eroding Nifco's profit and becoming more like a liability, and there has been always pressure to sell it, I've heard," said one former employee of the newspaper, who had hoped a major brand like Rakuten would pick it up. "But Chairman Ogasawara defended JT as it was like a crown to him."
THE JT's NEW OWNER is an unknown in Japan's English-media circles. It was established in 2001 to distribute press releases, but also creates websites and other media. CEO Minako Kambara Suematsu is a Gakushuin University-educated scion of the Hiroshima-based Kambara family, whose ancestor Katsutaro Kambara established Kambara Kisen shipping company in 1903. Aside from her media enterprises, she's senior managing director of the family's Tsuneishi Holdings, a ¥200 billion concern with businesses in shipbuilding, logistics, energy and leisure.
It's unclear exactly why Kambara was interested in the JT. News2u declined an interview request and did not answer questions. In a Japanese- language blog post put up after news of the sale, Kambara noted the paper's solid reporting as well as the need for trustworthy information in the era of fake news. She also insisted News2u is not a PR firm.
"I am convinced that the ability to access primary information and the ability to send it in English has great potential by using the internet," she wrote. "I want to think about creating an information platform vital for readers by digitally informing the world about Japan while maintaining the independence of the Japan Times."
---
Tim Hornyak is a freelance writer who has worked for IDG News, CNET News, Lonely Planet and other media. He is the author of Loving the Machine: The Art and Science of Japanese Robots.