Issue: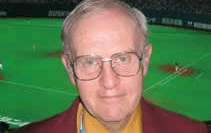 FAMILY, FRIENDS AND COLLEAGUES gathered at the FCCJ on May 20, to honor and remember long-time baseball journalist Wayne Graczyk, who helped to make the national game easier to understand and appreciate for generations of fans and players alike.
Tributes came from both Japanese professional baseball and Major League Baseball representatives, sports media, as well as current and former baseball greats, including Sadaharu Oh. Colleagues, such as the Japan Times' Jason Coskrey, told stories of how Wayne helped them to raise their reporting games, always with a constructive good humor and passion to tell the best story possible.
Friends including Marty Kuehnert, Bob Whiting and MLB's Jim Small, relayed the many moments of Wayne's unsolicited help and unflappable positive attitude, as well as his unrelenting search for a good cheeseburger. Bobby Valentine, former manager of the Chiba Lotte Marines, was also there.
The memorial event was concluded by a touching video retrospective by son Randy, and words of remembrance from wife Yoshiko. And, as Wayne would have it on a beautiful Saturday afternoon, baseball, with the Yomiuri Giants playing the Yokohama BayStars, in a replay of their 2016 Climax Series donnybrook. The BayStars defeated the Giants 6-4, with Utsumi taking the loss for Yomiuri and Lopez with a big blast for Yokohama.
---
– Dan Sloan