Issue:
Mehdi Bassiri
By Gavin Blair
---
Eschewing the offer of a career in the post office in the ancient Iranian city of Hamadan, a young Mehdi Bassiri had already set his sights further afield. A desire to travel and meet people, combined with the fact that "The foreign ministry was the most respected government office in Iran," had Bassiri determined to represent his nation abroad.
His first extended posting was to the Iranian Embassy in London in 1972 as an attaché. Mehdi remembers his four years in the British capital as the "most enjoyable time in my career," recalling garden parties at Buckingham Palace, where he met the Queen and other royals. Returning to Tehran in 1976, Bassiri looked after foreign diplomatic missions and foreign leaders visiting Iran for two years.
After being posted to Japan in 1978, he worried about the direction of Iran and the fate of his relatives there. Within a few months the Islamic Revolution was underway and Bassiri began to realize life would never be the same. "I tried for a year and a half or two to carry on working with the new regime, but it was impossible," he says, explaining that many high ranking diplomats, including his former boss and friend, and the former foreign minister, were executed without trial. "Their only crime was working with the old regime," Bassiri says.
Bassiri effectively defected, asking for political asylum from Japan. Although he says the authorities were kind to him, "They wanted to help me go to the US or UK, not stay here." However, after four years, he received approval for his family to live permanently in Japan. In the meantime, the new regime in Iran had seized his house and financial assets.
An unscheduled visit from a compatriot while he was still working at the embassy would lead to his first job after the diplomatic service. After handing Bassiri two packages, the visitor explained he was importing medical equipment from Japan into Iran and was looking for an introduction to a reliable person to open an office in Tokyo.
"After he left I opened the packages, and one of them was a big portrait of the [Ayatollah] Khomeini. I telephoned him and told him to come back immediately and take it away. Later he called me and asked to meet him in a coffee shop. He asked me to come and work with him," recounts Bassiri.
THIS SERENDIPITY GAVE BASSIRI a job and a way out of his untenable position representing a regime he strongly opposed. Working for the company for around 18 months, he learned the ways of business after a career in diplomacy, until his employer collapsed and died in the disco of the Tokyo hotel where he was staying. So Bassiri formed his own business and continued exporting medical equipment to Iran until the 1985 Plaza Accord sent the value of the yen spiraling upward, making his goods prohibitively expensive. The currency fluctuation, however, made importing from Iran a viable option and Bassiri began to supply Persian carpets to Japanese department stores. His persona non grata status in Iran was over shadowed by the government's desire for foreign currency, according to Bassiri, and left him able to source carpets, but not return to his homeland.
THE ISLAMIC REVOLUTION WAS UNDERWAY AND BASSIRI BEGAN TO REALIZE LIFE WOULD NEVER BE THE SAME.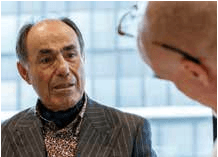 The business model he developed continues to this day: taking his wares to display at regional department stores and sell to wealthy local customers.. Although traditional wool Persian car pets, with thousands of years of history, are prized worldwide, it is the newer silk varieties that are popular in Japan. "Silk Persian carpets only began to be woven maybe 100 years ago, but 90 percent of them are exported to Japan, where people find silk very attractive," he explains.
Once his business success allowed him to pay back the people who had helped him after he had left the embassy, in 2000 he joined the FCCJ, which he had visited numerous times during his diplomatic days. He has since been an active member, sitting on the associate liaison committee, organizing a Persian New Year Night for a decade and serving in various roles on the Food and Beverage Committee, of which he is currently co-chair.
After almost two decades in Japan, Bassiri was able to return to Iran to see his sick brother after a close friend in the foreign ministry received assurances during the tenure of relative moderate President Mohammad Khatami, that he would be safe. He returned to Japan unscathed, but the fear he felt while there gave him chronic stomach pains. He returned a number of times since, but the more hardline direction the regime has taken in recent years has again dissuaded him from visiting.
His three children are all working overseas, in New Jersey, Brussels and London. Bassiri visits his youngest daughter in London, a city he still has great affection for, but worries about the future of his homeland. "I don't know what will happen to my country; I hope something good," he says sadly.
Recent geopolitical tensions have once again cast a shadow on his life. The latest US sanctions, imposed on Iran from Nov. 6, have left Bassiri unable to send money to his suppliers there. He is now seeking a solution, but says he is not hopeful.
---
Gavin Blair covers Japanese business, society and culture for publications in the US, Asia and Europe.