Issue:
The pacifist Prime Minister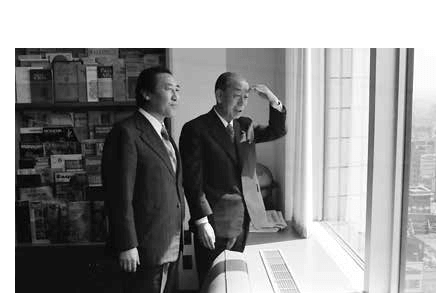 Then Japanese Prime Minister Takeo Fukuda, who spoke at the Club on March 10, 1977, takes in the view from the Club's previous premises, the Yurakucho Denki Building. Next to him is the FCCJ President at the time, Bill Shinn (Sisa News Agency).
Born in 1905 of samurai heritage, Takeo Fukuda was exposed to politics from an early age by his father, who was the mayor of Gunma City. He was educated at top schools, including Tokyo Imperial University, and early in his bureaucratic career served in the Ministry of Finance and as Chief Cabinet Secretary. Post war, he directed Japan's banking bureau and budget bureau before being elected to the Diet in 1952. He became secretary of the LDP in 1957. During the decade from 1969 to 1979, Fukuda headed three ministries agriculture, finance, and foreign affairs as well as the Economic Planning Agency..
At a low point for the LDP in 1976, due partly to infighting among factions, Fukuda assumed the premiership and served for two years with the support of minor parties. Although economic and political problems weighed heavily, he affirmed his pacifist mindset by establishing the Fukuda Doctrine in 1977 that stated Japan would not again become a military power and would better its relations with Southeast Asian nations. Fukuda also played a key role in concluding Japan's 1978 peace treaty with China.
His failure to stabilize a deteriorating economy, compounded by a decline in the public's trust in the LDP following the Lockheed bribery scandal, led to Fukuda's downfall. His earlier attempt to weaken the faction system by introducing primary elections ironically resulted in his defeat by Masayoshi Ohira in the first such LDP election in 1978. He remained active politically, and in 1983 founded the InterAction Council in Vienna that brings together former world leaders and encourages them to utilize their expertise in resolving world problems.
He married and fathered three sons and two daughters, with the eldest son, Yasuo, becoming the first son of a Japanese prime minister to become a prime minister himself in 2007.
Takeo Fukuda died of emphysema on July 5, 1995, at the age of 90.
---
– Charles Pomeroy
editor of Foreign Correspondents in Japan,
a history of the Club that is available at the front desk