Issue:
July 2022
Tokiko Kato and daughter Yae perform in charity concert at FCCJ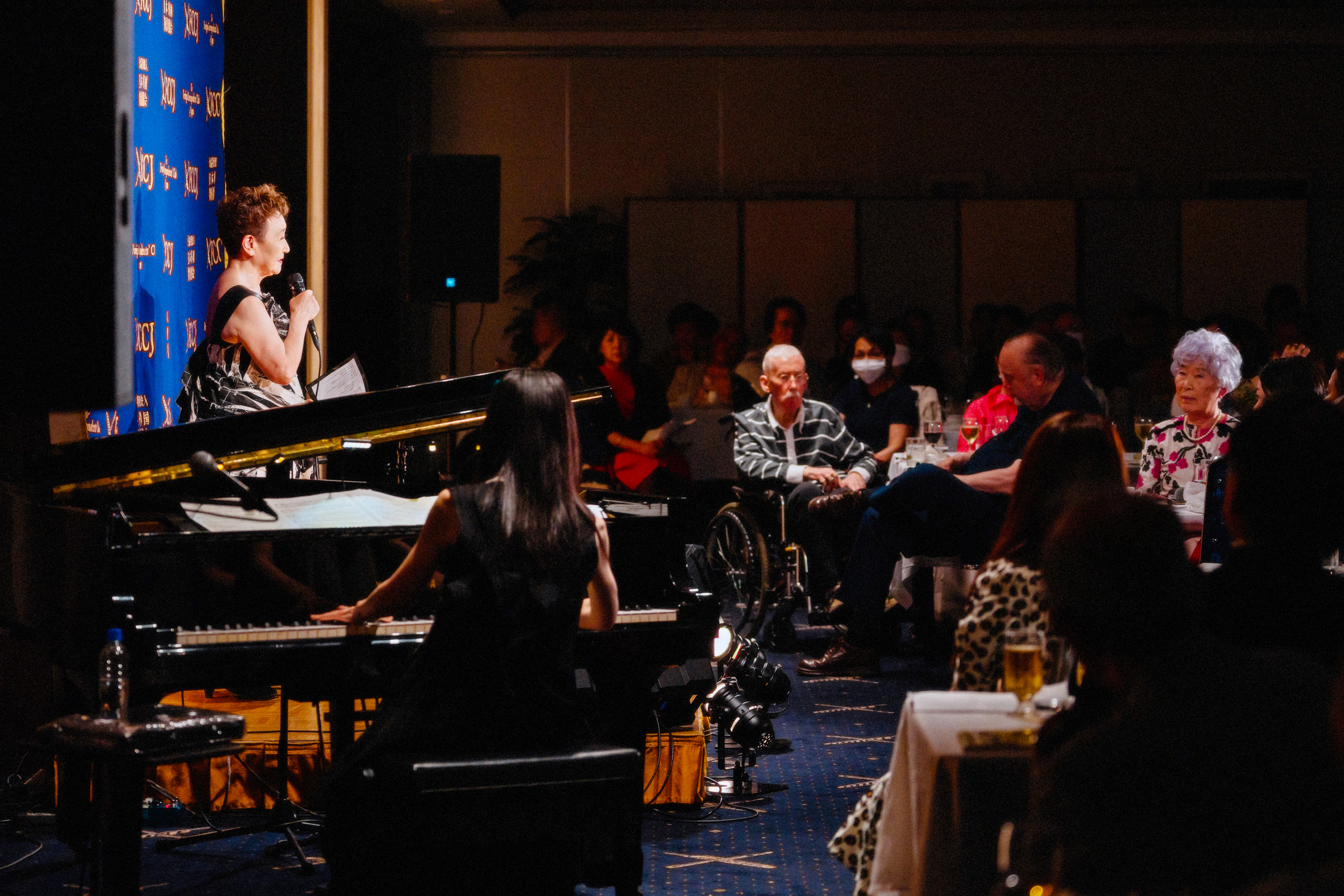 After two years of pandemic postponements, FCCJ members have been starved of the kind of high-quality entertainment that only the Club can offer.
Right on cue, as the pandemic eased, Japan's top chanteuse Tokiko Kato and her daughter, Yae, proposed holding a concert to Sing for Peace in Ukraine at the Club last month.
Kato and the FCCJ go back a long way. It had been almost 34 years since her first appearance at the Club, in 1988. The singer created a warm atmosphere, opening with Le Temps Des Cerises – her favorite chanson – before turning on the humor for her laughter-provoking Let's Talk About the Old Times.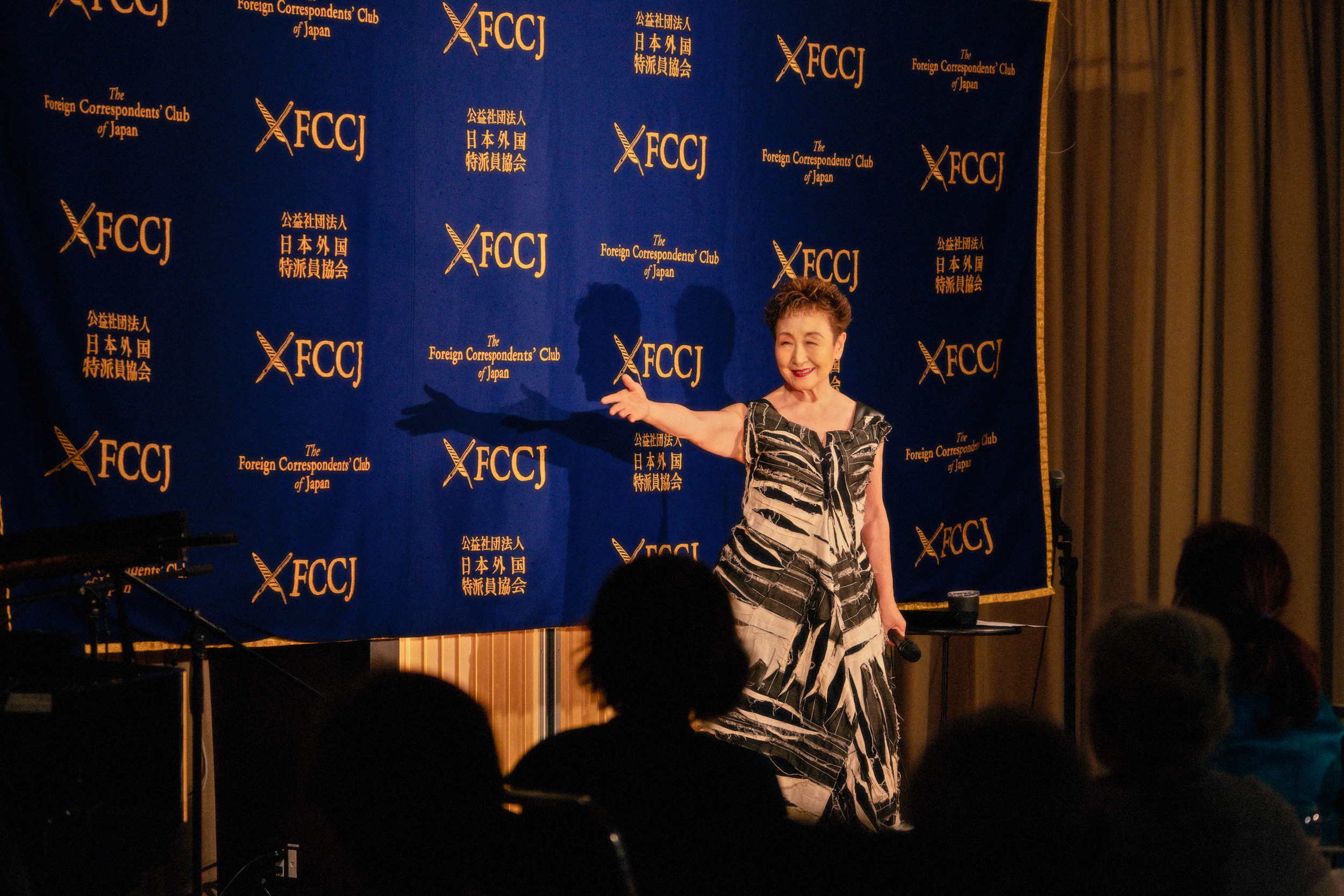 Kato spoke of her delight at spotting the bewhiskered FCCJ stalwart and longtime fan Bradley Martin in the audience. She also reminded listeners of her talent as a singer/songwriter with her moving translation of Pete Seeger's Where Have All the Flowers Gone with its relevance to wartorn Ukraine.
Her original songs and commentaries show her genuine talent is still with her today.
Among her many anecdotes was that she shares a birthday – December 27 – with Marlene Dietrich, although some 42 years apart. Kato was born in Harbin (then in Manchuria) in 1943 while Dietrich was born in Berlin 42 years earlier in 1901.
Harbin was an international city where White Russians (non-communists), Jews and Japanese lived relatively peacefully under Japanese administration until Japan's defeat in World War II. The Kato family was detained in a refugee camp where they experienced plundering by Soviet soldiers until they were evacuated to Japan.  
The family lived in priest's housing at the Shimogamo Shrine by the tranquil Shimogamo River in Kyoto until they moved to Tokyo. Kato's lifestyle changed dramatically during her Tokyo University days, where she took part in the student movement, as well as taking lessons in chansons. Boosted by her training, she made her debut as a chanson singer and took part in a contest whose first prize was a trip to Hamburg, Paris and Rome arranged by Air France.
These experiences may be the root of her concern for human rights and environmental issues, including her support for the late Dr. Tetsu Nakamura's medical and irrigation projects in Afghanistan.
Yae covered Hibari Misora's anti-war song If I Could Hold a Pencil, which Zenzo Matsuyama wrote for the first Hiroshima Peace Music Festival in 1974. "If I could hold a pencil, I would write I love you; If I could hold a pencil, I would write I hate the war; If I could hold a pencil, I would write the morning of August 6; If I could hold a pencil, I would write people's lives."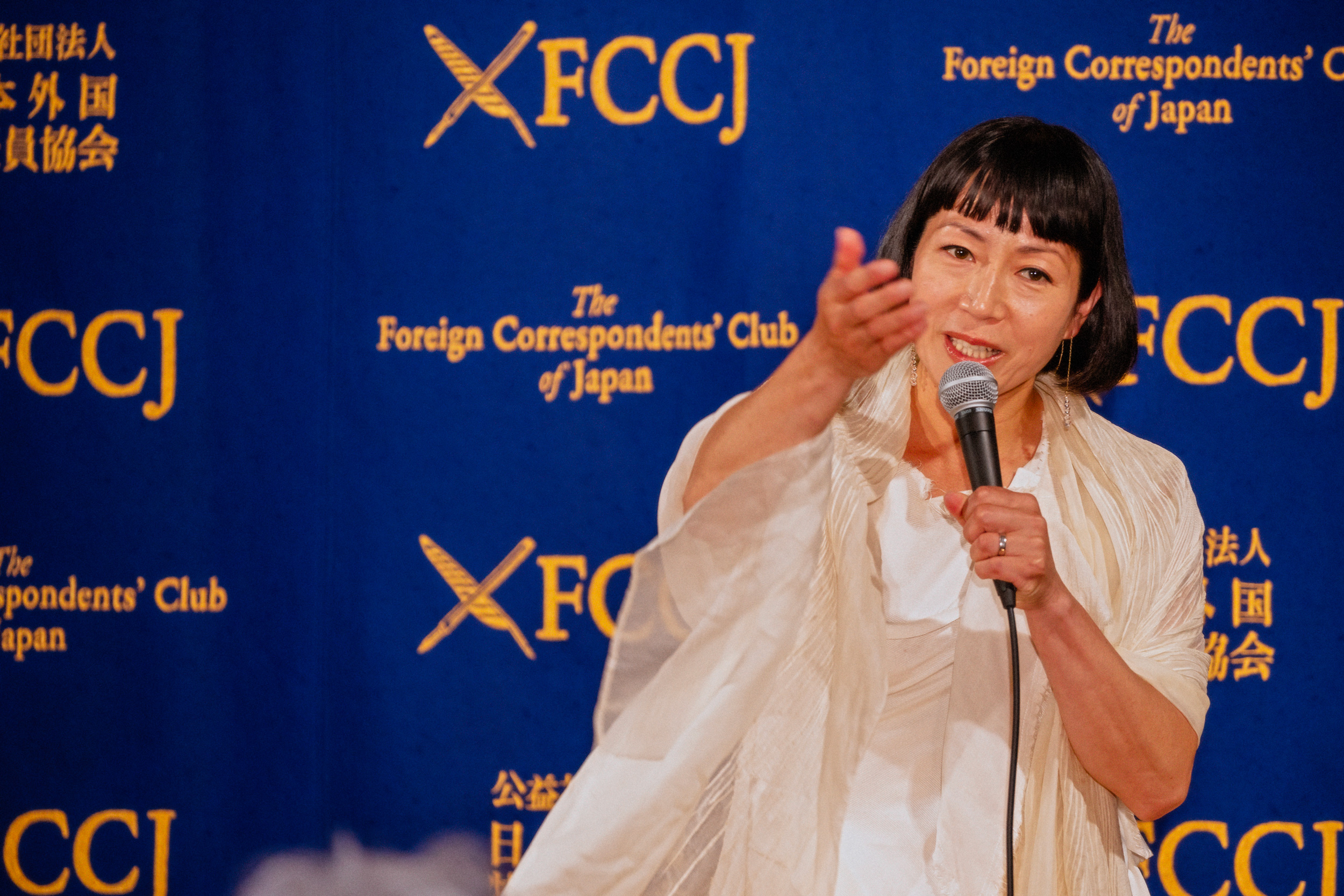 Yae, Kato's second daughter, has a clear high soprano voice, while her mother's vocals are more of a low mezzo type. Mother and daughter demonstrated this when they sang Imagine together after John Lennon's widow, Yoko Ono, gave Kato permission to compose a Japanese translation.
Long Hard Journey is a song Tokiko created for a CD released in May this year to support the Japan Chernobyl Fund to assist people in Ukraine.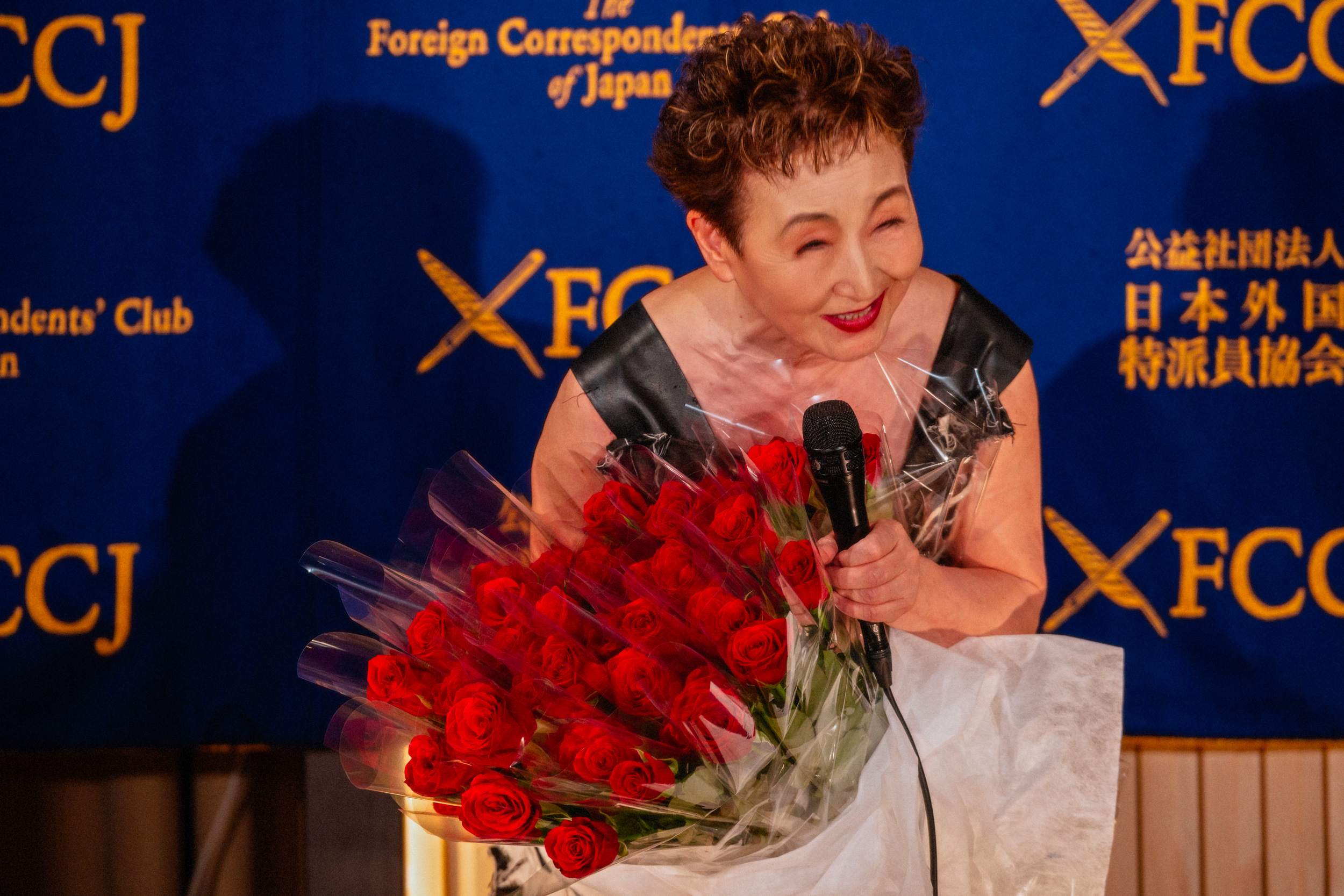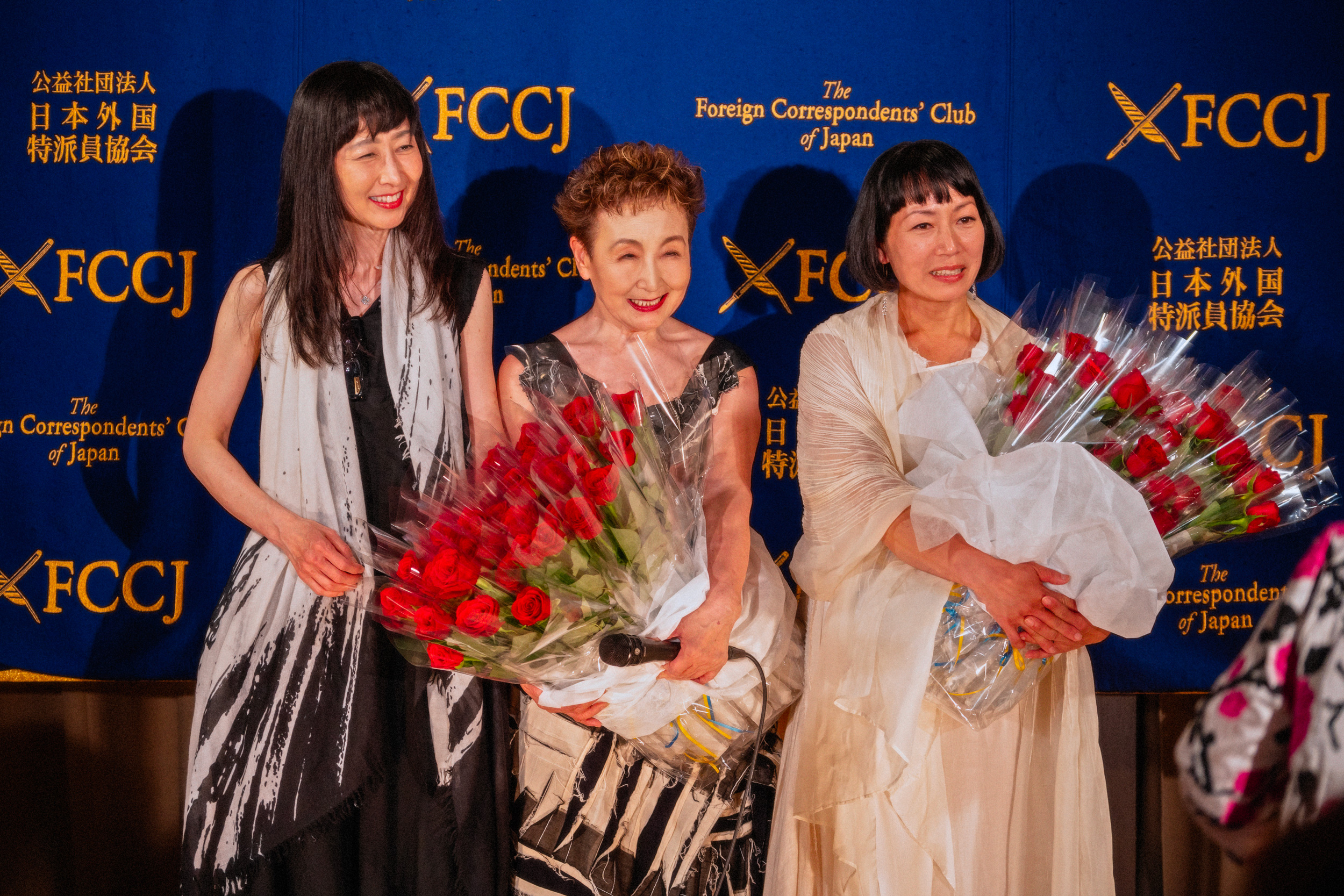 She ended the FCCJ set with her signature song One Million Roses. Fittingly, the aforementioned Bradley Martin, associate editor of the Asia Times, presented Kato with a bouquet of 50 roses, while Akari Higuchi, a new graduate of Temple University did the same to Yae. The FCCJ office had apparently secured the 100 flowers earlier in the day.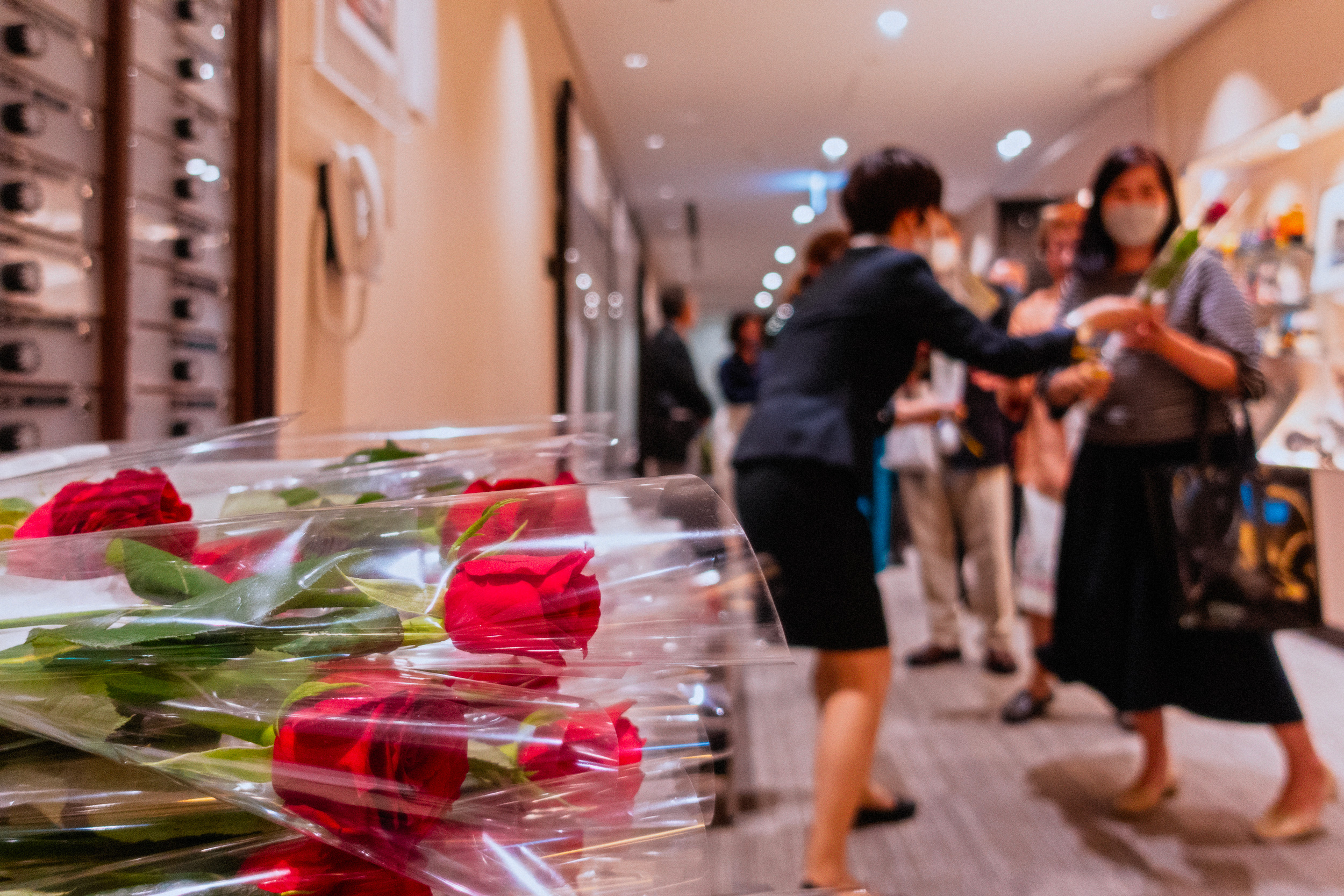 At the end of the concert, the roses were wrapped and tied with blue and yellow string – the colors of the Ukrainian flag – and handed out to the audience by the mother-and-daughter team. A gift of roses from the performer of One Million Roses! Members and guests also bought Kato's CD, with all proceeds going to the Japan Chernobyl Fund. Kato herself donated her ¥450,000 performance fee, plus ¥132,000 from sales of 60 CDs, to the fund.
---
Haruko Watanabe is former Tokyo Bureau Chief of the Press Foundation of Asia and producer of the Women Pioneers video series.