Issue: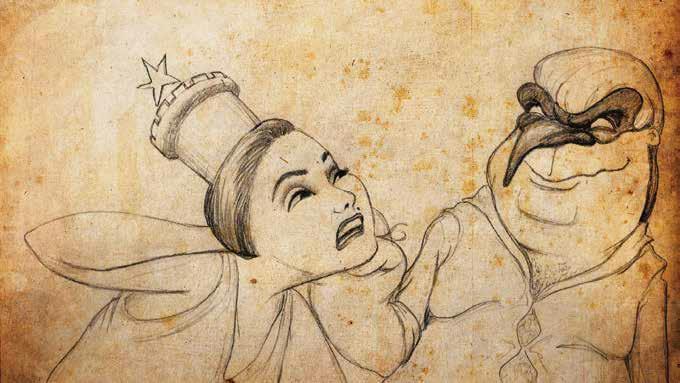 The former Economist editor turns his hand to filmmaking in an attempt to find the cure for Italy's "lost decades."
Ihad always subscribed to the old print hacks' joke: "You have a great face for radio." And I had always believed that whatever the lure of large TV audiences, the trade off of shallowness for reach was not worth it. Words, in inky print or bits and bytes, were where the real action was. Then I discovered Italy, an Italian director friend, and some themes from Dante Alighieri. The result: a film.
The argument I used to convince Carol, my ever tolerant wife, was that making a film about Italy represented the least bad sort of mid life crisis. Other men buy red sports cars, or start consorting with scarlet women. I had decided to buy some smart suits, get a haircut, and to hurtle around a rather beautiful country in a rather uncomfortable minibus along with a camera crew and my guide in this adventure, the aforementioned director, Annalisa Piras.
Thus it was that we or, really, she, with some amateur input from me, plus my face and voice made a 98 minute documentary called Girlfriend in a Coma. The title was inspired by a pop song from Britain in the 1980s, roughly when I was living in Japan (my excuse for not having heard of it…), by The Smiths.
The idea the title conveyed was that this was Italy viewed through the eyes of a foreigner, one in love with the country hence, the girlfriend but who was saddened by her condition. I felt a bit unfaithful my original such "girlfriend" is Japan but we journos are allowed to be a bit promiscuous, after all.
Girlfriend is in a sense a classic work for a foreign correspondent, using the advantage of being an outsider with fresh eyes, though it is also crucially a joint venture, blending the passion and patriotism of Annalisa (albeit an exile who lives in London with her family) with the view of the foreign hack. Her patriotic input also explains why we have tried to make the film not just a one off but a campaign, aiming to "wake Italy up" from its coma through debates on social media and in civil society groups, schools and universities.
Why Italy? you might ask. Well, why not? I might answer. The more serious answer is that I had become engaged with Italy while I was editing The Economist, as in 2001 we had taken a look at the country's media mogul turned wannabe prime minister, Silvio Berlus coni, and had not liked what we saw: a symbol of the danger of corporate wealth taking over a democracy.
We said on the cover that he was "unfit to lead Italy." He riposted that we were communists, one of his newspapers pointed out that I look like Lenin, and he sued us for libel. There's nothing I like more than a good punch up, and it made me intrigued as to how a country that has so much right about it could go so wrong politically, morally and in its economy, over more than 20 years. Italy, like Japan in its different way, has "lost" two decades. So the film tries to explain why, say who is responsible, and show how Italy is not an exception but a warning for the rest of the West.
The whole venture was much tougher than I expected. It took longer, cost a lot more, and was a lot more difficult than I had realized. Not so much the performance (though I now have greater sympathy for actors, understanding that their most crucial item of clothing, given all the standing about, is thermal under wear), but the conception (how to blend images and words) and the execution (how to edit, to choose, and to build a narrative from 100 hours of film and some brilliant animation).
We also made things hard for ourselves in commercial terms. We chose to remain independent and not to involve broad casters as co-producers, in order to keep editorial control. Since we were operating on a shoestring, essentially from Annalisa's loft, we had no credibility or influence with the film or TV industry. And since we were making a film about a country whose own media and film industry is very incestuous and resistant to outsiders, we were shunned by our best potential market, Italy itself, whether by film distributors, free to air TV channels or film festivals.
Then we had a bit of luck. Knowing an Italian election campaign in February 2013 gave us a good chance to get noticed, we organized a small tour of screenings in Italy in the run up to the vote, to be opened by a premiere cum launch party for which we booked a cinema in a rather cool contemporary art museum in Rome, Maxxi. The luck was that 14 days before the event, the director of the (privately run, but state funded) museum, Giovanna Melandri, decided to ban our premiere.
She is a political hack, though from the left rather than Berlusconi's camp, and came up with the lovely line that it wasn't right to show a "political" film during an election campaign. Being banned, of course, is the best thing that can happen to any writer or artist. Suddenly we became headline news, martyrs to the cause of free speech, and subjects of an online petition that within four days had got 30,000 signatures calling for our premiere's reinstatement.
ITALY, LIKE JAPAN IN ITS DIFFERENT WAY, "LOST" TWO DECADES
We would never have been able to organize such good publicity ourselves. The premiere was taken over by the Italian news magazine, L'Espresso, in a venue five times larger than the cinema in Maxxi. Our tour of screenings multiplied, as people queued up to organize them all over the country. At last, a private free to air TV channel that had previously ignored our approaches, La7 (then owned by Telecom Italia) bought the terrestrial broadcast rights.
The post screening debates, with audiences young and old, were lively, engaged, sometimes critical, but always in the end supportive, because we were counted as being against "the system," which many Italians have come to hate. Yet at the now more than 50 such debates we have attended, mostly in Italy but also in London, Paris, Brussels and Berlin, one character in the film drew more criticism than any other.
This was not a politician, nor the Catholic Church, nor a media magnate. It was the Carlos Ghosn of Italy, a Canadian Italian called Sergio Marchionne who since 2004 has been CEO of the FIAT car company and has done a huge amount to make it viable as a multinational firm, chiefly by buying Chrysler cheaply and turning it round.
The criticism revealed a deeply ambiguous view of globalization and modernization. What Marchionne has tried to do is to take a failing Italian national champion and make it globally competitive trying to match productivity and management methods used in Germany, Britain, America and, yes, Japan. And he has tried to rock the boat for the business establishment, quit ting the business federation Confindustria just as Rakuten's Hiroshi Mikitani quit Keidanren except that FIAT is part of the old establishment.
Yet that still doesn't make him popular. He is a hero in Detroit but a villain in Italy, for his tussles with trade unions and for the uncomfortable message he puts out about what change means in an age of globalization. If Shinzo Abe ever gets round to really doing anything about his "third arrow" of structural reforms he may well feel a bit of sympathy for Marchionnesan.
So what's next? Obviously, not another film? Hmm, well, that mid life crisis just won't go away. We're at work on a film now about the current threats to the European Dream, this time with the BBC as co-producers. And to support that and other projects, we've set up "The Wake Up Foundation," a non profit dedicated to research and communication, through films and words, about the sources of Western decline. I'd love eventually to do a film about my real girl friend, Japan. No peace for the wicked.
The author on the streets of Italy; FIAT CEO Sergio Marchionnne being interveiwed in the film…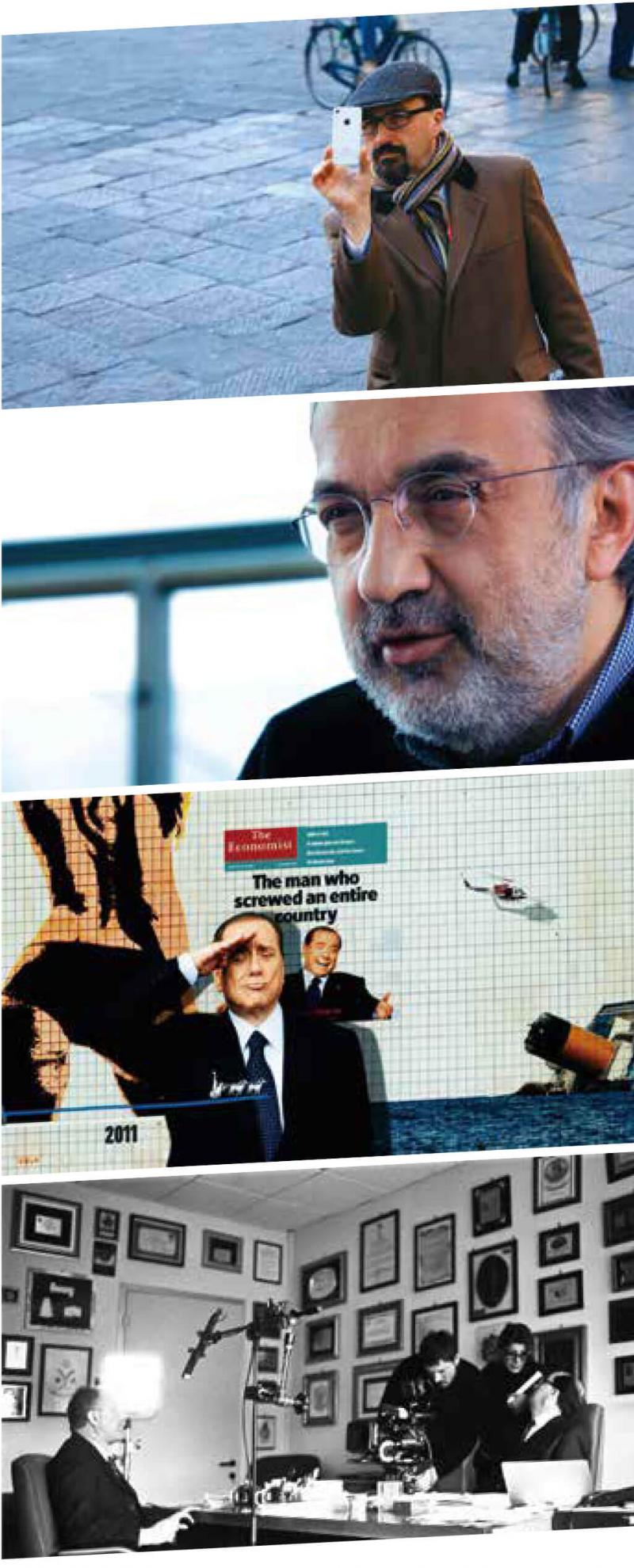 …Silvio Berlusconi featured on The Economist cover in the documentary; behind the scenes dring filming
---
Bill Emmott was editor in chief of The Economist (1993- 2006) and its Tokyo correspondent (1983-86). Now an independent writer based in Britain, he is the author of 10 books and the documentary Girlfriend in a Coma. Bill was FCCJ Secretary, 1985-86.