Issue: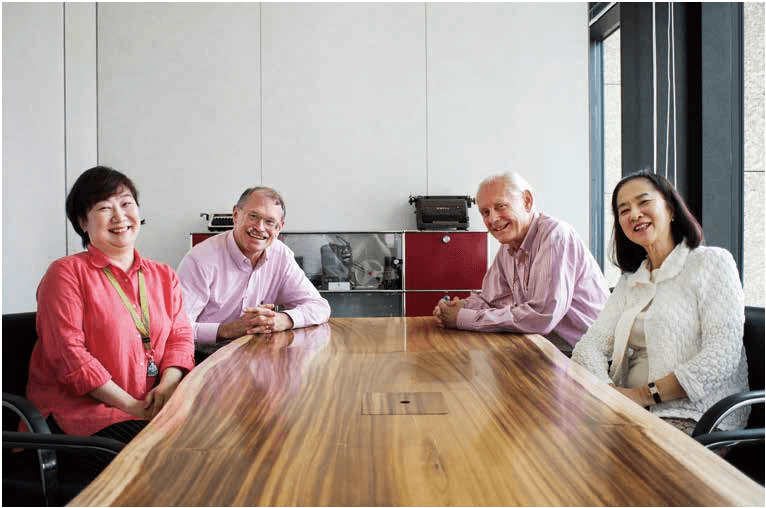 The Membership Marketing Committee is tasked with raising the profile of the Club and attracting new members, Regular and Associate alike
By Julian Ryall
---
Over the course of an hour long conversation, Willem Kortekaas does not come across as a man prone to hyperbole. So when he says the Club needs to attract new members in order to generate the revenue that we need to survive and thrive, then the rest of us would be wise to heed that suggestion.
FCCJ President Peter Langan approached Abby Leonard and Kortekaas earlier this year to resurrect the Membership Marketing Committee (after a considerable amount of time effectively in hibernation) and lift member numbers to levels that would enable the Club to cover the higher rent and costs associated with the new premises. Equally, the task was to attract new members to raise the Club's profile and ensure that it remains the place "where news is made."
Kortekaas, an Associate Member since 1983 and president of Euroact KK, serves as cochair with freelance journalist Leonard, with Keiko Packard and David Satterwhite rounding out the four strong committee and Kaori Furuta seconded from the Club.
There are around 1,600 associate members of the Club at present, and around 275 regular members. Ideally, Kortekaas said, the FCCJ would have a total membership of around 2,200 and a waiting list.
"There was always an assumption in the past that we would have a gradual increase in members, but that is not happening," said Kortekaas. "We are getting some new members in both the journalists and associates categories, but they are only replacing the numbers that are dropping out, meaning that the total remains at about the same level."
ATTRITION CAN BE ATTRIBUTED to the Club's "old hands" retiring or leaving Japan, while technology means that many journalists no longer need a bricks and mortar office to be able to do their job. And without a steady flow of significant press related events, the Club begins to lose its appeal to some of the associates.
"The money that the Club needs is in the associate membership and we have to make ourselves attractive to that group of people," said Kortekaas. "We need to be delivering well organized and high quality activities and programs that distinguish the FCCJ from all the other institutions around Tokyo."
Equally, the Club is important to Japan's media landscape for a number of reasons, he added. "The Club champions freedom of the press. This is the only organization here that still provides a place for people with opinions that deviate from the 'official viewpoint' to deliver their message," he said, pointing to press conferences with the Dalai Lama and representatives of the Uighur community in exile.
The Club has also shown that it can play an important role when major news events happen in Japan and the eyes of the world are on this country, such as the Great East Japan Earthquake of March 2011. Looking into the immediate future, the world's press is going to be seeking a home away from ome when the Rugby World Cup kicks off this autumn and when the Tokyo Olympic Games and the Paralympics are staged next year. The committee is presently discussing a temporary membership system for journalists here to cover these global sporting events that goes beyond the present guest membership category.
"WE NEED TO BE DELIVERING WELL-ORGANIZED AND HIGH-QUALITY ACTIVITIES THAT DISTINGUISH THE FCCJ FROM ALL THE OTHER INSTITUTIONS AROUND TOKYO
"To some extent, journalists are less reliant on a physical Club," admits Leonard. "Audio, video and still photos can be transmitted quickly over the Internet, there are a million ways to make free international calls; equipment is getting smaller and cheaper but there are still services and technologies the Club can provide that would be too expensive for freelancers to afford on their own."
SHE COUNTS THEM ON her fingers: broadcast quality audio booths, a photography studio and of course "access to our incredible research librarians. The Club also offers camaraderie that technology can't replace."
The only way to bring in new members, Leonard and Kortekaas agree, is to be very proactive in reaching out to everyone who might be interested. The committee is in the process of contacting ambassadors in Tokyo to remind them that they qualify for honorary membership, an offer that a number have taken up, while a similar arrangement exists for the heads of foreign chambers of commerce in Japan. Again, memories are being jogged.
The committee plans to next contact the heads of prefectural offices in Tokyo to offer them honorary membership and to suggest that they might want to use the Club to promote their regions. Similarly, plans are in motion to invite the managing directors of regional newspapers across the country to become associate members, with the Marunouchi district's extensive business community also seen as a potential pool of new members. The priority, however, has to be strengthening the attractiveness of the Club to regular and associate members, he emphasizes.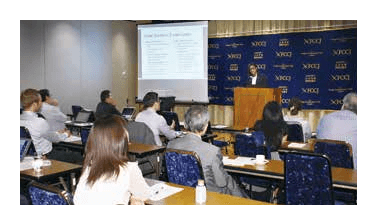 The committee also has high hopes for the Journalism Learning Labs, which were an initiative spearheaded by Leonard and have already attracted a firm following. "The program is designed to provide FCCJ members with professional development opportunities and also bring in other often younger journalists who are not yet members," she said. "Several of the seminars have focused on technical skills, others have offered career guidance and all of them were good networking opportunities. We want to give people a reason to come to the Club and then hit them with the membership applications."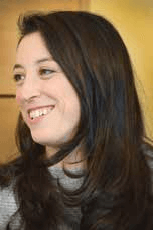 There have been four lab events to date, including AP Bureau Chief Ken Moritsugu explaining his own career and offering advice to up and coming journalists, an exploration of the media industry in the digital age and an examination of legal reporting in Japan.
And there has already been some success, said Leonard, with a number of people who attended the seminars applying for membership. "I think they come to the Club and see the new facility and hear about the other events we hold and services we provide, and decide they'd like to be part of it," she said.
There is also a degree of crossover with the Club's Scholarship Committee, of which Leonard is also a member, and she is hopeful that some students will become regular members after they graduate.
And she remains confident that the membership committee's work will pay off over the long run. "Of course we would have liked to see many more members joining especially with the new facility but we are building slowly and steadily," she said.
---
Julian Ryall is Japan correspondent for the Daily Telegraph.