Issue: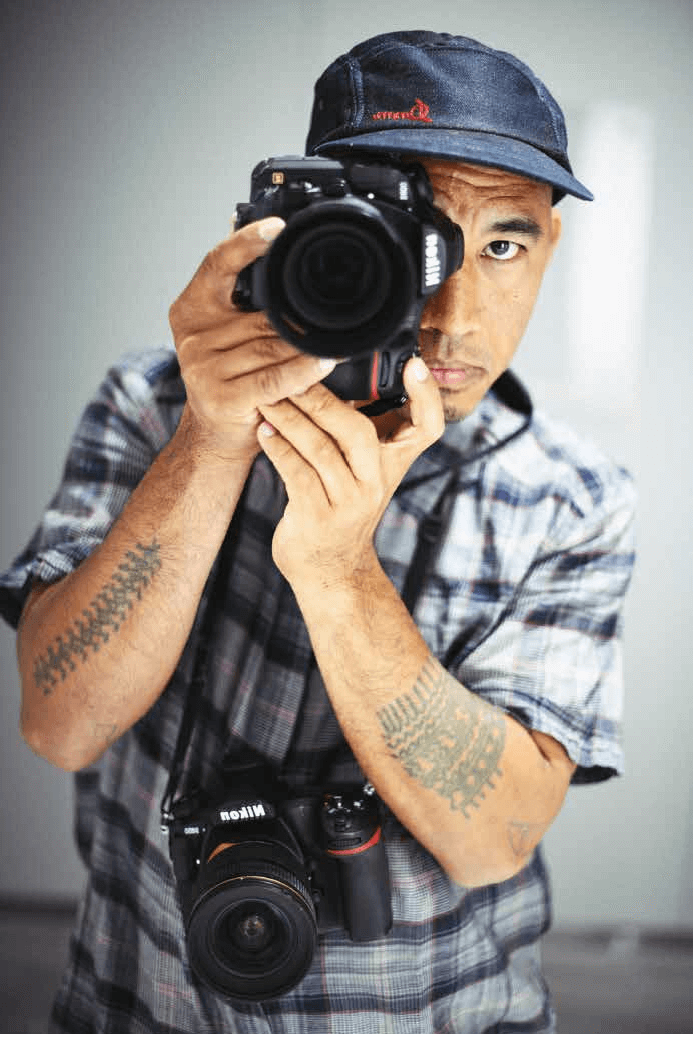 Richard Atrero de Guzman
Visual journalist
By Kathryn Wortley
---
HE POINTS OUT A TRADITIONAL TATTOO ON HIS FOREARM, INKED BY THE LAST REMAINING ARTIST IN A FILIPINO TRIBE FOLLOWING FILMING FOR A DOCUMENTARY
After four years of building his portfolio on his website, Richard Atrero de Guzman got his first video commission in Japan in 2013. It was to cover the International Olympic Committee's announcement of the city chosen to host the 2020 Games: a great win for the then 38 year old Filipino who says he arrived in Tokyo with "no language skills, no contacts and no idea how to break into journalism."
As his style was mastered from years spent as a video documentarian who expressed life through his lens, however, the piece didn't suit Ruptly, the Berlin based international news agency that had commissioned him. Undeterred, he asked the editor for another chance and, after some research, produced a piece that secured him regular work.
The experience instilled in him humility, determination and a love of learning that he applies in his photo and video journalism to this day. No project is impossible, no skill cannot be mastered, and no topic is off limits.
Ten years ago he was only shooting photo and video, and he "didn't know how to use a computer." Now, with YouTube as his teacher, he is editing, producing, directing, flying drones, operating live and even making 360° video. "I'm not scared of doing anything. There is no reason to be stupid right now because the internet is there," he says.
The variety of his beat, from local and international news to culture and travel, has made him a generalist rather than a specialist, but he is happy to cover topics unfamiliar to him. "I'm very honest with my editors. If I don't know something, I just ask. They know I'm not a lawyer or an engineer," he says, reflecting on his coverage of Carlos Ghosn's case and the Tokyo Motor Show.
WITH THIS APPROACH, HE has picked up freelance assignments with media around the world. In 2014, he became a stringer for Ruptly, producing video mostly on "politics and light news." This was followed by photo commissions from the New York Times, Time and Great Big Story.
In 2016, he began uploading his photos to Japanese photo agency Alfo and Italian photo agency NurPhoto, from where his photos were shared with sister agencies AFP and Getty. De Guzman attributes this exposure to gaining greater recognition globally and more requests for jobs. In the past two years he has added TV Tokyo, Berlin based media outlet redfish, global news network RT (formerly Russia Today), AFP, Sipa Press and Al Jazeera to his client list.
Though most outlets require both photo and video journalism, de Guzman says he "loves" doing photos despite it being "really challenging." A scholarship from World Press Photo in 2007, followed by a master class in photojournalism at Workshop Asia deepened his appreciation for and understanding of capturing news in a photo. "I can't explain the happiness I feel when I see my photo in print," he says, adding that it is extra special when it is doing its job effectively.
His other passion is documentaries, nurtured during his BA in Fine Arts and Visual Communication from the University of the Philippines and years spent in Tokyo "shooting everything on the streets." He has recorded everything from protests to festivals but admits that although "it's fun for me to shoot everything I like, it doesn't pay."
NOW, HE SAYS, HE uses his experience to ensure that he can be paid for what he shoots. Where a few years ago he would jump on a flight to immediately cover events after they happened such as when he traveled to Kumamoto immediately after the earthquakes in 2016 he now assesses the best time to go and whether the story warrants a trip. The internet, he says, has helped make that process easier, thanks to the wealth of news to follow and connectivity with fellow journalists and editors. News of the Sri Lanka bombings broke just as he was tying up a shoot in Bangkok, so he posted on his Facebook status that he was going to cover it. By the time his plane landed in Colombo, his inbox was full of requests for footage.
Still, de Guzman retains a desire to tell people's stories whether or not he gets paid. Of particular interest is the indigenous people of the Philippines, which is the reason for his nickname Bahagski, bahag meaning "loin cloth" in Tagalog and ski being the affectionate slang used after a person's name. Sitting in the bar of the FCCJ, which he joined in 2014, he points out a traditional tattoo on his forearm, inked by the last remaining artist in a Filipino tribe following filming for a documentary. Receiving the tattoo would not have been possible without first building a rapport, something he says is vital because he is asking people to let him into their personal lives. As always, his recipe for success is study in this case, of people and their culture to know "how they might open up and trust you."
As he began his career in Japan by shooting the unveiling of Tokyo as 2020 host, de Guzman is excited to cover the Olympics, despite being unfamiliar with sport. But learning adds more strings to your bow as a journalist, he says, and he promises not to hesitate to ask questions.
---
Kathryn Wortley is a freelance journalist for online and print media in the UK and Asia-Pacific.