Issue: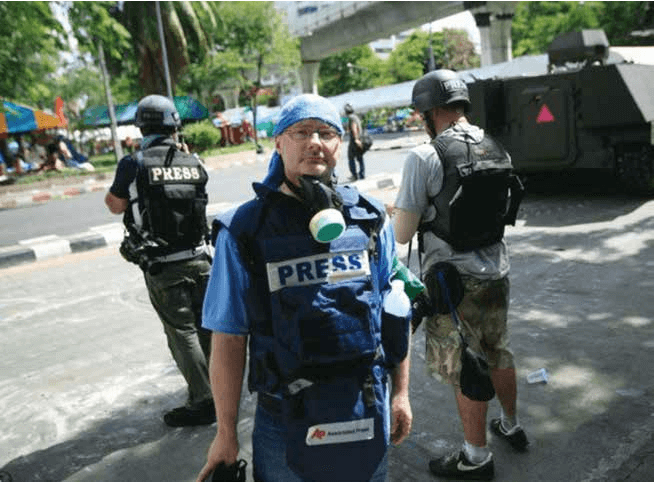 Eric Talmadge remembered
THE FCCJ MEMORIAL GATHERING for Eric Talmadge, AP's North Korea bureau chief, was held on Tuesday, May 21. Eric, who died unexpectedly in Yokohama in the previous week, was a member of the Club for 18 years until 2016 and made a strong contribution, especially to the Club's professional activities. He was 57.
The memorial event was attended by about 40 people, including his colleagues and former colleagues at AP, people working for other news organizations, and his friends at FCCJ and the Yokohama Country & Athletic Club, where he enjoyed sports activities, particularly bowling.
Since FCCJ President Peter Langan was unable to attend the event due to conflicting schedules, I was asked to moderate the event. As a former colleague of Eric's at AP and a former FCCJ president, I felt obliged and honored to do so.
In front of the FCCJ banner, three framed photos of Eric were set on the table along with bouquets of white flowers, including ones sent by Kyodo News President Toru Mizutani and YC&AC President Sadao Hosogai. On both sides of the table, about a dozen photos of Eric were displayed on large clear panels. A slide show played on a large screen during the event.
Copies of the February 1995 issue of Number 1 Shimbun were also placed on the table for attendants to read and take home. The issue featured Eric's first person report of the Kobe earthquake which killed about 6,400 people the previous month. Its headline, by then editor Pat Killen, read "Quake: Eric's Walk to Hell."
Eric joined AP in Tokyo in 1988 after working for the Mainichi Daily News. Having studied at Sophia University, he was fluent in Japanese with no accent. Since then, he covered a wide range of stories and events, including natural disasters in Japan and Indonesia, war in Afghanistan and five Olympics. After serving as news editor at the Tokyo bureau, he was named AP's bureau chief in North Korea in 2013.
John Daniszewski was vice president for international news when AP established the first Western news and photo bureau in North Korea in 2012. In comments published in an online newsletter mainly for AP retirees, he recalled that while sketching out the parameter for operating, it was still a gamble whether the bureau would endure in the face of the country's deep suspicions and hostility toward the West. He wrote:
"Eric was a pioneer. It was Eric who eventually fulfilled AP's vision of a normally functioning news bureau in Pyongyang. [He] helped open the doors for greater access for other news organizations in North Korea, and even perhaps prepared the ground for the political and diplomatic openings that have followed. His characteristics included tact, patience, courtesy, deep intellect, and an attitude of respectful curiosity and empathy for others that served him well in his profession.
As a result of these, he slowly broke down the considerable walls that exist for outsiders there. He won trust among his hosts even as he pressed them for information. Eric widened access, was awarded rare interviews and managed to travel outside the capital to give AP's audience a clearer view of lesser cities and the countryside."
Even after retiring from AP, I closely followed his reporting from North Korea and even used some of his news reports as good examples in journalism classes I taught at universities. He kindly came to one of my classes at the Tokyo University of Foreign Studies as a guest speaker and talked about international reporting.
Denis Gray, former Bangkok bureau chief for 30 years and a legendary AP foreign correspondent who also served as president of the Foreign Correspondents' Club of Thailand on three occasions, sent a note for the memorial occasion.
"Much has rightly been written about Eric's pioneering achievement on the North Korean story. But this should not be overshadowed by his ability to wonderfully execute an extremely wide range of assignments from armed conflict to natural disasters to sports.
ET, as he was often called, graphically chronicled the aftermath of the great Asian tsunami as we flew out each day from a US aircraft carrier to the utterly devastated coast of Indonesia's Aceh province. He was always an enthusiastic and tireless member of the AP teams that covered regional sports events across Asia. In those days, following the Spielberg movie, he was invariably greeted each morning with, 'ET, have you called home yet?'"
Eric Talmadge was a nononsense man with a dry sense of humor, which I liked very much. Eric Prideaux, a former AP newsman who joined the international news agency after working for the Japan Times, shared the following episode some time ago while I was with AP:
Prideaux lived in the Zushi area on Miura Peninsula, southwest of Tokyo. A nearby convenience store was robbed, and the suspect armed with a knife was at large in the neighborhood. He was supposed to leave home for work, but he did not want to leave his wife and their small baby alone at home until the suspect was caught by police. So Prideaux called Talmadge in the AP office, explained the situation and said he would be late.
Talmadge's response was: "That's the best excuse I've ever heard."
Joe Coleman, former AP bureau chief in Tokyo who now is a journalism professor at Indiana University, also sent a touching personal note for the memorial event.
"I worked closely with Eric for more than 10 years. He always had my back. Eric helped me get to Tokyo in the first place, and he supported me throughout my time in Japan. Together, we covered earthquakes and elections, financial crises and even an oil spill, and we cheered each other on to some of our best work. For this I am forever grateful.
But Eric was more than a work mate. We shared meals and holidays in each other's home; our kids played together; our spouses are friends. We climbed Mount Fuji. We even shared the ultimate ET experience: bowling. He won.
What I remember now is his generosity and decency and a remarkable sensitivity concealed by what appeared to be a tough exterior that enabled him to earn people's trust and tell their stories with great insight."
Members of Eric's family were to attend the event, but unfortunately his widow, Hisako, did not feel well so that they decided to stay home quite understandable under such circumstances. We conveyed our messages and sent photos of the event to her later.
We will miss him.
---
– Kazuo Abiko