Issue:
May 2023
Documents support claims that former Nissan boss Carlos Ghosn and exec Greg Kelly were victims of a plot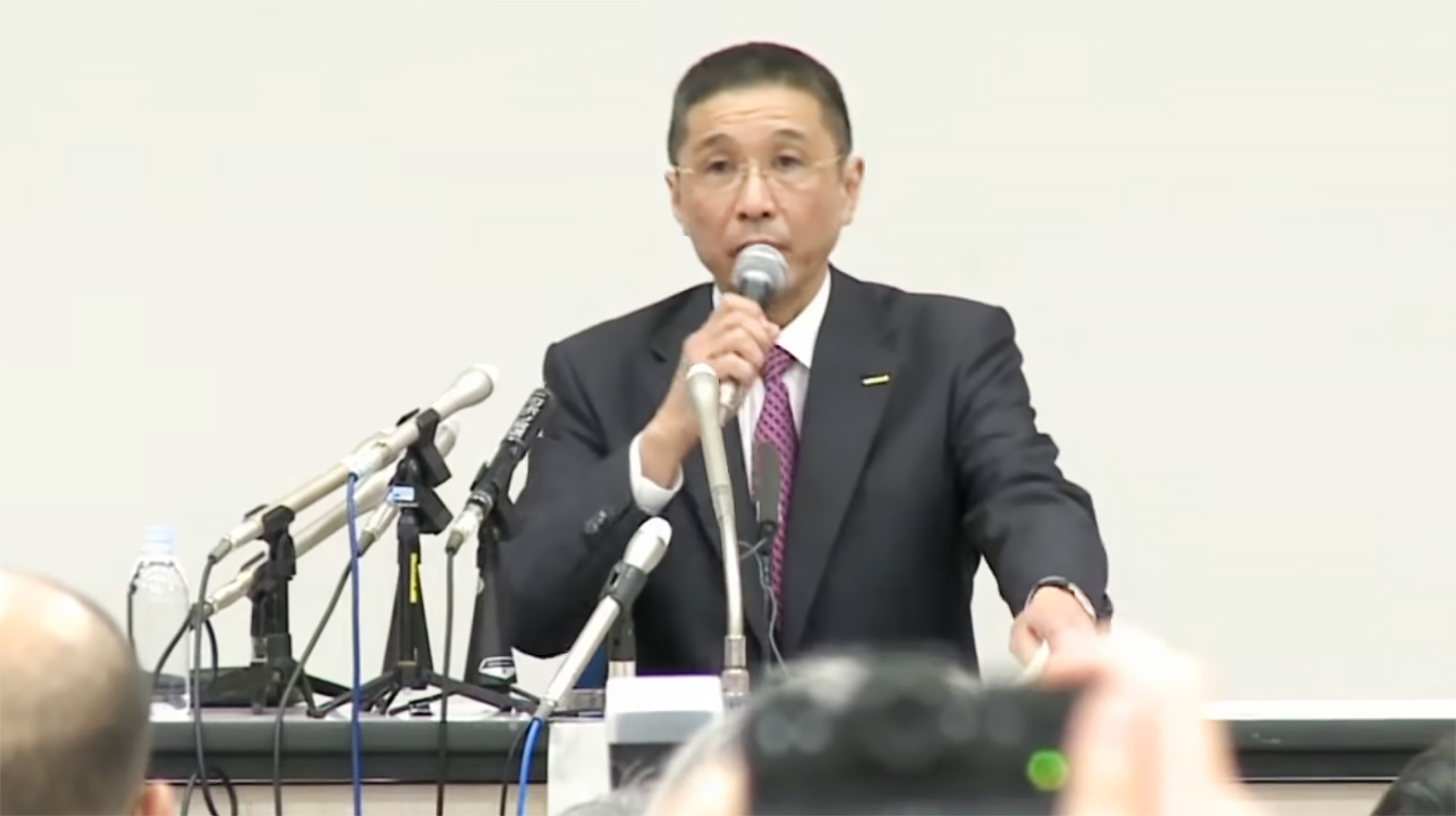 Back in November 2018, when Carlos Ghosn and Greg Kelly were arrested, we were at the mercy of Nissan to be an honest broker in this explosive story. It is not too much to expect a quality company – and Nissan was certainly that – to behave with dispassion, even solemnity, when a personal catastrophe such as the one that befell Ghosn, the celebrated leader of the Nissan, Renault and Mitsubishi alliance, and Kelly, a board ally, occurs. At the very least, two careers were ruined.
I had covered Nissan dating back to the 1980s and, to the best of my recollection, never felt the company wasn't being truthful, even when it was on the verge of bankruptcy before Ghosn came on the scene.
The first sign that this time might be different came when Nissan's CEO, Hiroto Saikawa, held an emotional late-night news conference at the automaker's Yokohama headquarters to announce the arrests. Saikawa then declared both to be shubōsha, or masterminds of as yet unspecified financial crimes.
English: https://youtu.be/XoWe0HlIHPs
Japanese: https://youtu.be/tg07t4FxFhI
We now know it was part of a plan emanating from Nissan's CEO office on the 21st floor to remove Ghosn and discredit him. Within a matter of weeks, he would be transformed from national hero to national villain.
Ghosn and Kelly, who supported Ghosn's vision for a more integrated alliance with Renault, would eventually be charged with concealing ¥9.3 billion of undisclosed retirement income from Japanese financial regulators. Separately, Ghosn would be charged with misappropriating millions of dollars in a money-laundering scheme with two uber-rich Middle Eastern businessmen.
Kelly faced his accusers in a Tokyo court last March and was found guilty in one of eight years of allegedly conspiring with Ghosn to conceal income, but not guilty in all other years. Nissan had earlier pleaded guilty to all eight years beginning in fiscal 2010.
Thus in order to uphold Nissan's pleading, which was linked to Kelly's and/or Ghosn's presumed guilt, the court found Ghosn guilty of all eight years.
Kelly is currently appealing the ruling because, based on documents used to compile this report, his lawyers believe he should have been found innocent in all of the years.
Ghosn, who in 2019 made a sensational escape to Lebanon, which has no extradition treaty with Japan, will not return to Japan to stand trial.
What do we know, four and a half years after Ghosn's ouster in what many believe was part of a management coup?
Accompanying this article are links to key documents. Most were provided by Ghosn, although Nissan has all of them in its possession. As the Number 1 Shimbun prepared for publication, Nissan had not responded to requests for comment.
Following a 2010 decision by the Financial Services Agency to introduce new executive compensation disclosure regulations, Ghosn grudgingly took a 50% pay cut. He also let it be known that he wasn't happy and felt he was underpaid, which he was, compared with the CEOs of Ford, Fiat Chrysler Automobiles, Volkswagen and, later General Motors.
Some of his top executives, including Kelly, Saikawa and Toshiyuki Shiga, Nissan's COO, all concluded that he was a retention risk and might seek employment with a competitor. That would have been disastrous. Just look at how Nissan has struggled since he left.
Shiga, working with former Nissan co-chairman Itaru Koeda, and Saikawa with Kelly – all in consultation with lawyers – prepared four post-retirement proposals between February 2011 and June 2015. Each proposal had one thing in common – that Ghosn would be employed in an advisory capacity upon retirement. They would also secure a commitment from him (for a big fee) not to work for a competitor. And most importantly, all of the proposals would require board approval before taking effect.
The proposals' dates: March 28, 2011, November 21, 2011, October 28, 2013 and June 23, 2015. But what Saikawa didn't say at his November 19 press conference is that he had signed three of those proposals – November 2011 https://drive.google.com/file/d/1jC_247dFPW6nxRiEYoKfwKMqKkIxjXzD/view October 2013 https://drive.google.com/file/d/1LTgTiTxT1Hyr2xfG_intuadgXsHUOPHl/view and June 2015 https://drive.google.com/file/d/1aEwMVElmOfKiVX2h2ptVaqvO7y_D9x-e/view , with the latter two signed jointly with Kelly.
(Note that the November 21 document is a transcription of a document that appeared in a June 9, 2019 Bungei Shunju article.)
Earlier in the day on November 19, Saikawa did not mention his direct involvement in the CEO's compensation dispute to members of Nissan's executive committee when he informed them of Ghosn's imminent late-afternoon arrest.
Neither did he mention, both at his press conference and to the executive committee, that Hari Nada, who headed the CEO office and was a Ghosn and Kelly accuser, had written the 2013 and 2015 proposals with the two Latham & Watkins LLP lawyers, who later assisted Christina Murray, Nissan's global compliance officer, in conducting the Kali-10 internal investigation.
In fact, the Latham lawyers were the principal authors of the 173-page report. We have reviewed the draft that was circulated one week before Murray resigned after she was ordered to stop investigating Nada, and found no mention of their involvement in writing the 2013 and 2015 proposals.
There were other serious omissions – so serious that the report is unreliable. For example, an October 10, 2018 memo from Takeshi Ohki, a criminal lawyer retained by Nissan, warned the Latham lawyers that Nada was likely to be indicted by the Tokyo prosecutor. The Latham lawyers forwarded the memo to Nada, not Nissan's board, and three weeks later Nada entered into an immunity agreement with the prosecutor, also concealed from Nissan's board. https://drive.google.com/file/d/1tqPzC5bZExfv-nmfOzCtxb8id9oyCg-h/view
The summary of a July 3, 2019 Latham interview with Nada in which Nada made statements that substantially exonerate Kelly and possibly Ghosn. Latham concealed the memo from Nissan's board and Kelly's and Ghosn's lawyers. https://drive.google.com/file/d/1fwsorj06tzpJT3bS_T3GGixvSrVbUYtM/view?usp=sharing
When Toshiyuki Shiga testified at Greg Kelly's trial in January 2021, he expressed "deep regret" for his role in the Ghosn case. In fact, Shiga and Koeda, not Kelly, were the ones who advised Ghosn that he could keep a running tally of lost income with the secretariat. They, not Kelly, instructed the general manager of the secretariat, Toshiaki Ohnuma, to keep that running tally.
They also were the ones to advise Ghosn that he didn't have to disclose that running tally until he retired https://drive.google.com/file/d/1zSOA8AF8vmfhmh1SSEK9Pg08S-U5B71z/view — and only if the board hired him as an advisor and approved a post-retirement employment contract. In a separate document, they advised him that there would be "no legal problem."
Apart from the fact that the Tokyo prosecutor's office accused the wrong man, there is no evidence of Kelly instructing the secretariat to keep a running tally of Ghosn's income shortfall.
Read the documents, and judge for yourself.
The plot against Ghosn
"Given evidence that has emerged throughout the case, there is little doubt that Nissan lied about its motive for removing Mr. Ghosn," according to a spokesperson for Ghosn.
Testimony at the Kelly trial revealed that several of Nissan's old guard who backed Ghosn's removal began plotting against him in the spring of 2018. These individuals were focused mainly on blocking further French intrusion into Nissan's business.
They accepted Ghosn as CEO despite his jet-setting lifestyle, his occasionally brusque management style and his use of company perks in a way they weren't accustomed to. There's no need to rehash that. The French and Japanese media have created a cottage industry in everything Ghosn is alleged to have done.
But the bottom line is that Ghosn delivered solid earnings almost every year of his 19-year tenure and, more importantly, kept the French government out of Nissan operations despite Renault's 43% equity stake in the Japanese automaker.
That changed abruptly in February 2018 when Nada got wind of the French government's plans to integrate Nissan into a more formal alliance, one which would be controlled by Renault. At least that's what the old guard believed.
To Kathryn Carlile, his closest aide in the CEO office, Nada wrote: "I have concluded that a train has been set in motion at Renault to completely integrate Nissan regardless of what Mr. Ghosn thinks … I would like to discuss the implications and what tactics can be taken as soon as possible."
The anti-Renault faction (some of whom truly despised Ghosn) waited until June 16, the day after Renault shareholders ratified Ghosn's contract, to go to the Tokyo prosecutors' office. At the prosecutor's urging, they would spend the summer trying to find a crime, coming up short every time until the prosecutor, most likely in October, hit upon the issue of Ghosn's post-retirement compensation.
Fast-forward to November, two messages from Nada to Saikawa are critical to understanding the full extent of the plan to remove Ghosn from management and "take back" Nissan from Renault. On November 14, Nada sent an email titled "media support". The email was reported by both Bloomberg and TV Tokyo. In it, Nada wrote: "Prosecutors want to make the arrest for underreporting compensation. I think we should push for breach of trust reasons for arrest supported by media campaign for insurance of destroying CG reputation …."
Then on November 18, the day before the coup, while Ghosn and Kelly were readying for their trips to Japan, he wrote: "Saikawa san … Nissan's position should be Mr XXX's wrongdoing and removal as a representative director at Nissan is a fundamental change to the circumstances of the alliance and a new governance for the alliance must be found."
Mr. XXX is Mr. Ghosn.
The attached three-page memorandum https://drive.google.com/drive/folders/1giY0ODggFTwzPlc0aMuzkXEKuJkq5XjL
https://drive.google.com/drive/folders/1giY0ODggFTwzPlc0aMuzkXEKuJkq5XjL?usp=sharing is arguably the most significant piece of evidence in the entire Ghosn story, as it lays out in detail the plan to take back control of Nissan from Renault the day before Ghosn's ouster, to use the criminal justice system to prevent the sharing of information with Nissan's largest shareholder, and to disassemble the alliance.
"We should quickly and assertively press the position that Ghosn's removal is a fundamental change in circumstances, requiring a fresh approach to alliance management and governance," Nada wrote.
The most telling passage is titled: "Disenfranchise Renault".
"We must assert this change of circumstances quickly in order to preserve our right to terminate RAMA," Nada added, "giving Nissan the right to purchase Renault shares and disenfranchise Renault or take over Renault." RAMA was a reference to the companies' Reinstated Alliance Management Agreement.
Be careful what you wish for
Four-and-a-half years later, Nissan has lost nearly ¥2.7 trillion in market value. Global production and sales have fallen to the lowest level since 2004. Market share is down in all key markets, including Japan, meaning the automaker is underperforming against the competition.
Nissan now ranks out of the top 20 in electric cars, while Infiniti luxury sales have fallen to 1990s levels. Fittingly, in March S&P downgraded the automaker's credit rating to "junk" status.
The alliance, meanwhile, is effectively dead, regardless of what the automakers say, with cooperation limited to small projects mostly in emerging markets such as India, Argentina, and Mexico.
In 2018, Ghosn's last year, the alliance (Renault, Nissan and Mitsubishi) ranked number one in the world in sales of cars and light trucks. It now ranks fourth.
---
Roger Schreffler is a veteran business journalist and Wards correspondent who has covered the Japanese auto industry since the 1970s.