Issue: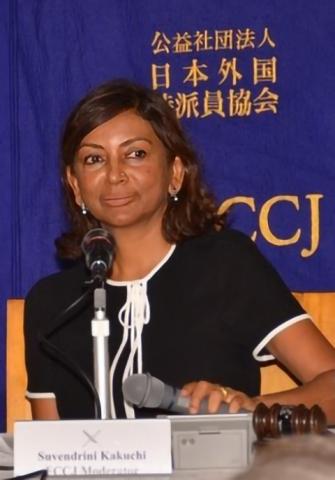 Dear members,
I hope you are enjoying the long-awaited return to a sense of normality now that Covid-19 restrictions have been eased. The Club is certainly taking advantage of the change. Our bar is now staying open for longer, and from December will be extending its services until 10 p.m. In addition, a new Happy Hour drinks and snacks menu is available at very reasonable prices. I for one was overjoyed to see the bar packed in recent weeks. And please don't forget Saturday Night Live, an increasingly popular option among people who enjoy an evening of jazz or folk music, followed by a stroll along Marunouchi Naka-dori, now twinkling with Christmas lights. The recent pick-up in business at the Club has been a long time coming, so please take the opportunity to come and celebrate the festive season!
Our professional activities are also returning to normal. Some of the landmark changes we are implementing include a press conference with dinner in December. I hope this will mark a return to the days when professional activities incorporated lunches, giving members that chance to chat, as well as listen to newsmakers from Japan and around the world. It goes without saying that as we continue to open up, the Club will continue to take precautionary Covid measures, such as mask wearing and social distancing.
I would like to take this opportunity to welcome our new Board member, Randy Schmidt. Randy, who replaces Peter O'Connor, is a longtime member and correspondent for CBS News in the U.S. Peter recently moved to Ireland, where he is combining his love of fishing with writing books.
I'm pleased to report a modest rise in our membership – the result of a huge effort by the FCCJ staff and everyone connected with the Club.
Business meetings are being conducted over a full-course French lunch, and bookings for private banquets are also on the rise. In yet more evidence that the Club is on the right track, last month I attended a wonderful lunch event featuring traditional Japanese entertainers from Asakusa.
The opportunity to watch the artists, dressed in beautiful kimono, play their shamisen against the backdrop of the Club was a real treat for the audience.
The FCCJ room rental rates are extremely competitive, particularly given our location in the heart of the Marunouchi/Nijubashi district. I encourage members to tell friends and colleagues about the benefits of holding events at the Club. It makes financial sense, and an enjoyable evening is guaranteed.
I am working hard to revive the strong community spirit that existed at the Club before the pandemic. To that end, I'm delighted to announce a new series of events in which accomplished foreign correspondents discuss their careers with associate members. Richard Lloyd Parry, Asia Editor of The Times, will appear at the first event in early December. Please look out for the weekly events calendar to reserve your place.
As we move towards the end of the year, let's make the last few days of a difficult 2021 memorable by getting together at the Club to thank everyone for their hard work and remember what a joy it is to be alive.
---
Suvendrini Kakuchi is Tokyo correspondent for University World News in the UK.