Issue:
December 2021
Survey finds widespread concern over press freedom after Chinese crackdowns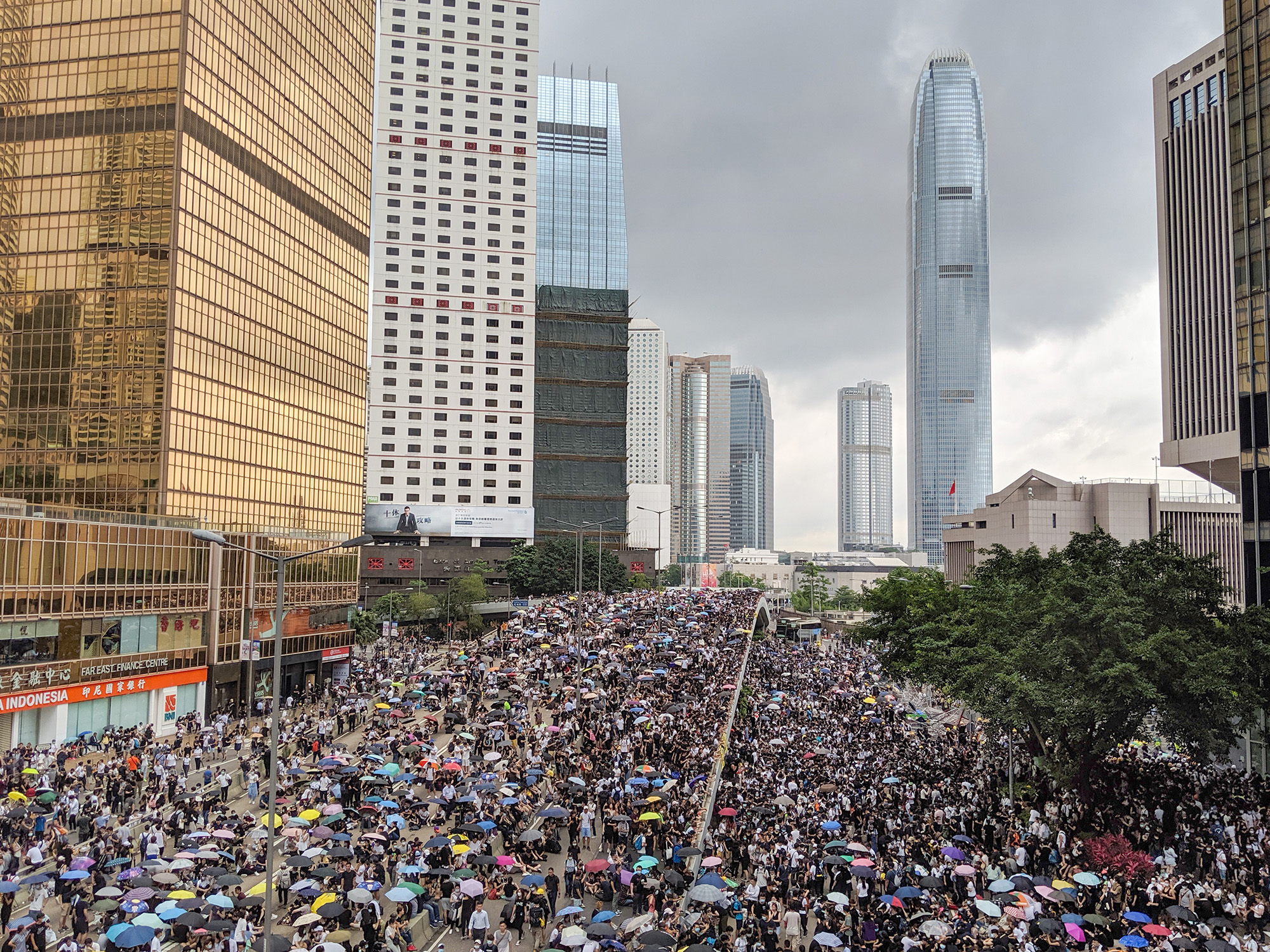 The lights still glitter at night along Hong Kong's harbor front, but for local and international journalists the torch of press freedom burns much less brightly now in the wake of mass protests in 2019 and 2020 that brought arrests and an official crackdown on many forms of freedom of expression.
A National Security Law passed in 2020 by the local legislature at China's insistence has created "red lines" for public behavior. These have left journalists and others in Hong Kong fearful of crossing them accidentally since the lines are, they say, so ill-defined.
A threatened new law against "fake news", meanwhile, has increased media unease in the once freewheeling British colony, which for many years acted as a beacon of press freedom and freedom of speech that was envied throughout much of Asia and beyond.
Adding to these concerns, Hong Kong in November declined to renew the working visa of Sue-Lin Wong, an Australian correspondent from the Economist, AFP-Jiji said in a report quoting the paper's chief editor, Zanny Minton Beddows.
The incident highlighted what one FCC member who did not wish to be identified told the Number 1 Shimbun was a "lack of clarity in terms of what drove the decision and what the criteria are for granting journalist visas.
"We're aware of a number of other foreign correspondents in Hong Kong who have been subjected to long and hard [visa] renewal processes, to the point where [their] previous coverage is being scrutinised," the member said.
There is, they added ,"talk of a more formalized journalist accredition prcess that would maybe inroduce a scheme similar to what you have in China, where journalists are given a separate employment category. The National Security Law calls for defining who is a journalist - which is about reglating the press more tightly."
Victor Malett, the then Asia news editor of The Financial Times was banned from entering Hong Kong after his working visa renewal was turned down in 2018 and New York Times correspondent Chris Buckley was also denied a permit by Hong Kong last year after he was expelled from China.
"People are increasingly reluctant to speak to the media, including the international media," former Agence France-Press editor in chief Eric Wishart told the Number 1 Shimbun. "The National Security Law has put a real chill on sources. Everybody is very vigilant in watching the situation."
Despite the atmosphere of fear that has settled over Hong Kong, the Foreign Correspondents' Club there (of which Wishart is a former president) recently conducted a survey among its correspondent and journalist members on a range of issues related to press freedom.
It revealed "widespread uncertainty among members over what the media is and is not allowed to report on since the implementation of the National Security Law in June 2020." The survey also found "concern over further erosion of press freedom with the possible introduction of a fake news law".
This marked "the first time we have conducted a survey like this [among] correspondent and journalist members," current FCC President Keith Richburg said in a statement. "There's been a lot of anecdotal evidence of concern over the state of press freedom in Hong Kong.
"We thought it would be helpful to quantify concerns. The vast majority of respondents reported an overall deterioration in the working environment for journalists, in particular unwillingness of sources to be quoted and the need for reporters to self-censor their writing or delete images."
The survey, conducted from late August to late October 2021, elicited 99 responses, 70 of them from correspondent members (club members working for foreign media) and 29 from journalist members (those working for local media) – a response rate of about 25%. All responses were anonymous.
With regard to the general working environment for journalists in Hong Kond, 84% said the situation had deteriorated since the introduction of the National Security Law, while 15% said there had been no change, and one respondent said the situation had changed for the better.
Beijing reacted quickly to publication of the survey findings. A spokesperson at the Office of the Commissioner of the Ministry of Foreign Affairs of China said in a statement: "We urge the FCC to stop sowing discord and refrain from interfering with the law-based governance of the HKSAR [Hong Kong Special Adminstrative Region] government and Hong Kong's rule of law in the name of press freedom."
The statement pointed out that the "lawful rights and freedoms of Hong Kong residents, including freedoms of speech and the press, are upheld in the Basic Law of the HKSAR and the National Security Law for the HKSAR.
"Contrary to the survey results, the National Security Law better protected the safety of the country, restored social stability and provided people with a stronger sense of security.
"Targeting a very small handful of criminals for their activities that endanger national security, the National Security Law does not harm press freedom and any other rights and freedoms of Hong Kong people. Rather, it protects their rights and freedoms in a more secure, stable and law-based environment.
"Under the National Security Law, the number of local, overseas and online news media and practitioners registered in Hong Kong Government News and Media Information System has gone up. The right of media professionals in Hong Kong to report in accordance with law has not been affected at all."
The statement claimed that the FCC had "walked away from its professional ethics. Its misleading report, based on just a few responses, is neither representative nor credible. Its smearing of Hong Kong's press freedom and playing-up of the chilling effect are interference in Hong Kong affairs."
The statement added that "there is no absolute press freedom anywhere in the world that could be above the law. It is an international common practice that countries supervise in accordance with law the media activities in their countries. Hong Kong is no exception."
---
Anthony Rowley is the Tokyo correspondent for Singapore Business Times